Hobart's incentive options combine variety, exciting activities, world-class food and wine – with plenty of heritage charm. By Dani Wright.
Feel at home on Hobart's Waterfront
Book the team into the five-star The Henry Jones Art Hotel, which was awarded Australian Hotel of the Year 2017 by the Australian Hotels Association. The hotel has one of the largest glass atriums in the Southern Hemisphere and plenty of event spaces while retaining glimpses of its original jam factory beginnings.
Hand-cut sandstone walls and compelling modern art provide a sophisticated home-away-from-home appeal, while four on-site restaurants and bars stand ready to quell the fiercest appetite.
After a busy schedule, the team can retire in luxury to individually designed rooms - each telling the story of Henry Jones, who started on the jam factory floor aged 12 and rose to become one of Australia's most successful businessmen and the first Tasmanian to be knighted.
New to the waterfront precinct is the MACQ01, which also has a storytelling aspect to it.
Each of the 114 suites is inspired by a Tasmanian character, their story emblazoned on the door.
And what better place to share the stories than at the onsite Old Wharf Restaurant, led by Saffire Freycinet's former Head Chef Simon Pockran, whose seafood focus complements the backdrop of passing cray boats.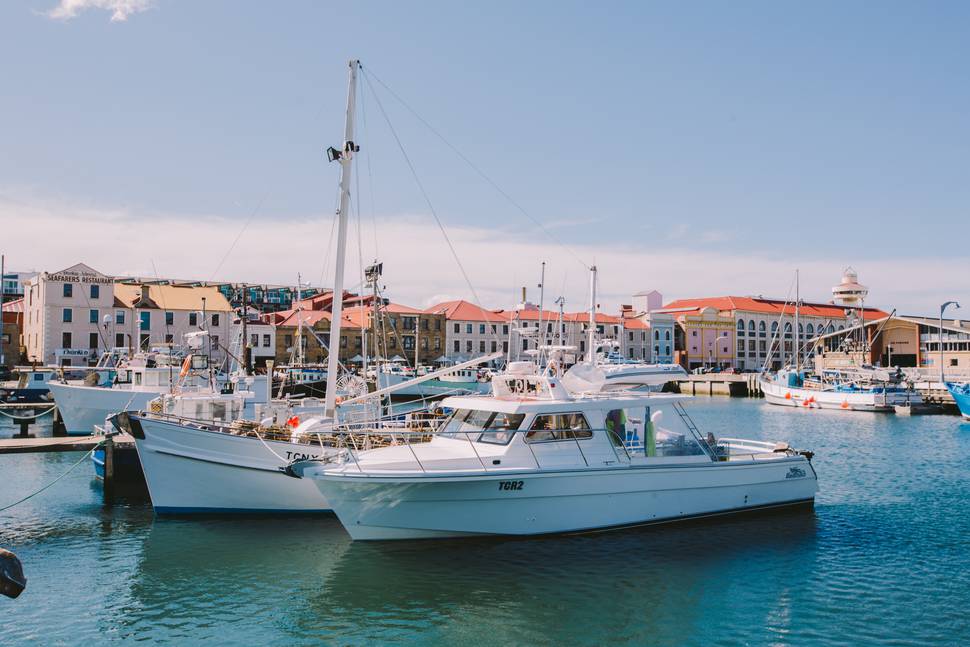 Artful dining
But there's more to Hobart than great food and wine, it also has Australia's edgiest Art Gallery owned by professional gambler, art collector and businessman David Walsh. Walsh's unique creation - The Museum of Old and New Art (MONA), is just a 30-minute catamaran ride away.
The team can enjoy cocktails prior to a private viewing of Australia's largest private gallery or dinner at acclaimed fine dining restaurant The Source which takes its name from the John Olsen painting in the foyer.
Its wine list boasts more than ten thousand bottles, crafted by winemakers and brewers big and small, including MONA's Moorilla wine and Moo Brew beer; something to suit every palate.
The team has the option of experiencing the full atmosphere of MONA with a special night at the accommodation located on the Derwent River. Each is named after an influential Australian artist or architect and features artworks from the MONA collection.
Frogmore's cool wines
Tasmania's cool climate, mild summers and long autumn days are perfect for cool-climate wine making and Frogmore Creek is one of the largest producer of such wines in Southern Australia.
Frogmore Creek now has two venues - a new one Frogmore Creek City in the heart of the Hobart waterfront precinct of Macquarie Point - near the MacQ01 Hotel as well as the celebrated Cambridge vineyard base twenty minutes away.
The waterfront venue offers a "hidden menu" concept called Atmosphere where the food and wine is chosen for the team; sit back and let the chef and sommelier take you on an unforgettable food and wine journey.
"Nothing in the new venue has been left to chance," says Frogmore Creek's National Marketing Manager, Shelley Temata. "Every piece of equipment, chair, knife, vessel and bench top has been selected to best reflect the brand and deliver an elegant yet relaxed space."
There's also the option of experiencing a private chef's table for up to eight people; or alternatively visit the original Cambridge vineyard property, where the Tower Gallery offers floor to ceiling windows and stunning views across the vineyard.
The Cambridge restaurant won Regional Australia's Restaurant of the year in both 2015 and 16.
Ms Temata says the only challenge you'll have with your team at either venue is getting them out the door at the end of the experience!
Bond over seafood, nature and whisky
Forget bungee-jumping adrenaline experiences for the moment and take in the natural beauty of the D'Entrecasteaux Channel that surrounds beautiful Bruny Island.
It's a haven for artisan food and beverage producers, and abundant with wildlife.
Travel to the island as part of Pennicott Wilderness Journeys' Bruny Island Traveller experience, which takes groups from Hobart by bus. Then it's a short ferry ride to the island for a land-based gourmet tasting experience.
First stop is Bruny Island Cheese Company for a private cheese tasting and a sampling of some handcrafted ale. Soak up the bush surroundings while the head cheesemaker talks you through the cheesemaking process.
Further along the road watch oysters being freshly shucked while the oyster farmers share their stories with the team.
Morning tea at a local café or at a berry farm is followed by a stop at a beautiful Bruny Island beach, or a walk in the bush to visit rare white wallabies.
Next stop is at Australia's southernmost winery for lunch before heading back to Bruny Island Chocolate Company and Bruny Island Honey for some sweet treats.
Last stop before the ferry ride back to the mainland is the Bruny Island House of Whisky for a nip of single malt Tasmanian whisky. The experience and seven-course travelling menu is able to be customised for business groups.
Lark Distillery
Lark Distillery's cellar door and bar, back on Hobart's waterfront, offers a special tasting or presentation from founder Bill Lark or one of his distillers.
"We are one of the few Tasmanian distilleries that make their own whisky wash - which is the barley mash that begins the process (essentially beer without hops) and we also dig our own peat from the central highlands of Tasmania," says Toni Kibbey, Lark's Head of Marketing and Sales.
"We ferment the brew for seven days before it hits the first of two stills. After double distillation in copper pot stills, it's matured in an ex-fortified wine or ex-bourbon barrel for around five years, before it's released to the world.
"Patience is definitely a necessary trait of the whisky industry."
Teams can learn about the company's history over glasses of its award-winning product.
In 1992 Lark was the first licensed single malt whisky distillery in Australia after Bill Lark successfully campaigned to have Federal legislation changed to allow small-scale single malt production.
Lark Distillery has grown significantly since and now also owns Overeem Distillery and Forty Spotted Rare Tasmanian Gin.
The cellar door and bar can be booked out for private functions, and tastings can be tailored to suit the group, with caterers and food vans able to provide food for the event.
Whatever your team chooses to do in Hobart, expect them to be surprised and inspired. With its wealth of natural charms and increasingly sophisticated hospitality offerings Australia's southernmost capital might just be its best kept secret.
MORE TO DO
Explore Mount Wellington
A day at Mount Wellington - just a 20 minute drive from Hobart CBD - is the perfect way to experience the natural beauty of Tasmania's landscape; soak in some stunning views and reinvigorate the team.
The Famous Salamanca Markets
Salamanca Market is a major tourist attraction in Tasmania, held on Saturdays between 8.30am and 3.00pm. Expect fresh and gourmet produce, great street food and arts and from all over Tasmania.