From J K Rowling's haunt in Porto to an Edwardian banking hall in London, the Daily Mail's Sadie Whitelocks has turned up the world's most beautiful bookstores.
These stunning bookstores boast some intriguing stories of their own.
MailOnline Travel has scoured the world for the most beautiful book shops around, with sublime interiors distracting readers from the task of picking a tome.
In London, luxury publisher Maison Assouline has a flagship store housed within a grand Grade II-listed Edwardian banking hall, while the El Ateneo Grand Splendid bookstore in Buenos Aires is set inside a spectacular early 20th century theatre. And behold the beautiful Porto shop said to have inspired J K Rowling's Harry Potter books. Scroll down to see the top literary spots in which to pick your next read...
El Ateneo Grand Splendid, Buenos Aires
The stunning El Ateneo Grand Splendid bookstore in Buenos Aires, Argentina, is housed within an old theatre with all of the original features still intact.
In 2000, the grand building was converted into a bookstore with the original decoration preserved, including the central dome painted with Italian-style frescoes. The shop, which is now a popular tourist spot, stocks around 120,000 books and there is a coffee shop on the old stage.
The venue, which opened in 1919, hosted ballet, opera and other productions. It also launched its own radio station in the 1920s.
Maison Assouline, London
Maison Assouline's flagship store in the heart of London oozes decadence with dark wood panelling and high ceilings.
The luxury bookshop is housed within a Grade II-listed Edwardian banking hall, which was designed by acclaimed English architect Edward Lutyens in 1922.
On the ground floor, there are books and various knickknacks for sale with a cafe serving up a selection of French platters, teas, wine, Champagne and cocktails. Moving to the top floor of the building, there is a fascinating collection of antiques and homewares on display.
Shakespeare and Company, Paris
Under the shadows of Notre-Dame, the kooky Shakespeare and Company bookstore at 37 rue de la Bûcherie was opened in 1951 by American expat George Whitman.
He called the space 'a socialist utopia masquerading as a bookstore' and he went on to host many aspiring writers for nights at a time. Various literary publications also registered their editorial addresses at the spot.
Today, cash-strapped visitors can still stay at the venue - there are beds tucked between bookshelves. The walls are lined with books, while the ceiling features chunky wooden beams and the floor is decked out with mismatched tiling. Over 30,000 guests have stayed at the bookshop since it opened its doors.
Livraria Lello, Portugal
Livraria Lello in Porto is one of the oldest bookstores in Portugal.
The shop, which boasts an impressive Gothic-style facade, was opened in 1906 by two brothers, José and António Lello.
Inside, the interiors are equally as grand with winding staircases, stained glass windows and intricate wood carvings. Rumor has it that the bookshop served as inspiration for J.K. Rowling's Harry Potter books. She used to teach English in the area and was a regular customer, often stopping by to drink coffee on the second floor.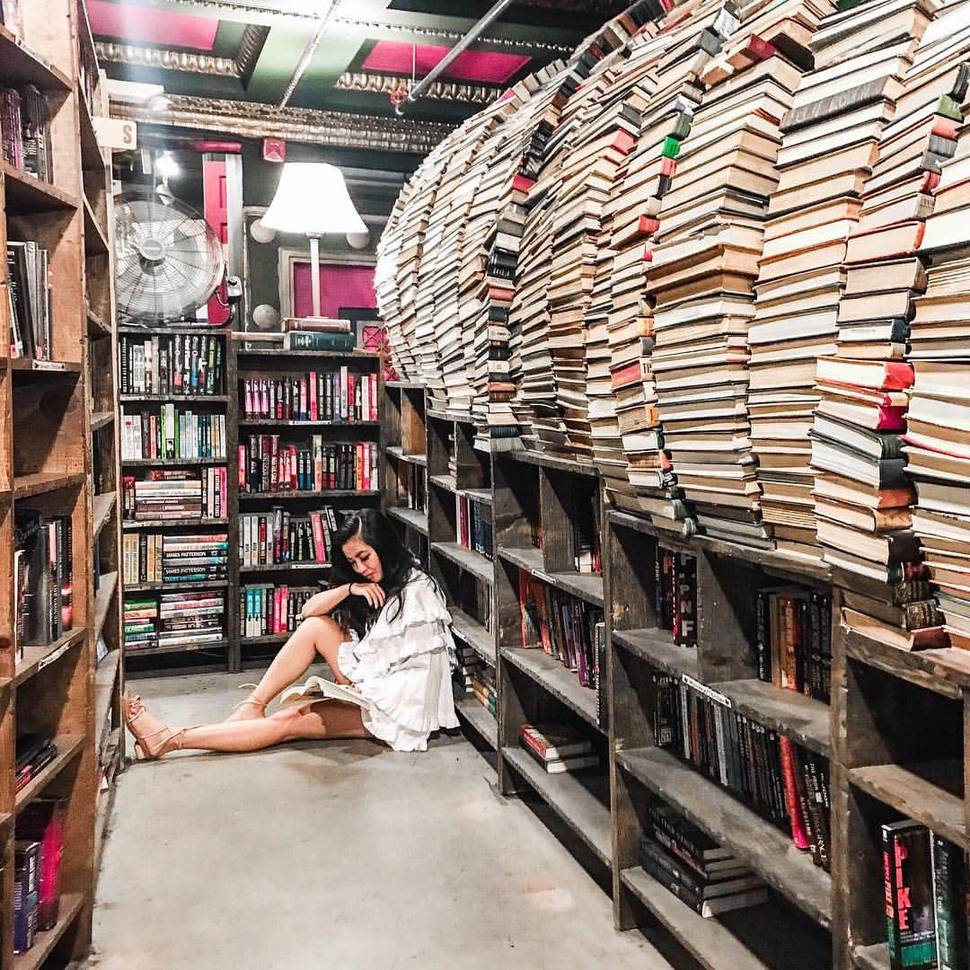 The Last Bookstore, California
The Last Bookstore in Los Angeles, which opened in 2000, is spread across 22,000 square feet, with super-high ceilings and grand pillars setting the tone.
In addition to over 250,000 new and used books on two floors, the space includes tens of thousands of vinyl records and graphic novels.
There is also an audience area that plays host to regular literary and musical events.
The American Book Center, Amsterdam
Branch out and buy a new book at The American Book Center in Amsterdam - the book store with a tree trunk running through the ceiling of the ground floor up to the first floor.
Signings, workshops and talks are held in a 'treehouse' area and the quirky space can be booked out for events.
The shop was founded in 1972 as a bargain bookstore by two Americans and it has a sister shop in The Hague. It claims to be the best-stocked English language bookstore in continental Europe.
Puro Verso, Uruguay
Puro Verso in Uruguay's capital, Montevideo, is a combination of a bookstore, music store and restaurant.
It is located in a beautiful Art Deco-style building that features a double staircase, high ceilings and stained glass windows.
The store was originally built in the early 20th century for an optician but the business closed in 1999 and was later transformed into a reader's paradise.
Ler Devagar, Lisbon, Portugal
Ler Devagar in Lisbon, Portugal, is housed within a gaping 19th-century factory.
The large space includes two bars and a number of quirky sculptures including a flying bicycle, which hovers over visitors in the main store.
On Fridays and Saturdays the bookstore is open from midday to 2am, so bibliophiles can pop in for a read after a spot of revelry. There are thousands of books distributed all over its walls so it might take all night to pick something.
Barter Books, Alnwick
Barter Books is one of the biggest antiquarian bookstores in the UK. Located inside a magnificent Victorian railway station in Alnwick, Northumberland, there is a sprawling selection of books from antique to contemporary novels.
The building includes the original station waiting rooms and their fireplaces, where customers can now sit and browse books.
There is also a station buffet restaurant, which serves up classic British comfort food including soup, bacon sandwiches and Victoria sponge cake.
Liberia acqua alta, Venice
Libreria Acqua Alta on Calle Lunga Santa Maria Formos in Venice is definitely the only place on earth where you will find a huge selection of new and used books displayed in boats, gondolas and canoes.
Some of the books have been used to build staircases, while others cover the walls of the outer courtyard, making for a colourful display.
Other zany pieces of furniture include old boat oars and fashion mannequins and cats sleep on the shelves. The bookstore has been open for around ten years and remains a popular spot with locals and tourists alike.
Atlantis Books, Santorini
Atlantis Books is a charming independent bookshop on the island of Santorini, Greece.
The quaint store, which features floor-to-ceiling shelves and white-washed walls, was founded in 2004 by a group of friends from Cyprus, England and the U.S. who found there was no other outlet selling books in the area.
Today the shop stocks fiction and non-fiction in various languages including Greek, English, Spanish and Dutch. It is also known for hosting literary festivals, film screenings, book readings, dance parties and other events throughout the year.
Corso Como Bookshop, Milan
Founded in 1990 as a bookstore and gallery in Milan, 10 Corso Como is now a shopping and dining complex.
The bookshop part sports minimalist furniture and bright lighting.
Luxurious coffee table books are scattered around the place for visitors to peruse at their leisure.
There are also three chic hotel rooms for weary shoppers to rest their heads in.
Waanders In de Broeren, Netherlands
Waanders In de Broeren in the Dutch city of Zwolle is housed within the 15th century Broerenkerk church.
The unique bookstore boasts high-arched ceilings, intricate masonry, enormous stained glass windows and ceiling paintings. Another feature is the grand pipe organ.
Along with it being stocked with thousands of books, there is a brasserie serving up homemade treats complete with an outside terrace.
Waterstone's Bradford Wool Exchange
The Waterstones bookstore in Bradford is located within an enormous 19th-century Victorian Gothic wool exchange building.
Along with grand polished stone pillars, the shop boasts an arched ceiling supported by wooden beams and there are many original features.
Customers can browse a wide selection of books or admire the architecture from the mezzanine floor, where there is a coffee shop serving up a plethora of treats. The building has not been used for trading wool since the 1960s.
Cafebreria El Pendulo, Mexico City
The Cafebreria El Pendulo bookstore in Mexico City boasts two floors of books, with leafy foliage bringing a bit of the outdoors inside.
A balconied first floor allows visitors to gaze down at the bookshelves below and there are small seating areas for a spot of relaxation.
There is also a cafe on the first floor and a bar on the second, so shoppers can keep up their energy levels as they go.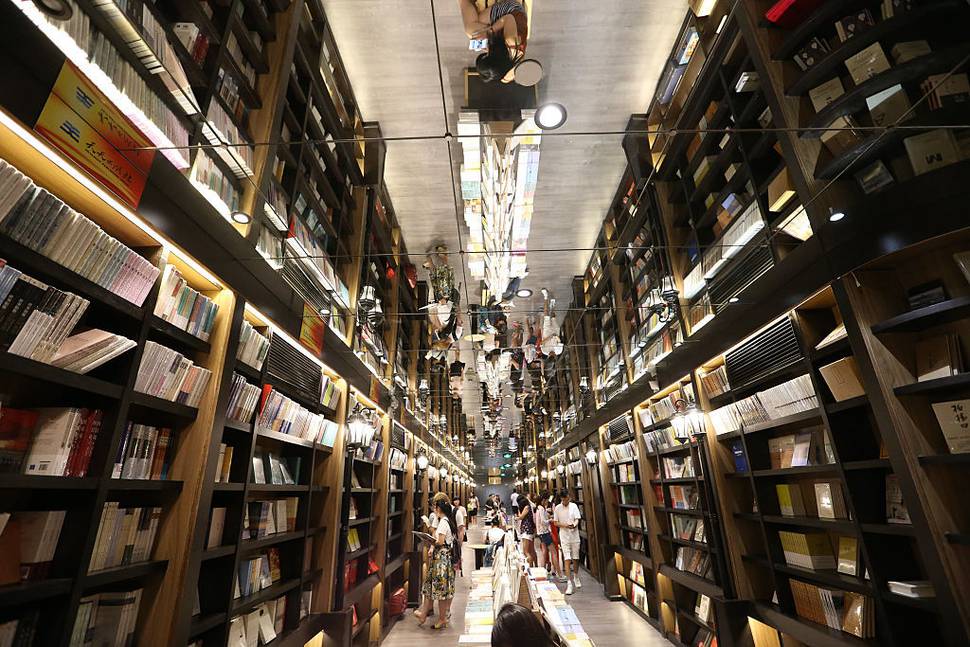 Zhongshuge bookstores, Shanghai
The Zhongshuge bookstores in Shanghai are known for their spaceship-like interiors.
Many of the stores feature mirrored ceilings, with shoppers eagerly snapping photos of themselves gazing up from below.
The book chain was founded by former teacher Jin Hao, who believes there's still value in selling books from brick-and-mortar stores. He went about turning his outlets into architectural wonders of art that transport people into worlds that could be straight from works of fiction.