6.50pm
Tasman are the TECT National Sevens champions.
They showed their class when they went through pool play unbeaten yesterday and looked in fine form with two quick tries in the first half of the final against Counties Manukau to lead 12-0 at halftime.
Counties hit back early in the second half and it was game on at 12-7.
However Tasman, as they did all weekend, dug deep to hold on for a win. A massive relief for the side who were losing finalists at the National Sevens in January.
6.10pm
Manawatu women have won their second consecutive national title! They beat Waikato 12-7 in a final that went down to the wire.
Manawatu captain Selica Winiata was as electric as ever in the final and opened the scoring, through a move she started with a break out of her own half, to make it 5-0.
Waikato were not ready to be counted out just yet and hit back through Violet Hapi-Wise. The try was converted and Waikato led 7-5.
Manawatu regained the lead when Samantha Tipene scored on the back of a miracle offload from Sarah Goss. They converted to lead 12-7 at halftime.
Manawatu started the second half strong but were down to six players thanks to a yellow card. Waikato threw everything at them, but could not break through.
5.30pm
Manwatu have won the men's Shield and finished 13th overall after beating Northland 14-7.
Otago claimed the men's Bowl and ninth place overall with a 22-14 win over Auckland.
Taranaki beat Hawke's Bay 19-5 in the men's Plate final to finish fifth overall.
Up next, the men's and women's finals!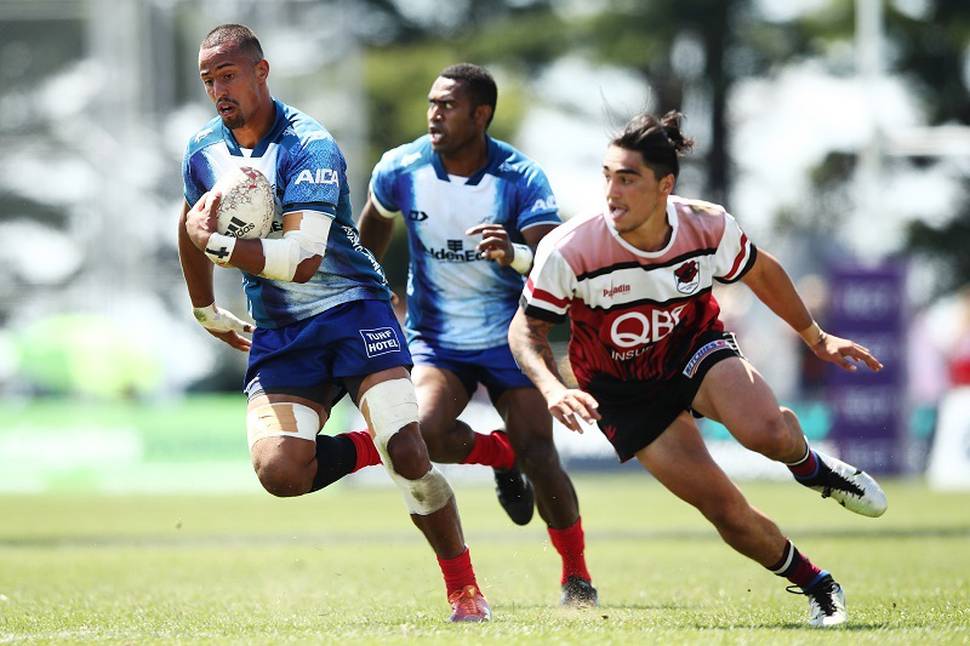 4.20pm
The Tasman women's team have won the Bowl and finished ninth overall, they beat North Harbour 24-5 in the Bowls final.
Canterbury have won the women's Plate and finished fifth overall, they beat Counties Manukau 24-19 in the Plate final.
Meanwhile, Wellington women beat Otago 31-17 in the seventh place playoff and Auckland beat Bay of Plenty 14-5 to claim third place.
3.25pm
We have our men's Cup finalists, Counties Manukau and Tasman!
Counties played out a thriller against Wellington in their semi final, just holding on to win 12-10.
Tasman, who are looking more and more capable of winning the tournament, cruised to a 33-7 win over North Harbour. The final will be played at 6pm.
Meanwhile, in the Men's Plate semi finals, Hawke's Bay booked a spot in the final with a 19-7 win over Southland. They will meet Taranaki, who edged Waikato 22-21, in the Plate final (fifth place playoff) at 5.05pm
In the women's tournament, Hawke's Bay secured 11th place overall with a 17-14 win over Taranaki.
2.20pm
The women's Cup final will be a mouth watering match-up between defending champions Manawatu and Waikato after both won their semifinals.
Waikato had to dig deep against Auckland and held off a late comeback to win 19-12 and progress.
Manawatu were at their scintillating best when they took down the home side Bay of Plenty 31-5.
Bay of Plenty had good possession early on but were unable to capitalise. Once Manawatu got their hands on the ball they showed what they were capable of, scoring three tries to lead 19-0 at the break.
In the second half, Manawatu captain Selica Winiata showed why she is one of the best with two tries that are sure to feature on many a highlight reel. The first was a break down the left wing and as she was being run down she put in a grubber, regathered and scored. For the second she spotted space in behind the Bay of Plenty defence, chipped over the top and showed serious speed to race through and score under the posts.
Bay of Plenty's Autumn-Rain Stephens-Daly scored added to her ever-growing try tally late on, but it was too little too late.
The women's Cup final will be played at 5.35pm. Bay of Plenty will play Auckland for third place at 3.50pm.
Meanwhile, in the women's Plate semifinals, Canterbury beat Wellington 24-14 and Counties Manukau came from behind to beat Otago 19-10. They will meet in the Plate final (fifth place playoff) at 3.50pm.
The Bay of Plenty men's tournament is over, they were knocked out in the Bowl semi finals, beaten 24-21 by Auckland.
Bay of Plenty started strongly but Auckland hung in there and scored right on fulltime to win the game.
Auckland will meet Otago in the Bowl final (ninth place playoff) after they beat Canterbury 12-7 in the other semi final.
Meanwhile, in the men's shield semi finals, Manawatu beat South Canterbury 21-19 and Northland beat Wairarapa Bush 35-12. They will meet in the Shield final (13th place playoff) at 4.15pm.
1pm
We have our men's Cup semi finalists at the TECT National Sevens.
We've had our first major shock of the tournament with North Harbour beating the defending champions Waikato 24-0 in the quarter final to knock them out of the Cup.
In the game of the day so far, Tasman and Taranaki were tied up at 19-all at fulltime before Tasman scored in golden point extra time to move on. They will play North Harbour in the semi final.
Counties Manukau, who beat Southland 19-10 in the quarter finals, will play Wellington, who made short work of Hawke's Bay winning 33-0, in the other semi.
The first men's Cup semifinal between Counties and Wellington is at 2.40pm.
Meanwhile, in the women's Bowl semi finals, Tasman beat Hawke's Bay 26-17 and North Harbour beat Taranaki 22-14. They will play in the Bowl final (ninth place playoff) at 3.25pm.
11.30am
What has 14 legs and speed to burn? The Bay of Plenty women's sevens team.
The home side at the TECT National Sevens have booked their spot in the Cup semi finals with a 19-12 win over Otago in the quarters.
Bay of Plenty started strongly, Renee Wickliffe scored the first try after captain Rebecca Kersten turned the ball over in Otago territory. Hope Garner scored Bay of Plenty's second and they led 12-0 at halftime.
Bay of Plenty were first to score in the second half, Wickliffe broke through the middle and offloaded Kiani Tahere who raced away to score under the posts and make it 19-0. Otago made a late comeback but it was not enough to change the result.
Bay of Plenty will meet defending champions Manawatu in the Cup semi final at 1.15pm, after they won their quarter final against Counties Manukau 21-0.
The other semifinal will be between Auckland, who beat Canterbury 17-5, and Wellington, who beat Waikato 26-7.
Meanwhile, the Bay of Plenty men have picked up their first win of the tournament, beating Northland 39-0 in their Bowl quarter final. They will play Auckland, who beat Wairarapa Bush 26-12, in the semis at 1.55pm.
The other Bowl semi final will be a southern derby between Otago, who beat Manawatu 29-5, and Canterbury, who beat South Canterbury 21-14.
EARLIER
Its' finals day at the TECT National Sevens and the sun is absolutely beaming down at the Tauranga domain.
Pool play yesterday provided all the big hits and pure speed you could ask for, but the players will have put those games behind them to focus on the job at hand - going as far as possible in the knockout stages.
In the men's tournament, defending champions Waikato laid down a marker, winning all three games to top their pool and progress to the Cup quarter finals.
Joining Waikato in the cup are Counties Manukau, Southland, Hawke's Bay, Wellington, Tasman, Taranaki, Waikato and North Harbour. The first men's quarter final, between Counties Manukau and Southland is at 11.30am.
The women's defending champions Manawatu also went three from three on day one, as did the Bay of Plenty women on their home turf. Joining them in the Cup quarter finals are Auckland, Canterbury, Wellington, Waikato, Otago and Counties Manukau.
The first women's Cup quarter final is between Auckland and Canterbury at 10.05am.
Day one pool placings
Men
Pool A: 1st Counties Manukau, 2nd North Harbour, 3rd Manawatu, 4th Wairarapa Bush
Pool B: 1st Waikato, 2nd Southland, 3rd Northland, 4th Otago
Pool C: 1st Tasman, 2nd Wellington, 3rd Northland, 4th South Canterbury
Pool D: 1st Hawke's Bay, 2nd Taranaki, 3rd Canterbury, 4th Bay of Plenty
Women
Pool A: 1st Auckland, 2nd Otago, 3rd Canterbury, 4th Taranaki
Pool B: 1st Manawatu, 2nd Wellington, 3rd Counties Manukau, 4th North Harbour
Pool C: 1st Bay of Plenty, 2nd Waikato, 3rd Tasman, 4th Hawke's Bay