A former pound dog who had a rough start in life is helping children overcome their canine fears.
Quinn, who can perform tricks, is giving her housemate and fellow four-legged friend Alfie, the Western Bay District Council mascot, a run for his money as the new furry face of its educational DogSmart Programme.
Animal services officer Betty Hall, who owns both dogs, says she kickstarted the programme, which the council hopes to implement across all schools in the district, last week at Paengaroa School.
She said Quinn, a kelpie-cross, was the perfect poster girl despite being abused as a pup and she had the most beautiful nature.
''When she arrived at the pound she had lost all faith in humans and it took about eight months before she started to turn around.''
Now aged 7, the ''backseat girl'' was building up her own fan club doing puppy classes with Betty as well as her new role.
''We do puppy classes with some vet clinics through the Bay. She is a nana dog and extremely delightful and she can show the puppies how to behave nicely.''
Quinn had proved to be a hit at schools and was helping bring one of Betty's biggest passions to fruition.
''The education programme has been in my heart for a long time and it's really exciting.''
She says the children's response to Quinn was "awesome" and it was good to talk to them about safety around dogs.
The DogSmart Programme includes telling the students about the animal services officer's day-to-day role and responsibilities and includes a catchy jingle for the kids to sing - "if a dog's on its own, leave it alone".
''I teach them good behaviour around dogs and why it's important for children never to go up and pat a dog if the dog's on its own.''
Hall has been with the council for just over 30 years and said she has to pinch herself some days as she loves her job.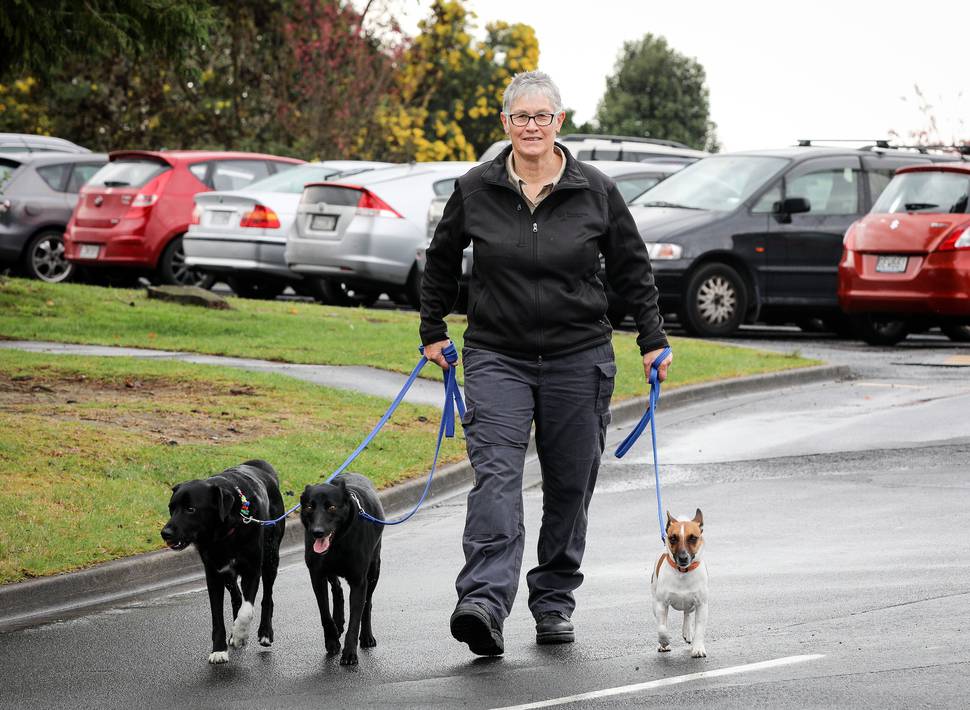 Figures from the Western Bay council show there were 9145 dogs registered in 2018/19 which included 18 classified as dangerous dogs and 163 classified as menacing.
Over the same timeframes, the council received 1123 dog complaints, 103 incidences were a dog attacked an animal and 36 were a dog attacked a person.
A council spokeswoman said the council's animal services team and compliance team dealt with these on a case-by-case basis.
''They and work with the affected people and owners to resolve issues. Where necessary the attacking dogs are seized by the council to protect the safety of the public.''
Paengaroa School principal Bruce Lendrem said Hall knew her stuff and Quinn was an extra-special dog.
''It was a great day had by all and we all enjoyed it. Betty talked about body language signals that both the dog can see and sense and the person approaching the dog and reading the dog's body language. Plus plenty of other great tips about introductions, being kind, caring and looking after dogs.''
Tauranga City Council animal service team leader Brent Lincoln said the council had been running a dog education programme since 2017.
This program primarily focuses on educating primary school but included dog safety for at-risk groups such as mail delivery staff and district nurses.
Tauranga City Council's data revealed the council had 13,428 dogs in the district in 2018/2019 and there were 63 cases of dogs attacking people.
''An attack is anything from a scratch to hospitalisation. The majority of incidents are at the moderate to low end of the scale, which ranges from the victim not needing any medical help through to a doctor's visit with the injury cleaned and a round of antibiotics.
''We get one or two victims hospitalised each year.''
He said the council could take a range of actions depending on the circumstances and seriousness of the attack.
They included a written warning and education, a fine, reclassifying a dog as a menacing or dangerous, and the council would prosecute if appropriate.
''The only time we will euthanise a dog is when directed to by a court order, or where a dog has not been claimed from the pound and fails our homing assessment process.''