A red glow illuminated the Mount Maunganui cenotaph before dawn as thousands of people gathered to commemorate Anzac Day.
As the sun rose, the first sight of light silhouetted a large display of red poppies on the grass before the sand dunes.
Service medals were pinned proudly to the chest of sharply dressed war veterans who refused to sit throughout the service.
Salutes were given as the national anthems of both New Zealand and Australia were sung before the distinctive sound of the Last Post echoed through the chilly morning air.
The minute's silence that followed was only broken by the sound of the rolling ocean in the background.
Mount Maunganui RSA president Bill Newell's words "We will remember them" were murmured back at him by the crowd.
Tauranga Mayor Greg Brownless said he attended the Mount service both as mayor and to honour his father who fought in World War II.
"It brings that home for me," he said.
At the same time across the city, hundreds of people crammed into the carpark outside of the Tauranga RSA and stood in front of the lit-up cenotaph.
A light wind sent the New Zealand flag quietly fluttering as it was unwound at the tip of the flag pole.
The short and sharp bark of the march leader rang out as the procession of veterans, led by Tauranga RSA president Fred Milligan, made their way to stand in front of the cenotaph.
The veterans stood stoically as if they had still been in the army just yesterday.
Those gathered began singing hymn Lest We Forget, accompanied by the plump and smooth notes of the Tauranga Silver City Brass Band.
A sombre mood seeped into the atmosphere as Milligan read out aloud the Anzac Dedication.
Addressing the crowds, Reverend John Hebenton remembered the people of all ethnicities and religions dying in the war.
He remembered those soldiers who passed after the war and those families who lost loved members.
He prayed that those New Zealand soldiers serving overseas returned safely and that peace came soon to end the conflict in the regions they were stationed.
Speaking in English and te reo Māori, Hebenton also prayed for peace and harmony.
In Katikati, hundreds of people gathered outside the Katikati Memorial Hall to remember the fallen.
Veterans, soldiers and those in the armed services stood shoulder to shoulder with members of the community including guide dogs and pets.
Katikati RSA president Glen Burt addressed the silenced crowd and acknowledged the sacrifice of those who lost their lives and those who continue to serve.
Lieutenant Gerard McGrath said the nation still grieved the loss suffered in Christchurch but such hate could not exist in New Zealand.
Katikati Sea Scout cub leader Deb Wilson said it was a highlight of the year for the scouts to be part of the service.
They had stayed together the night before watching movies before getting up at the crack of dawn.
At Whangamatā's dawn service, a gathering of about 2000 people witnessed the arrival of the NZ flag over the surf from Whangamata Surf Club boats.
The flag was delivered to people dressed in costume to represent nurses, housewives, farmers, army, navy and fire service.
In all, thousands of people attended dawn services at the beaches, at RSAs and memorial halls across the Western Bay of Plenty to commemorate Anzac Day 2019.
WHAT DOES ANZAC DAY MEAN TO YOU?
Rory MacFarlane
"I'm from Scotland but my children were born here. I'm trying to show them what being a New Zealander means. We should keep these traditions alive as it's a great way to show respect."
Rien Vanderschantz
"I come to honour my father who was a prisoner of war."
Ian Kelly
"It's a time of remembrance for our family - our family and friends lost loved ones."
Mary Munoz
"It's a wonderful time to remember and take pride in our country. My father went to war and thankfully returned. I'm wearing his medals today."
Gary Moynihan and Brian Williams
"It's quite a moving experience," Moynihan said. "My father and uncles went to fight in the wars and I grew up with the stories. It's a time to remember," Williams said.
Felim McAshee and Oscar Phil McAshee, 6.
"My great uncle Phil served in World War I. He [my son] is named after him and I wanted to introduce him to what it is about."
Ramona Bekkevold, 20, and Pauline Tombre, 20.
"We are visiting from Norway and had been told to come to an Anzac service to share in New Zealand's history. It is very special to follow the traditions of New Zealand."
Aimee and Justin Young with Jackson Young, 7, and Henry Young, 3.
Former New Zealand Air Force warfare officer Justin Young said he came to most services with his wife and two young children.
"I think it is important for them to understand the reason behind why we are here today," he said.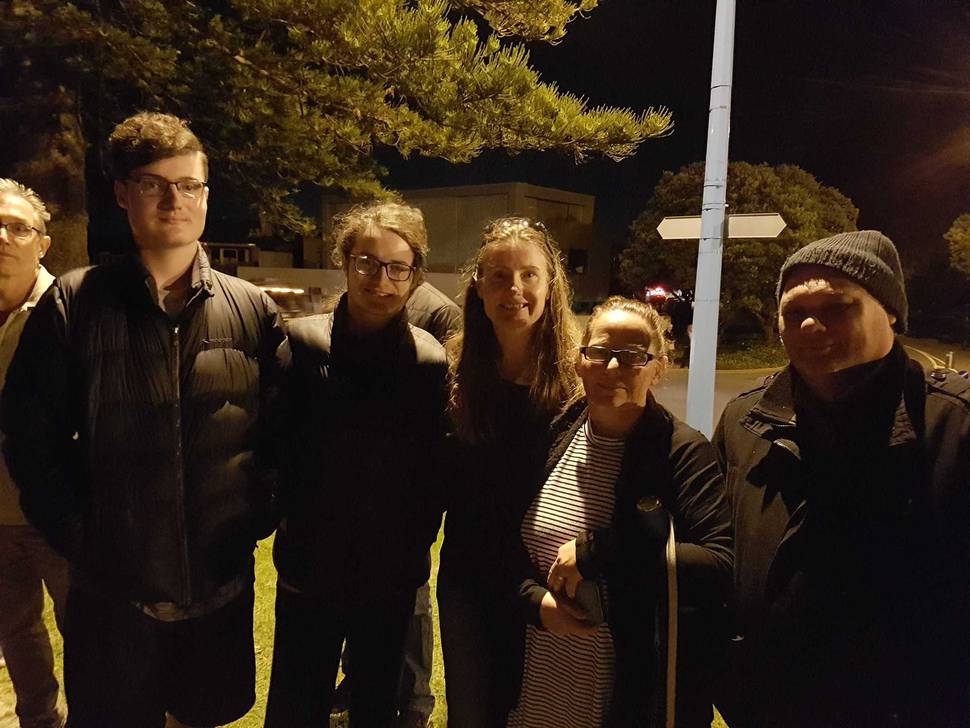 Matthew Julian, 16, Thomas Julian, 18, Lisa Julian, Carmen Nikora and Gavin Nikora.
"My husband is in the New Zealand Defence Force," Lisa said. "It is who we are. It is our heritage, who they all fought for and why we are free today."
Dean Warrell, Jamez Rihia, 17, Brian Worrall, Dariuz Rihia, 17, and Joy Worrall.
"We are here to honour them. We have done it for years. We just enjoy it."