With only 16 days to go on the Christmas countdown, it's no surprise elves are flying off Tauranga business' shelves and hundreds of fresh trees have already been sold at local farms.
Christmas fever has well and truly hit the Bay of Plenty.
Tauranga Christmas Tree Farm owner Warwick Gilmour said about 150 trees had already been sold from the Te Puna farm in the lead-up to Christmas Day.
The first tree Gilmour sold this year was to a local cafe in mid-November and he said there seemed to be a growing trend of people choosing their perfect pinus radiata a little earlier than previous years.
Gilmour said three weeks was a reasonable time frame for Christmas trees to still look good and people chose to put their tree up depending on their summer plans.
"We're finding families with younger children have a tendency to put their trees up earlier," he said.
For some people, the Christmas festivities were over as soon as Boxing Day hit, but for others like himself, the festivities would carry on towards the New Year.
Gilmour, who had run the tree farm for more than 20 years, said picking a tree was about collecting memories.
"We have families coming back each year saying 'remember that time we picked a tree at Warrick's place?' They're developing a family story together," he said.
This year there was an increasing theme of people's grown children returning home and requesting a real Christmas tree, Gilmour said.
Eighteen-year-old Bryn Fredheim was back home in Tauranga for the summer holidays and will be dressed as Father Christmas while selling Christmas trees in Papamoa every day until December 25.
The Otago University student had set himself up outside the Papamoa Domain to sell trees sourced from a Christmas tree farm north of Auckland and delivered fresh daily.
It is the second year Fredheim has sold Christmas trees.
He said the season had started off busy, despite the bad weather over the first weekend of December.
He said Sunday was "crazy". More than 70 trees were sold in a few hours and a total of about 100 trees were picked up.
Fredheim said dressing as Santa and selling trees was the perfect summer job as he had flexibility in the hours he worked and got to spend time next to the beach.
Things are ramping up for the owners of Te Puke's Aberdeen House Christmas Shed as people prepare for Christmas Day.
Owner Angela Thomson said the store had got busier when December came around after a quiet November.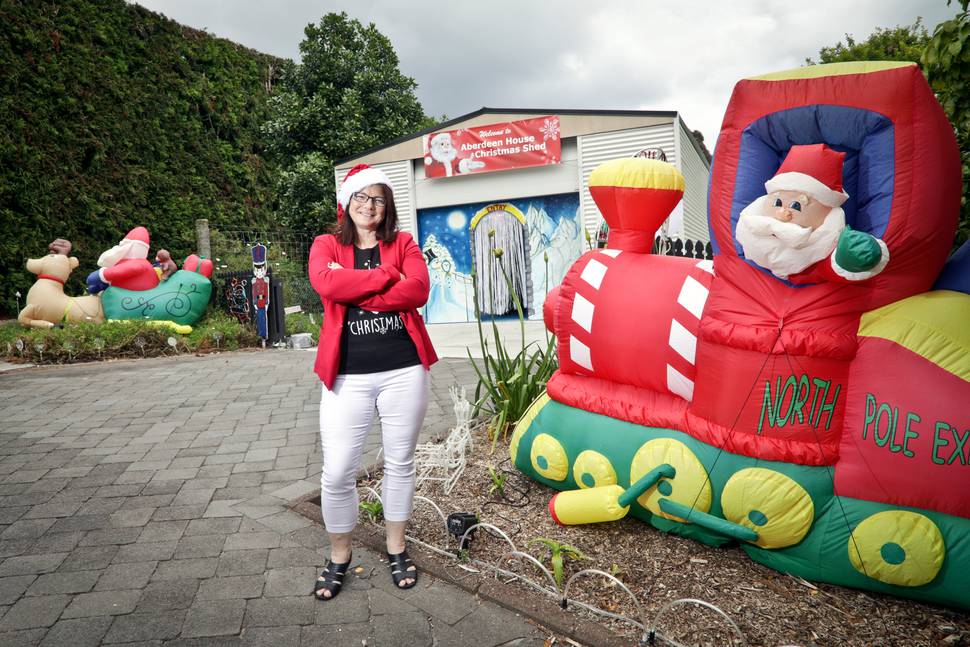 Thomson said the most popular item this year was toy elves and accessories to go with them.
Every weekend of December Santa Claus would visit the store from 1pm to 3pm and Thomson said the first weekend had proved popular with locals and visitors.
Thomson and her husband Phil had run the Christmas store for just over a year and she said one of her requirements for opening the store was to have a grotto for everyone to enjoy.
"For me, it's all about the magic and memories we are helping to create," she said.
Tauranga City Council, Incubator Creative Hub, Downtown Tauranga, and Our Place Tauranga will host a range of activities in the city.
Tauranga Mayor Greg Brownless said the heart of the city would be a captivating place to visit in the build-up to the summer holiday period.
"This is an exciting time of year to come together as a community, celebrate our people and what makes us unique.
"Creating a truly Tauranga Christmas here in the city is something we are proud to do, and with the support of local organisations and artists this year is going to be one of our best," he said.
Throughout December, there would be a range of events and experiences on offer, including a wearable art exhibition, giant advent calendar opened each day, Māori festive banners designed by local artists and life-size pohutukawa tree cut-outs lining the waterfront.
"This year will also be the first Christmas with Our Place and we are thrilled to have such a lively space for the whole family to visit every day of the week," Brownless said.
There would be a Christmas grotto at Our Place and other community events including night markets and Christmas in the Park.