Hoards of teachers armed with protest signs are swarming key areas around Tauranga city to ensure their message is heard.
Hundreds of Tauranga primary and intermediate teachers and principals walked off the job today as part of rolling strike action around New Zealand.
Some are picketing in Bethlehem, Tauranga and Mount Maunganui, while others have chosen to use the strike day to do community service, including rubbish collection and volunteering at the local foodbank.
About 300 teachers and their families gathered at Bethlehem Baptist Church to discuss the pros and cons of the offer before heading to Bethlehem Rd to picket. Large crowds can be seen on either side of State Highway 2, attracting plenty of attention from passing motorists, tooting their horns.
A reporter at the scene said Labour list MP Jan Tinetti drove past the protestors and tooted in support. The teachers all cheered and waved their signs as she drove past.
In Te Puke, striking teachers from several local schools were on the corner of Jellicoe and Jocelyn streets.
Striking teachers have also been doing street and beach clean-ups, helping at the town's Foodbank and helping at the Daily Cafe, which is run as a social enterprise.
Earlier, in Bethlehem, PPTA regional chair of the Western Bay Tania Rae spoke to the audience of about 300 people.
Rae, who taught English at Mount Maunganui College, said she had been teaching since 1989.
She said she came from a family of teachers.
Her grandfather was once a head teacher at Oropi School and mother taught at Matapihi School.
"I love my job," she said. "Sadly our kids and our family following us, none of them have chosen teaching as a profession."
"Workload, pay conditions, these are what is stopping talented people from entering the profession."
Read more: Tuesday teacher strike confirmed, thousands of students to be out of school
Rotorua teachers to picket and march today in strike action
Among the teachers gathered was Gareth Thomas and his six-year-old daughter Violet Thomas. He said he lived in Tauranga but taught at Lynmore School in Rotorua.
New Zealand Educational Institute national secretary Paul Goulter said teachers had been fighting hard for sufficient pay to attract and retain teachers to the profession, as well as addressing teacher workloads.
"There has been a distinct lack of confidence from the Government in regards to workloads," he said.
"I love my job ... Sadly our kids and our family following us, none of them have chosen teaching as a profession."
Tauranga teachers on strike today join many of their colleagues who walked off the job in Auckland yesterday. The rolling strikes are expected to be felt throughout New Zealand in different regions each day this week.
"In Auckland yesterday there was a strong feeling that unless the workload issues are addressed this is going to go on," Goulter said.
He hoped if the Government did not listen to NZEI members, he hoped it would listen to the parents.
Educators across the region were unimpressed by the Government's latest $700 million pay offer, saying they still want more action on workload and class sizes.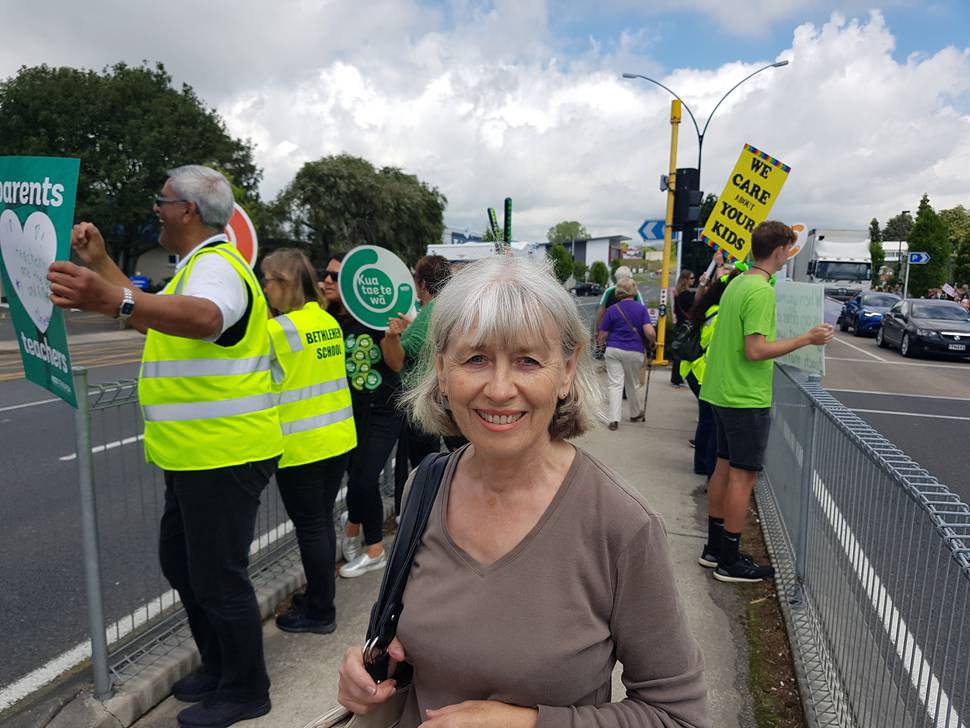 NZEI wants to double the time allowed for teacher professional development outside the classroom from one hour to two hours each week - still well below the five hours a week that secondary teachers get.
It also wants to reduce class sizes in Years 4 to 8 by lowering the teacher/student ratio from 1:29 to 1:25.
There were 859 primary school principal and teacher members in Tauranga, 500 in Rotorua and 2147 across the wider Bay of Plenty.
Ministry of Education secretary for education Iona Holsted urged teachers to accept the Ministry's $698m offer, or negotiate within it.
"It means that most teachers would get between $9500 and $11,000 extra annually in their pay packets by 2020. The offer also provides for additional progression on the pay scale."

Strike action:
Four rally points:
- Bethlehem Baptist church, follow up activity picket Moffat Rd roundabout, Bethlehem 10.30am to 11.30am.
- Curate, Christopher St, follow up activity: Clean up /picket Takitimu Dr, 10.30am.
- Curate, Mount Maunganui, follow up activity: picket near New World, some people delivering cards to Clayton Mitchell's office
- Orchard Church, Te Puke, community service

Key elements of the new offer:
- 3 per cent per year over a three-year term (unchanged)
- No increase in classroom release time (unchanged)
- Lifting the maximum salary for teachers who trained before degrees became required for teaching by four steps on the pay scale, lifting pay for long-serving staff by 39 per cent, from $59,621 to $82,992, by 2020
- Creating an extra step at the top of the salary scale from 2020, lifting the top of the basic scale by 12.6 per cent, from $75,949 to $85,481, by 2020. About a third of teachers are on the top step and would get this increase
- An immediate one-off $500 payment to all NZEI primary and intermediate teachers.
Source: Ministry of Education