Some of New Zealand's up-and-coming sevens players have rubbed shoulders with three of their heroes this week.
There were 57 teams consisting of 684 players taking part in rugby sevens at the AIMS Games in Tauranga, with the matches being played at Blake Park in Mount Maunganui.
Scott Curry from the All Blacks Sevens team and Ruby Tui and Risaleaana Pouri-Lane from the Black Ferns have spent some time on the sideline and have attracted plenty of attention.
"It's cool to see the kids out there enjoying themselves," Curry said.
He was looking forward to watching some of the games and maybe spotting a few future stars.
There were lines of youngsters wanting photos with Curry, Tui and Pouri-Lane and the three New Zealand players were giving away rugby balls, wristbands and other merchandise.
"It's cool to be able to hopefully inspire some of these kids to play sevens, maybe for New Zealand one day," Curry said.
The men's and women's Rugby World Cup Sevens trophies have also been on show at Blake Park.
"It's been awesome," Pouri-Lane said.
"We've had heaps of girls teams coming up and they might not know us, but they just see the logo on our shirt and it's pretty awesome just to see everyone having fun," she said.
"It's an awesome opportunity for the girls to get out there and just express themselves. Most definitely there's going to be some future Black Ferns out here."
Tui commented on how "insanely quickly" the girls game has grown in New Zealand.
At this year's AIMS Games there were 13 female teams and 156 players.
"The boys are phenomenal, their steps – there's Issac Lukes out there, there's Sonny Bill Williams' out there – but the girls are just blowing our minds," Tui said.
"You've got girls fending, perfectly technically tackling, stepping, goosing, popping offloads. I can't believe it, it's incredible."
She said it was inspiring for the Black Ferns.
"It means a lot to us; we're actually on leave but I'm really happy that we could come down here because it's huge for our growth.
"If we want to continue getting World Cups, continue getting Olympic medals, we need to be down here."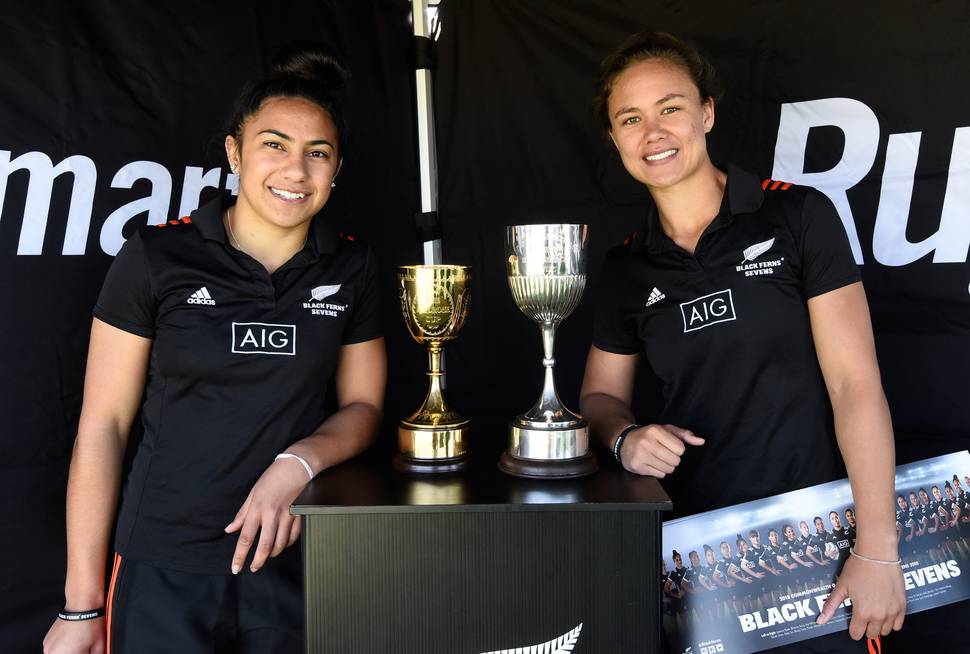 One of the young fans hanging around was 13-year-old Papamoa College sevens player Aaron Gibbs, who said he was enjoying the tournament.
"It's really fun."
Gibbs wanted to be a sevens star and said he looked up to the likes of Curry, Joe Webber and Vilimoni Koroi.
"It's actually pretty awesome; I had a chat with him [Curry]."
Taiaho Hunt, 12, from Otumoetai Intermediate said it was good having the sevens stars at the ground "to come support everyone and show their trophies off".
The boys and girls rugby sevens finals are on at Blake Park this afternoon.

The girls final is at 2.15pm and the boys are at 2.40pm.