A group of more than 30 respected Māori elders came together for the first time to represent Tauranga Moana on the national kapa haka stage.
Nga Taipakeke o Tauranga Moana performed at Wellington's Matariki Taikura Kapa Haka 2018 festival at Te Papa museum over the weekend. The group, aged 55 and over, were among several other similar groups performing at Te Papa's marae as part of the festival which celebrates the Māori New Year.
However, this was the first time a group from Tauranga has ever taken part.
Tutor Meremaihi Aloua said it was also the first time elders - also known as pakeke or kaumatua - from Ngāti Ranginui, Ngāi Te Rangi and Ngāti Pūkenga have come together in kapa haka.
"For a lot of our pakeke, that would have been the first time they were on stage or even the first time they were at Te Papa. There were a lot of firsts on this trip," she said.
The group bussed down to Wellington on Friday before performing on Saturday and Sunday. Most will return home today.
"The feeling we have is really amazing - to be part of this. But for them also, they are just so excited - first to be in Wellington and being at Te Papa but secondly, for the three iwi to come together like this," Aloua said.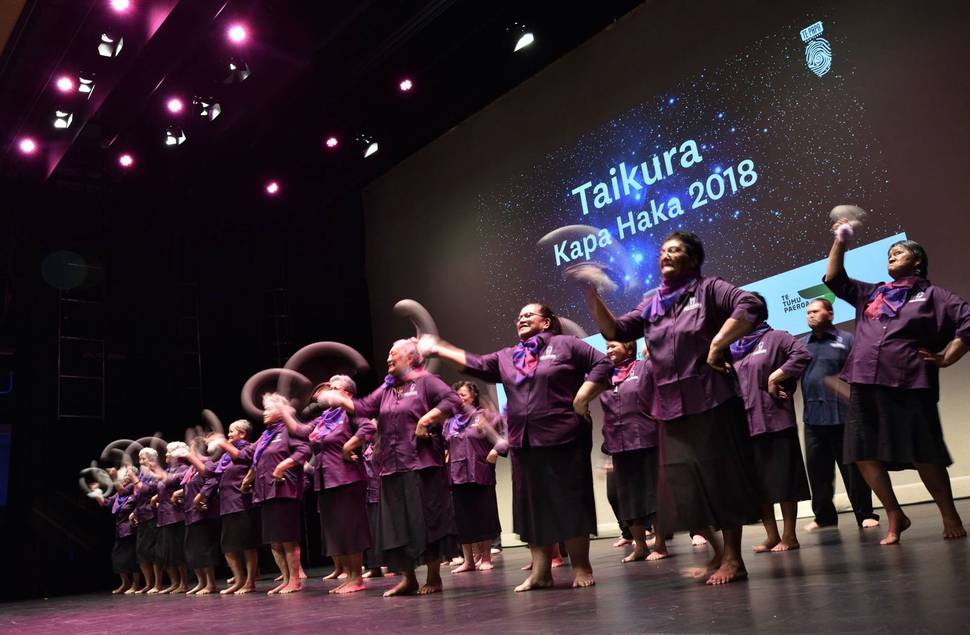 "The only time our pakeke usually come together is for tangi. They don't really have a chance to get together as much as they would like to."
The group of 32 had been practising for the past three to four months. As part of their performance, they dedicated a waiata to beloved Māori leader Dr Morehu Ngatoko Rahipere who died in February. The song was written by his granddaughter and a framed photograph of Rahipere was carried on stage and included in the performance.
"It was really emotional," Aloua said.
"As well as taking him on stage, a lot of his family were there. He meant so much to us.
"We dedicated a lot of our performance to him. He stood for unity. He was a big part of our lives.
"It was such a great event to be part of."
Matariki is celebrated each year when the star cluster known as Matariki rises in the sky during winter.
Dr Charles Royal, creative director of Te Papa's Matariki programme, said the time was right for Matariki to take its place as an important national occasion.
"I think people are looking for an expression of national culture - an event of national unity across the diversity of the country," he said.
Matariki
The Matariki star constellation sets on June 7 and rises from July 6 to 9. It can be seen from the July 6 to 13. It is found low on the horizon in the northeast of the sky pre-dawn (5.30-6.30am)
Source - www.tepapa.govt.nz