Six houses are being removed to make way for a new park in Mount Maunganui, a decade after the city council spent $2.28 million to secure the land.
One house was removed late last year on the block on Huia Ave, between Craysfort and Leander Sts, that would be turned into a park - the design of which was out for consultation.
Another house is empty, due to be demolished soon, and tenants of the other four must leave by July 1 when their tenancy agreements expire.
That will be a sad day for a resident who has lived in her two-bedroom rental unit on the block for seven years.
The pensioner, who asked not to be named, said it was a shock when she received the letter from the council around October last year telling her she would have to move.
She did not know about the park plan when she moved in 2011 with a plan to live out the rest of her mobile years in the tidy unit.
She had since, however, come to terms with the situation and was happy with the support from council staff to help her find another home.
"They are beautiful people."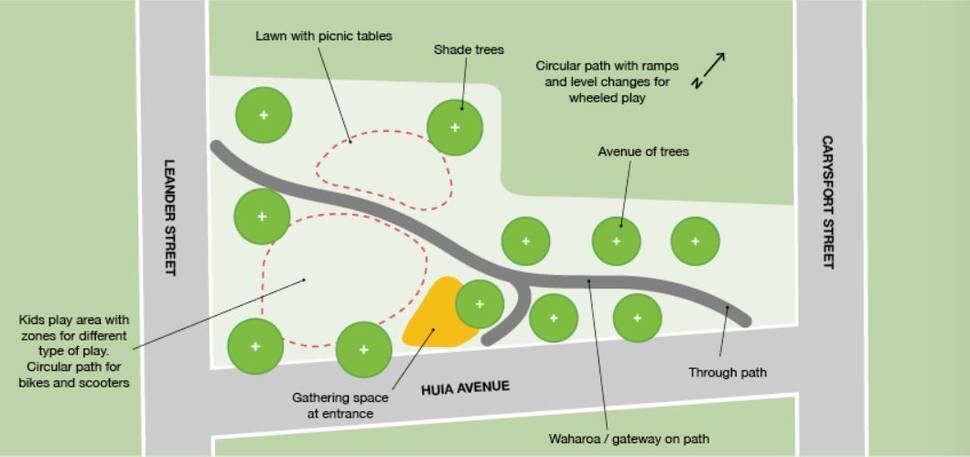 A tenant of one of the homes that would be removed said she had lived there four months and knew about the plans from the beginning.
"I am grateful for the time I have been here. I understand the council need to place an urban park here."
The council's manager of parks and recreation manager, Mark Smith, said tenants were first notified in November last year that work would begin in 2018/19 and issued formal notices in March.
He said the council had offered to provide references for tenants.
Smith said the council bought the six properties on Huia Ave and Leander St in 2007 and 2008 to build a park to replace one the council sold in nearby Harris St.
"Neighbourhood reserves are important connectors in a community – they're where you'll typically find your local playground and where kids meet their friends to kick a ball around after school.
"To help facilitate the expansion of the Bayfair Shopping Centre we decided to sell Harris St and replace it by developing the Huia Ave land. Huia Ave was better placed to become a neighbourhood reserve. It was closer to more residents, more accessible, bigger and more prominent."
The $100m Bayfair redevelopment began in December.
Late last year the council started the first phase of consultation on the design and development of a replacement Arataki park.
Earlier this month it went public with three concept design options.
All included shady trees and gathering places. At the centre of one design was a pump track with parks and ramps for bikes, another featured a tree-lined through path with large areas for kids' play and picnics, and the third a big open lawn and a nature play area.
Feedback was due by 5pm on June 4.
A neighbour of the new park said she had some concerns about the pump track idea - believing it would be better placed in a less residential neighbourhood - and the loss of her privacy, which she did not yet know how the council would mitigate.

What the council paid in 2007
• 2 Huia Ave – $375,000
• 2A Huia Ave – $375,000
• 6 Huia Ave – $430,000
• 23a Leander St – $240,000
• 23b Leander St – $300,000
• 25 Leander St – $560,000
Source: Tauranga City Council