Scott Bradlee remembers the reaction he got from his friends when he first mashed up a modern song and fused it with one of his favourite musical genres.
The song was Big Poppa by Notorious B.I.G and the musical style was jazz.
Bradlee remembers how receptive his friends were and how their' "faces just lit up" when they heard the reworked version of the hip-hop track he had transformed to make his own.
He was a high school student who loved the spontaneity and the spirit of jazz music, his friends were more interested in the current and popular musicians.
"It's [jazz is] exciting, it's never the same way twice," he said.
Bradlee knew he wanted to infuse the modern music of the time such as Notorious B.I.G and Sublime with his own preferred musical styles including Motown and jazz but wasn't quite sure how to present it.
Once he did though, he knew he was on to something.
In 2009, Bradlee was a musician in New York and started a YouTube channel where he posted videos of himself and other talented musicians he had vibed with, to create a project which became Postmodern Jukebox - a musical collective that takes modern day songs and adds a vintage flavour.
"The whole thing kind of started in my basement," Bradlee said.
"The project has always been about talent and hard work."
Today, Postmodern Jukebox - or PMJ as it is affectionately known - has amassed more than 900 million YouTube views and 3.3 million subscribers, chalked up more than 1 million likes on Facebook, topped iTunes and Billboard charts, played hundreds of shows to sold-out houses around the world and has a rotation of about 40 musicians who all bring something different to the project.
"It's gone very organically."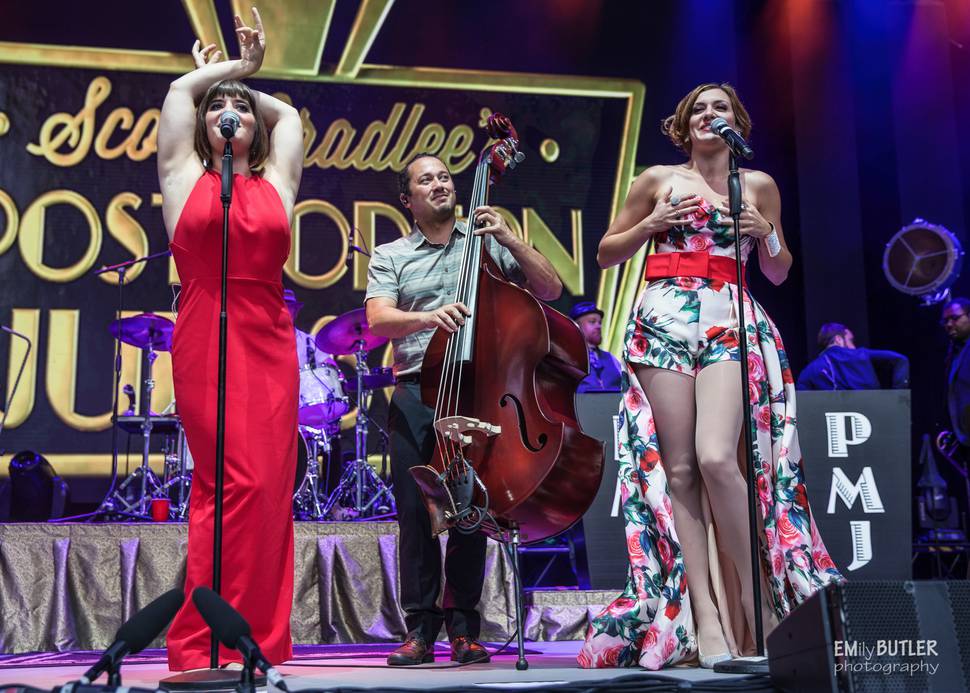 Bradlee said 12 of those musicians, making up a good representation of PMJ, will tour New Zealand this year for the fourth time, providing a real "variety show" for audiences that will incorporate brass, tap dancing, soul, rock, Motown and more.
"We're excited to come back, we're going to bring some surprises," Bradlee said.
PMJ's New Zealand tour will open in Tauranga - their first visit to the city - on October 2 before heading to Napier, Auckland, New Plymouth and Wellington, winding up in Christchurch.
Bradlee was excited about the tour and said audiences could expect "a high-energy show", especially on opening night because "the first show is always an exciting one for us".
"We want to make it a party, it's a celebration.
"I take pride in putting together the right powers and personalities to create a unique and amazing experience for our fans," Bradlee said.
"We want them to escape reality and join us for the most sensational 1920s party this side of The Great Gatsby.
"We want them to experience what it was like to be at the New Years' Eve show that Sinatra would have hosted in the 1940s. We want them to feel the excitement of hearing the greats of Motown live and up close. Our goal is to give our audiences their favorite show again and again and still have it feel like the very first time."
The multi-talented collective will bring their reimagined contemporary pop, rock and R&B hits in the style of various yesteryears, with tickets available from tegdainty.com.

PMJ's New Zealand tour dates:
Tauranga: Tuesday, October 2
Napier: Wednesday, October 3
Auckland: Friday, October 5
New Plymouth: Saturday, October 6
Wellington: Sunday, October 7
Christchurch: Monday, October 8