The centenarian arrived at Te Puna Quarry Park under blue skies in a 1930 Ford Model A.
With the sun beating down and birds singing, Alf slowly made his way up a gravel road to the planting site, surrounded by native bush and assisted only by his walking stick.
Friends and fellow volunteers gathered around and applauded as he dropped in the first spade-loads of soil.
"It's lovely," Alf said of the place chosen for his kauri. "It's a great little spot."
He has been a volunteer at the quarry park since 2002.
"It's been absolutely worthwhile coming out [here]," Alf said.
"It's the best thing that's ever happened to me while I've lived on my own."
He first came to the park to have a look around after his wife died of cancer and about 15 years later he is still driving himself to weekly get-togethers there - his driver licence has just been renewed for another two years.
"It's been really something," Alf said of yesterday's celebration, which was the last big birthday event for him this year.
The first was on Saturday at the Tauranga Yacht and Power Boat Club, which he joined in 1933.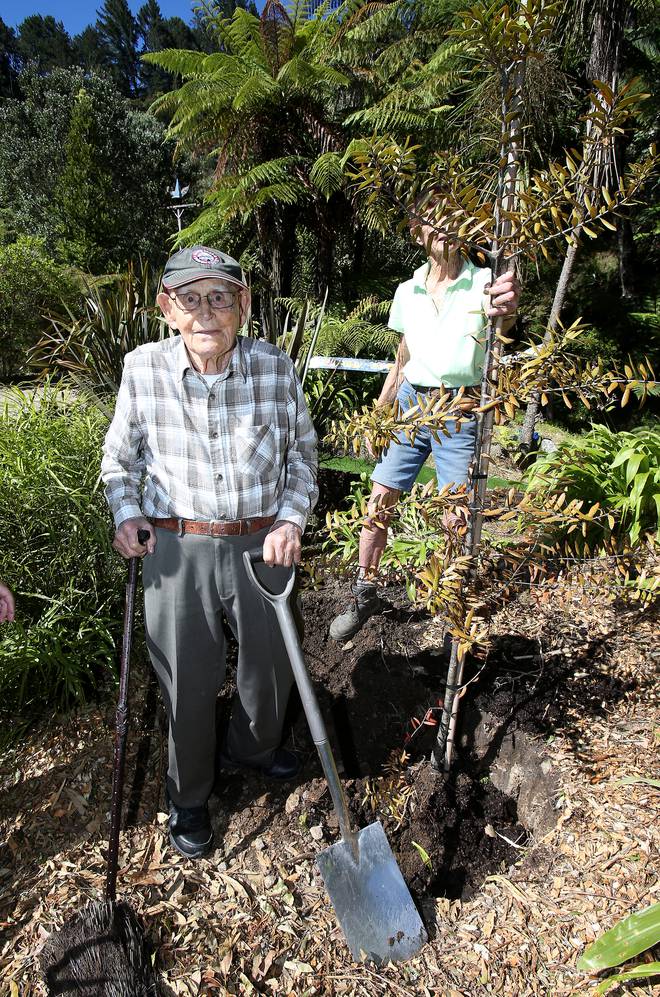 Jo Dawkins, 81, has been involved with the quarry park since the very beginning and said she remembers when Alf first started volunteering.
"Most people just stay for a Tuesday morning but Alf and my other mate Dick - we used to have the afternoons up here."
She was the one who made the comparisons between Alf and the newly-planted kauri - "strong, healthy and intelligent".
"We all love him; he's such a nice guy. And so friendly.
"This is Alf's tree," Dawkins said to those gathered.
She later added: "It's not a memorial tree, it's a birthday tree."
Dawkins said Alf probably only stopped working at the park a few years ago.
"But if you said we want something painted, he would probably come up and paint it."
And there was always time for a cup of tea.
Yesterday, the kauri planting was followed by just that, as well as morning tea and the cutting of birthday cake - fruit cake was Alf's preference over chocolate.