Bethlehem couple Jax Pevreal and Klynt Te Wheoro-Lucas were two people in a sea of pink as the annual Hot Pink Walk got underway this evening in central Tauranga.
The event, held in support of those with breast cancer, started in Masonic Park on The Strand about 5.30pm and there was plenty of entertainment for the thousands of walkers along the 3km downtown route.
Mr Te Wheoro-Lucas' mother is a recent breast cancer survivor and he suggested the couple and their friends get involved this year.
She got breast cancer in 2010 and got the final all-clear last Thursday.
"It's good to raise that awareness for the women and the girls," the 31-year-old said.
Miss Pevreal, 30, said about 10-15 of them were taking part in the event and their kids were involved too. They had organised their pink costumes on Tuesday night.
"It's just important to raise awareness for women to get regular checks because caught early is way better than being caught late," she said.
She also did the Hot Pink Walk a couple of years ago and said it was great fun.
Samba drums, a pipe band, belly dancers, a juggler, cheerleaders, and a hip-hop group were just some of the entertainment helping keep the atmosphere buzzing along the way.
Earlier, a Zumba dance instructor got everyone moving and, after a moment's silence, a family who had lost a loved one this year released some doves.
People from all ages crowded at the park waiting for the walk to begin as well as several dogs, also dressed in pink.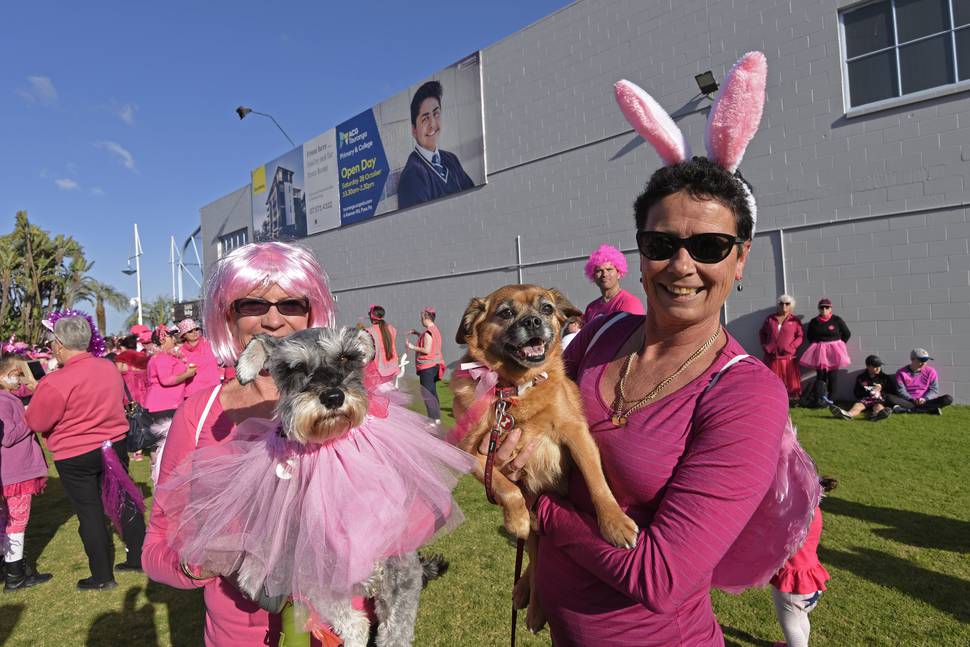 Tracey Church, 43, was there with her two children and a friend.
She said she had friends and family members who had battled breast cancer and other cancers and she also saw people dealing with it every day at the Kathleen Kilgour Centre where she worked.
The countdown to the start of the walk echoed around Tauranga's waterfront and then the wave of pink began to move off.
Last year about 3000 people took part in the walk and organisers were hoping to equal that in 2017. One of the organisers thought there were more people this time.
Breast Cancer Support Service Trust Tauranga manager Helen Alice said it was always fantastic to see so many people all dressed in pink all in one place.
"There are some great costumes this year and it's a beautiful evening. We love hosting this event for Tauranga and we want everyone to have a fun night."
The trust, which started in 1991, receives no government funding and October is its most important fundraising opportunity of the year as it is also breast cancer awareness month.
The Hot Pink Walk raises thousands of dollars to help it fund services such as massage, counselling, dinner deliveries and post-operative support for hundreds of local women with breast cancer.