The Hairy Maclary sculptures on The Strand have been covered in knitted creations.
The bronzed Hairy Maclary has a woollen coat and is teasing Scarface Claw with some knitted sausages in its mouth, while Muffin McLay and Bitzer Maloney have knitted capes.
Beryl Thomson, Jayne Popham, Clare Birch, Frances Kelly and Lynne Lawson of the Ninja Knits group draped the woollen masterpieces over the bronze statues on the waterfront on Sunday morning.
"The Ninja Knits strike again," said knitter Beryl Thomson.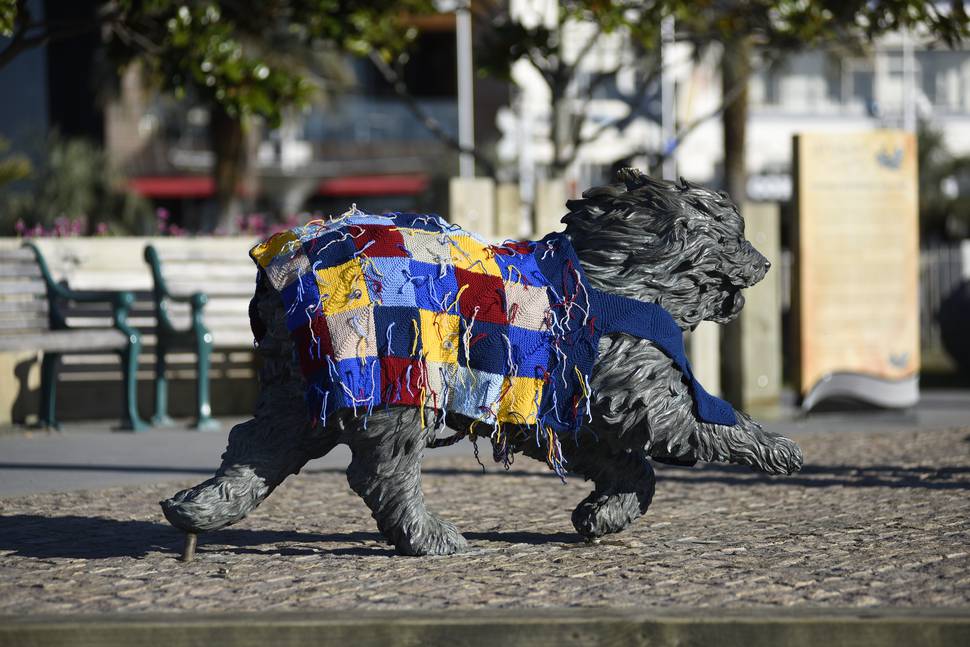 It was Mrs Thomson's idea to yarn bomb the sculptures. They each chose a dog to cover and Clare Birch looked after the cats Scarface Claw and Slinky Malinki.
"Slinky Malinki has stars on his back because he is the thief of the night," she said. "And Scarface Claw, of course, has a pirate patch on his eye."
Mrs Thomson and Jayne Popham took on Hercules Morse as big as a horse.
"We could not get a coat on him because he was so big," said Mrs Popham. "So we decided to give him a couple of pigeons to keep him company instead."
"We gave Schnitzel Von Krumm a basket because one of the books is called Basketwork," she said.
Mrs Popham said the idea of knitting for the Hairy Maclary sculptures was "just a bit of fun".
"It is about putting a bit of colour in the winter time," she said. "The trees are famous but we like to bring something downtown as well. It is showing knitting is not just for grannies."
She said the knitting would be up for as long as necessary. They did not mind people admiring the knitting and taking photos or the children climbing on the statues.
"But please leave them be."