A post-New Year's festival in Tauranga has become a surprise hit. Chris Schulz asks promoter Mitch Lowe how he did it.
As the old saying goes, you wait for one festival headliner to come along, and then three arrive all at once.
That's what happened to Mitch Lowe, the Bay Dreams promoter who nabbed "all my favourite artists" to headline his January 2 show in Tauranga.
In just its second year, Bay Dreams has secured one of the best festival line-ups in a packed summer schedule that includes Northern Bass, Splore, One Love, Rhythm & Vines, Laneway, Raggamuffin, Womad and Auckland City Limits (see below).
Bay Dreams' line-up includes hip-hop originators Grandmaster Flash and Bizzy Bone, dance titans Skream and Peking Duk, and Kiwi veterans Kora and Katchafire.
But at the top of its bill are three names that, in his wildest dreams, Lowe never thought he'd be able to get on one festival line-up.
"We were gunning for one headliner. It was either Shapeshifter, Sticky Fingers or Yelawolf," explains Lowe, who co-promotes the show with Pato Alvarez.
"In an urgent rush we confirmed Sticky Fingers, announced it, and tickets went crazy. We thought, 'Look we're not going to hold back, we might as well add Shapeshifter to it'.
"We ended up with the two headliners."
But Lowe wasn't done yet. After eight months of negotiating, he secured southern rap giant Yelawolf - "my all-time favourite artist".
"It was a personal chase on that one and I started negotiating that almost eight months ago," Lowe says.
"It was quite hard to pull that one off. It's exclusive. We're bringing him out for one show. He's not playing anything else in New Zealand or Australia."
Last time Yelawolf was here at the end of 2015, his show sold out so quickly promoters were forced to move him from the 700-capacity The Studio to Trusts Stadium, which holds about 4000.
All those big names mean Bay Dreams has been forced to grow as well, employing more staff, planning bigger stages and extending capacity from last year's 6000 punters to somewhere nearer 12,000 - making it close to Auckland's Laneway festival in size.
"We could sell it out at 12,000 in a few weeks. We'll sit down and decide whether to extend it to 15,000 in a few weeks," says Lowe.
Holding a music festival just two days after New Year's at a time punters may still be jaded from Christmas festivities may seem like a strange decision.
It's one Lowe calls "strategic".
"We launched the festival with the intention of giving people the option of still going to New Year's then coming to check out what we had to offer," he says.
"Because it's a public holiday on [January] 2 and 3, we didn't see it as that much of a risk because people have the time off. We knew we had better access to artists as well because for New Year's you're battling against the world, for January first or second you've got your pick of the range."
One thing's for sure: Lowe will be attending next year's event after missing last year's because of a cousin's wedding in India.
"I'm so excited to actually be at one. With Yelawolf being my favourite artist ... hopefully I get an hour to watch his set.
"Every day it blows my mind that we pulled it off."
LOWDOWN
What: Bay Dreams
Where and when: ASB Bay Park Stadium, Tauranga, January 2
Featuring: Yelawolf, Shapeshifter, Sticky Fingers and Kora.
Also: Warm-up event on January 1 featuring Example, The Upbeats and Kings.
More information: www.baydreams.co.nz

Summer's biggest festivals
Rhythm & Vines
Where and when:
December 29-31, Waiohika Estate, Gisborne
Featuring:
Chance the Rapper, Rufus, Hot Chip (DJ set)
More information:
Northern Bass
Where and when:
December 29-31, Mangawhai
Featuring:
Chase & Status, Hudson Mohawke, Goldie
More information: www.northernbass.co.nz
Wondergarden
Where and when:
December 31, Silo Park, Auckland
Featuring:
Anika Moa, Liam Finn, The Phoenix Foundations
More information: www.wondergarden.co.nz
Soundsplash
Where and when:
January 20-22, Raglan
Featuring:
Six60, Little Bushman, State of Mind
More information: www.soundsplash.co.nz
Laneway
Where and when:
January 30, Albert Park Precinct, Auckland
Featuring:
Tame Impala, Nick Murphy, Mick Jenkins
More information: auckland.lanewayfestival.com
One Love
Where and when:
February 4-5, Tauranga Domain
Featuring:
Tarrus Riley, Six60, Spawnbreezie
More information: www.onelovefestival.co.nz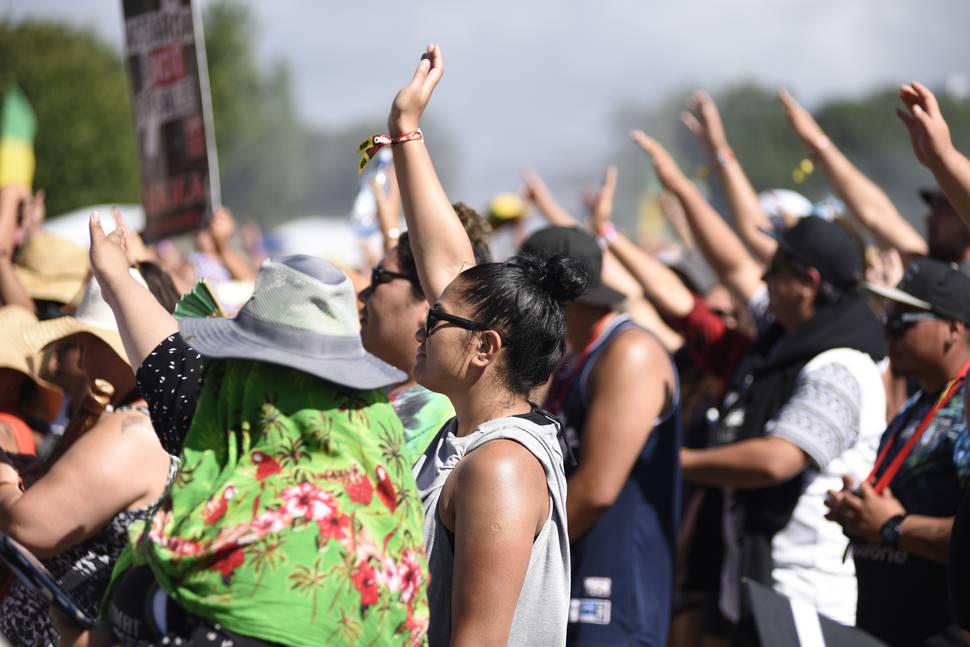 Splore
Where and when:
February 17-19, Tapapakanga Park, Auckland
Featuring:
Sampa the Great, Ragga Twins, Dub Pistols
More information: www.splore.net
Raggamuffin
Where and when:
February 18, Trusts Stadium, Auckland
Featuring:
Shaggy, The Wailers, Herbs
More information:
Auckland City Limits
Where and when:
March 11, Western Springs Park & Stadium, Auckland
Featuring:
Line-up announced on November 10
More information:
Womad
Where and when:
March 17-19, Bowl of Brooklands, New Plymouth
Featuring:
Lord Echo, Mt Eden, Sons of Zion
More information: www.womad.co.nz