Celebrate it, bemoan it or ignore it - Halloween is creeping up. Though October 31 falls on a Monday this year, people are planning to mark the date (or disregard it) in ways embracing darkness and light, pretend evil and real goodness. 48 Hours reporter Dawn Picken takes us beyond costumes and makeup to the reasons we celebrate or shun Halloween.
Half of Ruby Neverman's face is a molten mess of flesh and blood. Her forehead looks gashed, and her grey-blue eyes are ringed with purplish bruises. At least, that's how she looks in photos her mum posted on social media.
The injuries are fake; the face mask, Ruby's creation. Her latest piece, modelled by 11-year-old sister, Lila, is a gold-painted face unzipping to reveal a triangle of raw, red flesh.
Ruby says she's been dressing up to attend festivals with her parents ever since she can remember. Now, the 12-year-old Pongakawa student is experimenting for Halloween. She recently tried making her own latex using gelatin, coconut oil, cornflour and water.
"I had to look up how to make a mask and then it came down to the ingredients I needed. Then I played it by heart and decided how to make it."
Ruby says she'll likely dress as a zombie on October 31. It took her two or three attempts to create her mask.
"I used latex to mould it and had to separate cotton balls to make it look like the mouth is more of that creepy effect."
Mum Hayley Whistler studied fashion design and says she'll let Ruby choose her Halloween outfit from the family costume chest.
Hayley says no one on her rural street was trick-or-treating when she moved to the Western Bay.
Over eight years it has become a big thing. People now wait and hide out and play tricks on us. All the little kids would follow on to the next place and the next place.

SHARE THIS QUOTE:
She says the evening has become a social activity for the neighbours, some of whom call to ask when her family is coming.
Over in Welcome Bay, Belinda Roddick has spent the past nine years wowing friends and family with her Halloween spooky house.
She says her husband and sons, aged 7 and 9, help decorate - hanging heads, spider webs and body bags stuffed with newspaper. She even splatters the inside of her home with fake blood and hangs red light bulbs from the ceiling.
"Last year, we got the kids to come round and lie on the driveway. We painted chalk around them and had dislocated bits - blood and guts - all over."
Belinda, who's Kiwi, says her Halloween tradition grew from a conversation with her husband, Charlie.
"We said we really need to do something different so the kids have a family tradition. We love dressing up ... and didn't know anyone else who did it [Halloween] in Tauranga. It just got bigger and bigger every year."
Belinda says she hosted a party for 65 (mostly adult) friends, family and neighbours last year. They'll host again on October 29. Belinda is six months pregnant and can't resist incorporating her bump in dressing up. "I'm going to have baby doll bits hanging off me."
Belinda visits op shops for costume pieces and props. Other options for Halloween supplies and ideas include $2 shops, costume shops and retail outlets.
The Warehouse merchandise general manager Jenny Epke says: "We are expecting Halloween sales to really heat up from this weekend. We have products for all tastes, whether it is a traditional 'scary' costume or a superhero or princess."
The Warehouse on Cameron Rd earlier this week stocked full children's costumes such as a spunky monkey, scary skeleton and little pumpkin for as little as $10, plus adult costumes like the Grim Reaper, starting at $12.
For more variety and the chance to try on outfits for hire, Wear it Out on Eleventh Avenue has everything from a scary, red-faced Donald Trump mask to vampy high heels and corsets.
Owner Stacy Scott says zombie and superheroes from TV and movies such as Suicide Squad are popular again this year, though a worldwide scary clown epidemic has her spooked. "I've had a couple of random calls about scary clown masks, but none have gone out ... I've actually hidden them."
Wear it Out and Bay Costume Hire, which recently relocated to the Historic Village, both have online catalogues.
Alternatives to trick-or-treating include church parties and roller derby. Bethlehem Baptist church is holding its annual October event, called Glow Disco Light Party on October 31 from 5.30pm to 7.30pm.
Children's ministries leader Pat Thomson says the party is open to anyone; the church distributed lolly bags to 450 children last year.
We're not hugely anti [Halloween] or anything. It's just a beautiful opportunity for those parents who don't want to go trick-or-treating, but whose kids want to.

SHARE THIS QUOTE:
The party is geared for children up to Year 6. Greerton Bible Church is also hosting a Light Party for children aged 12 and younger. The yearly event includes a no-costume policy and has hosted hundreds in previous years.
Maureen Ward from Papamoa Beach says her family don't observe Halloween for religious reasons, so she brought her son to Greerton Bible Church last year. "He had heaps of fun, ate lots of lollies, played fun games and didn't feel like he missed out."
A message on social media asking about attitudes towards Halloween garnered 23 replies in less than 24 hours. Some residents will welcome kids in costume to their homes, while others reject Halloween outright.
Lynn Cunningham of Welcome Bay wrote, "I have taken my kids out here and was confused as to why so many people are against it. It's just a bit of harmless fun for the kids to get dressed up and have a laugh."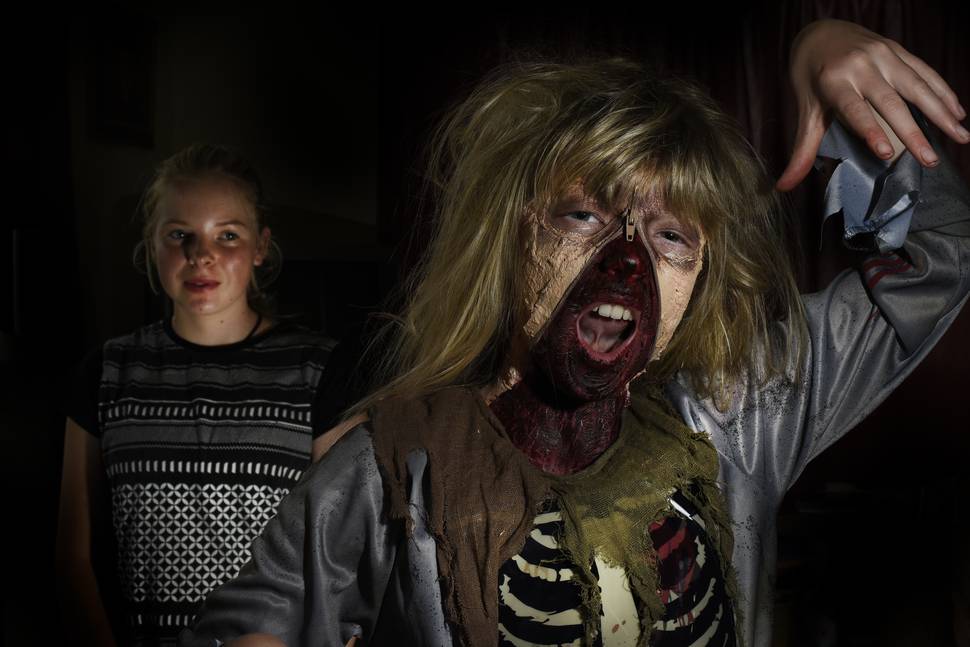 Oropi resident Esther Irwin says she thinks it's a "horrible thing" to teach children to beg for candy while telling them to avoid strangers. "I'm so sorry that Halloween made its way to New Zealand. We lock up and turn the lights off."
Meanwhile, creepy creativity is getting 12-year-old Ruby Neverman recognition. Her media and film teacher from Pongakawa School visited Weta Workshop in Wellington recently, showing staff Ruby's latex masks. They were so impressed, they want to see a portfolio of her work. "I was sort of speechless. I plan to do some different types of latex ... I want to make something that isn't so gruesome."
Events
Glow Disco Light Party Bethlehem Baptist Church, 90 Bethlehem Rd. Monday, October 31, 5.30pm-7.30pm www.bethlehem.org.nz
Light Party Greerton Bible Church, corner Chadwick and Oropi roads. Monday, October 31, 5.30pm-7.30pm. www.gbc.org.hnz
Spooktacular Halloween Evening Oak Tree Restaurant, 1237 Cameron Rd. Monday, October 31 - kids dress in costume, spot prizes. To book: 07 578 9654.
Halloween's Celtic origins
Halloween is thought to have originated with the ancient Celtic festival of Samhain, when people would light bonfires and wear costumes to ward off roaming ghosts.
In the eighth century, Pope Gregory III designated November 1 as a time to honour all saints and martyrs; the holiday, All Saints' Day, incorporated some of the traditions of Samhain.
The evening before was known as All Hallows' Eve and later Halloween. Over time, Halloween evolved into a secular, community-based event characterised by child-friendly activities such as trick-or-treating.
Source: www.history.com