Bay of Plenty locals this weekend are joining with Kiwis nationwide celebrating 100 years of Anzac Day. Monday marks the centenary of the first time communities and families across New Zealand joined together in remembrance of the events of April 25, 1915 on the Gallipoli Peninsula in Turkey. Anzac Day now represents the 30,000-plus New Zealanders who have died at war in this country's service since 1899. 48 Hours reporter Dawn Picken reports how veterans are teaching the meaning of service and sacrifice.
Damian Morrison says he joined the Navy at age 20 to travel the world. He circled the globe twice and did two tours in Afghanistan, the first in 2003, when his youngest son was 7 years old.
"The second time [2006] was a lot harder because he was 10 and had a better understanding of where I was headed."
His wife, Kara, says the hardest part of that first tour was not knowing where her husband was, because communication was spotty.
Read more: Big read: Class act
"I wouldn't let the kids watch the news and I didn't watch the news. Otherwise, I suppose you wouldn't cope."
Today, at age 48, the former warrant officer has retired from the Navy and lives in Papamoa. For him, Anzac Day is personal.
"...remembering my grandfather, my father, uncles, relatives, all New Zealanders who fought in war." Damian's father, James Morrison, fought with the 28th Maori Battalion in World War II. His grandfather, Dan Kingi, served in the First World War, where he was gassed. His services were recognised with an O.B.E. in 1966.
Damian plans to spend Anzac Day at ceremonies with his sister in Maketu. He says Kiwis have a greater understanding of veterans' sacrifices than they used to.
"Go back 10 to 15 years; Anzac Day wasn't celebrated that much by many people, it was only a military-type event. Now, it's grown. You see families and young children."
Kiwi kids learn about Anzac Day at school, and in organisations such as Boy Scouts and Girl Guides. Each year sees the return of uniformed young people marching at parades and presenting wreaths.
Janet Reekie has brought her Papamoa Brownie group to Anzac services the past 15 years. She says many of her young charges, ages 7 to 9-and-a-half, will have already visited the RSA, listened to stories and completed a badge called ANZAC Heritage.
"They learn something new every year. And every year it sinks in. Being part of the parade and knowing they're one small part of it, too - they'll remember that forever."
Veteran Rex Harris believes momentum from last year's Anzac commemorations will continue long into the future. The 80-year-old Papamoa resident served in Southeast Asia with the NZ Special Air Service.
"We've had a huge response from younger people and it's very enlightening. I just hope they're responding for the right reasons and that's with sorrow and getting the history straight, because war's not glory ... There's no damned glory there."
Heather Waldron, a Navy veteran, helps teach children about Anzac Day in her role as president of the Tauranga RSA. Inside the building's headquarters, to the left of the bar, she points out thank-you notes containing backwards letters and simple thank-you messages.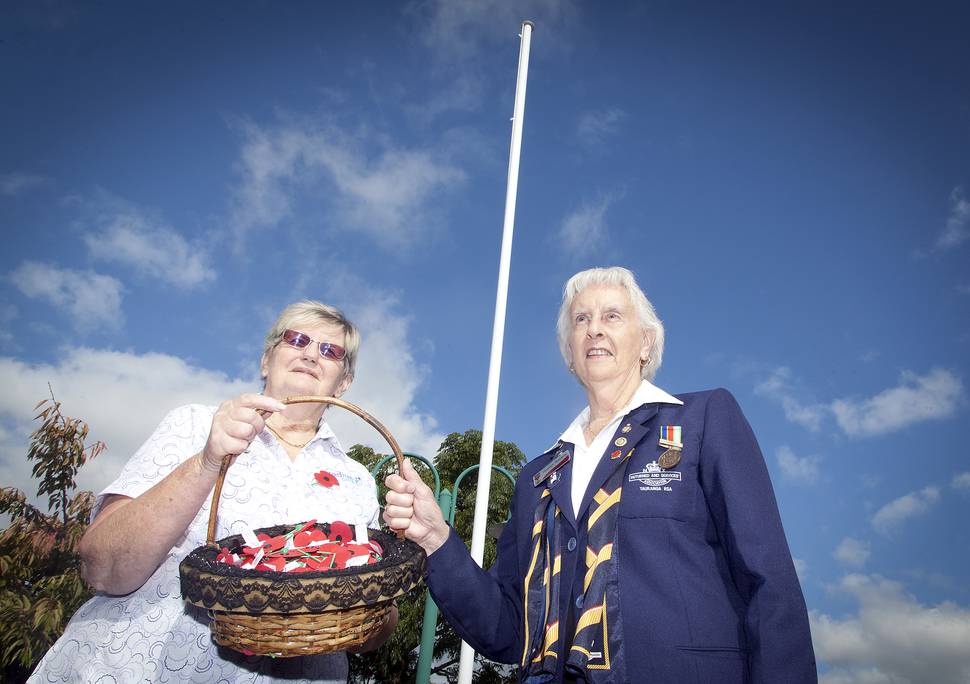 Heather says, "We have writings from two classrooms at Pyes Pa School. Young children we told about it [Anzac Day] wanted to do something." She recounts a conversation with a 4-year-old from Greerton: "I asked one about poppies and he said, 'Because people are dead-ed.'"
The local RSA also sees involvement from college-age students at Anzac commemorations.
Heather says this Anzac Day is significant not just for the holiday's centenary, but also for the 100-year anniversary of the national RSA. She says the Tauranga RSA will hit the century mark in two years.
"People are still serving overseas and we're hoping to get those people on board when they're back home again. A lot of the older ones have passed on and we have quite a few returned people; a lot don't belong to RSAs." The RSA helps any veteran, member or not, access services, such as those needed for post-traumatic stress syndrome.
"They're finding it hard to settle into their communities."
The RSA also brings Anzac Day to people in the twilight of life. 48 Hours watched last Wednesday as Heather helped dedicate a flag pole at Althorp Retirement Village before convening a pre-Anzac Day service in the chapel.
"We've done it for 15 years." She says residents come from the on-site hospital in walking frames and wheelchairs.
"It's very important for them to have their service in their own way, and it's really quite emotional when the Last Post is played and the Ode is read because it brings back all their memories."
Younger veterans like Damian Morrison say they want to bring meaning to Anzac Day through storytelling.
"My father never talked to me about the war even after I had joined the navy. In fact, none of my uncles spoke about the war. It was like they did not want to relive their experiences." He says his sons, ages 21 and 25, haven't yet asked about his military service.
"But when they do, I will share my experiences with them."