Rugby
A white-haired man in a white jersey is running the sidelines at Tauranga Domain during a rugby game last Saturday between Arataki and Tauranga. Play stops briefly and he holds up a yellow flag.
Now in his 50th year as an official, Sid Longley is the Bay of Plenty's longest-serving referee. The 73-year-old volunteers with Bay of Plenty Rugby Union, travelling from Katikati to Opotiki to Rotorua, reffereeing up to three games per week, almost year-round.
"I only do under 15s. I can't keep up with the older ones, they're too fast now. I still go to the gym every day and probably walk no less than eight kilometres a day."
Sid and the other 100-plus local rugby referees (with BOP Rugby Union) volunteer to bring order to the field, to promote fairness, safety and good sportsmanship. Refs must not only understand rules but nuances, making quick decisions that aren't always black and white.
"The game's faster than it used to be," says Sid. "Probably the biggest change is the attitude of people, the supporters on the sideline. Once upon a time you didn't have that."
Sid says he knows how to stop spectators from getting out of hand. "If I have a problem with someone I say, 'Here's the whistle, show me how to do it.' There's not too much trouble after that.
"It's good fun. I love it - I couldn't wish anything better on anybody."
The head referee for this game agrees. At age 16, George Haswell is one of the Bay's youngest rugby officials. George started at age 12, though he's never played the game himself. He was the youngest top-ranked official at last year's Touch World Cup in Sydney and hopes someday to ref the Rugby League World Cup. The Year 12 student at Mount College wants to carry on and on and on, like Sid.
"He's a good role model to have around. Rugby's something you can take everywhere. No matter where you go, everyone will need refereeing."
George says he's learning from experience and allows criticisms to go "in one ear and out the other".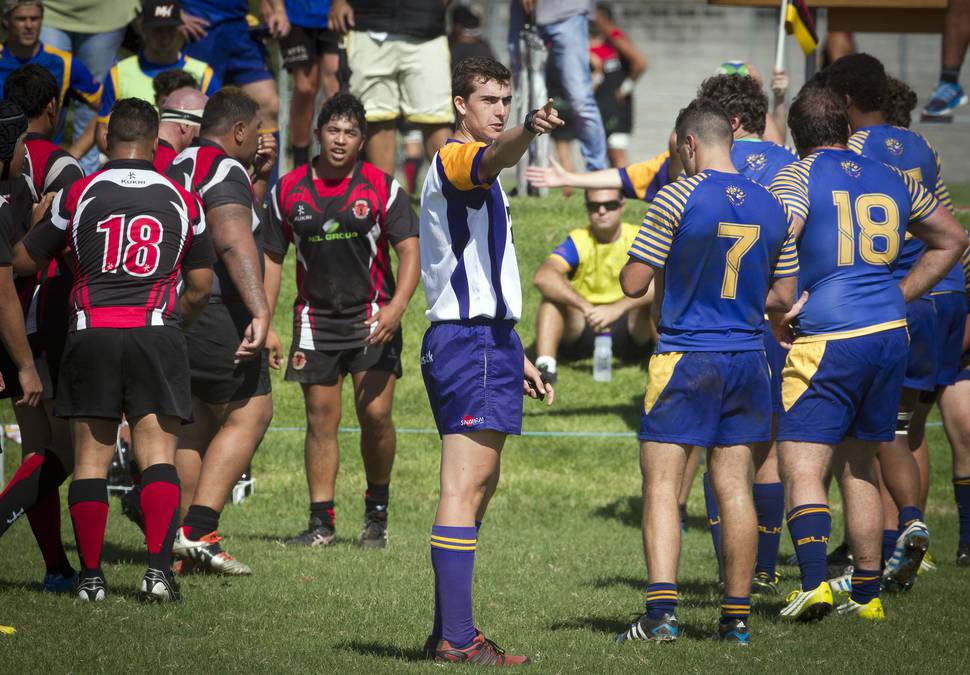 BOP Rugby Union referee manager Pat Rae says he's constantly seeking volunteers of all ages to officiate games. The organisation provides free training and even sportswear. Pat says former representative players can fast-track into the system as officials.
"We seem to have an obstacle of convincing players there's another pathway into the game that doesn't involve coaching. There is another option for them. Refereeing is an option." Pat says he could use another 15 to 20 referees.
The sport needs coaches, too. BOP Rugby Union coach development manager Rodney Gibbs says the organisation counts about 650 coaches, spread through club, school and representative teams. "We're always looking for more. It's a little bit about growth and retention, because we lose a fairly high percentage per year." Coaches also get free training and can expect to spend five to six hours per week volunteering.
If I have a problem with someone I say "here's the whistle, show me how to do it.' There's not too much trouble after that."

SHARE THIS QUOTE:
Hockey
Amanda Meys is fresh off the hockey pitch, a sheen of sweat on her forehead. The 28-year-old played provincial representative hockey before giving it up at age 21 due to a heart condition. On a Sunday morning, she's coaching an early practice at Mount Maunganui's Blake Park.
Amanda was assistant coach last year for Tauranga under-18 girls and this year has taken on the role of head coach.
"I love giving back to the sport that gave me so much and I always felt out of sorts when I couldn't play. I enjoy seeing teenagers playing sport and I enjoy seeing them loving hockey as much as I do."
A physiotherapist, Amanda stresses injury prevention. As a coach, she faces sideline cynics head on. "I've never had an issue approaching them about it. Often, they're just misinformed ... but it's very minimal. Most people are very thankful."
Gene Coates-Reid has just finished a series of drills with the girls. The 57-year-old led the team last year and is happy to stay on as skills trainer. He has coached for about 40 years after playing the game himself.
"The reason I got involved in coaching is somebody put some time into me. I came from India, I didn't have any money or transport or anything, my parents didn't. So, there's one guy who always picked me up, always dropped me off at home so I felt I owed it back to him for doing that for me."
Gene says he enjoys helping young people become skilled, confident hockey players. "Just seeing them here is the payment and seeing some of the results. A lot of these girls will become rep players, Midlands players, and some of these girls will go on to play for New Zealand."
Football
Steve Reeves waits outside the football pitch at Mount Maunganui's Links Avenue Club. It's just after 6:30pm and he's staying to ensure his young players have rides home. "Where's your mum, Mitchell?" The 41-year-old has been helping young players for the past six years.
"My eldest son was starting [on] a team. They didn't have a coach, so I just stepped in."
This season, he's coaching both sons' teams: Mount Junior Football under 11 and Tauranga City United under 13. There can be challenges managing young players.
"Sometimes, if you see it's going wrong, you have to think on your feet and try to come up with something different. I find it hard to get the message across and keep it fun at the same time."
The Papamoa resident moved here three years ago. He says New Zealand's a better place to coach than his native country.
"In England, it's a lot different because everyone's dad would've played football so they'll all have an opinion. Whereas here, less of the dads would've played football, so they just let you get on with it, which is nice."
WaiBOP Football counts more than 1100 junior coaches and volunteers (for players aged 5-12) spread throughout Bay of Plenty and the Waikato.
Sometimes, if you see it's going wrong, you have to think on your feet and try to come up with something different.

SHARE THIS QUOTE:
Development Officer Barry Gardiner says clubs often struggle to find volunteers. The organisation refers to coaches of five to eight year-olds as team leaders, for whom skills and drills are pre-planned.
"It's not like, here's your team ... we have it all there for them." WaiBOP offers a free introductory coaching class and support throughout the season, which Gardiner says improves the quality of training and enjoyment for everyone. "You start to retain players, as well."
Netball
As Autumn turns to winter, you'll find Annette Friel courtside at Harbourside Netball. The Tauranga resident took up coaching as a teenager to help her sister's team. Now, the 55-year-old trains players ranging in age from 18 to their 30s. "I've coached adults and children and seen the effect a bad coach can have on a child, and I don't like to see that happen. I give 110 per cent and everyone's an individual."
Harbourside Netball offers $10 coaching workshops and will need about 360 coaches this season, across junior, senior and secondary school teams. Plus, about 250 umpires.
No one's gonna step up and say, 'How much do you want?' You do it for love.

SHARE THIS QUOTE:
Annette says she once coached four teams in the same season. "Because they just didn't have coaches and I don't like to see teams just fumble through." She says a coaching void often causes players with potential to walk away from the sport.
Coaches and refs across codes report spending anywhere from a few hours to more than ten hours each week volunteering. Hockey skills coach Gene Coates-Reid says;
"No one's gonna step up and say, 'How much do you want?' You do it for love."
You make the call
High school students can earn 10 Level 3 NCEA credits by completing a theory course and assessments.
A free course will be run over the next school holidays for boys and girls in Years 11, 12 and 13.
The class includes theory and a field test at a junior rugby event. BOP Rugby Union referee manager Pat Rae says students who pass the field test are invited to become registered referees.
"Those are the types of students we like to send to Aims Games. We'd love to have 16-, 17-, 18-year-olds refereeing under 13s."
For more information about the course, see boprugby.co.nz/community-rugby/referees/you-make-the-call