"Don't look back. Stand up. You can do this."
People say this to Nuku Winiata Tawa every day.
The Katikati 23-year-old wants a job. He is fit, strong, and healthy. He has just completed one year's fulltime study in sports and leadership at Te Wananga o Aotearoa. He smashed the six-week intensive Limited Service Volunteer programme with the Ministry of Defence at Burnham Military Camp where staff reported "we love him".
Those who know Nuku describe him as "gentle", "funny", "kind".
He helps neighbours move heavy stuff. He has lots of mates. No special girl yet but "there's time". He has deep pooling brown eyes and a cheeky grin. He's thoughtful.
Self-aware. He is a good cook. He loves soccer, rugby, basketball. He has been doing casual labouring where he is known as a "grafter". He is looking for a job as a builder.
The Bay's construction industry is booming.
"Don't look back. Stand up. You can do this, Nuku," people tell him.
But only 41 per cent of Kiwis would be comfortable inviting Nuku home for dinner, according to a survey.
Only 51 per cent would be happy to socialise with him.
Just 59 per cent would play in the same sports team as him. And only 65 per cent of Kiwis would be comfortable with Nuku joining their sports club.
Why? Nuku has lots of friends.
The man, woman and the two teenagers who speak to him every day telling him "Don't look back" are as familiar to him as his mates he plays basketball with at poly. He has known these four people since he was 18.
But he has actually never met them.
Nuku has schizophrenia. He hears voices. And it makes people afraid of him.

Socialising with schizophrenia
The recent Health Promotion Agency health and lifestyles survey asked more than 2500 respondents about their attitudes towards a person with mental illness by posing the following scenario.
"You are a member of a local sports club. A new person wants to join the club. You know they have schizophrenia. When they are alone, they often shout and argue as if someone else was there with them. They speak carefully, using uncommon and sometimes made-up words. They are polite but avoid talking to other people."
They were then asked if they would be comfortable if the mentally ill person was a member of the club, if they were in the same sports team, if they would socialise with the person outside the club or if they would invite them home for a meal.
The results show discrimination against the mentally ill is alive and well in New Zealand, says Virginia MacEwan, the agency's mental health manager. And MacEwan says the stigma can be just as disabling as the condition itself.
Removing stigma around schizophrenia is something that Nuku sees as a mission.
"I am happy to talk about it. I want people to understand.
"When I told my mates at poly, they couldn't believe it. They were shocked, in a good way. They were like, 'whoa, you have schizophrenia, but you seem normal'. They asked questions, like 'do you hear voices?' and I say, 'yep, I hear voices, sometimes it's my uncle, sometimes it's my favourite rapper Tupac. I never get bored'."
Nuku's humour and confidence stem from feeling "well''.
He manages his condition with medication. He doesn't deal with men in white coats, but two "wellness recovery coaches" who visit him at home. These coaches help Nuku learn to cook, go shopping, manage his budget, and apply for his courses. When the leaders of the Limited Service Volunteer course had questions about Nuku's application, it was these coaches who stepped in and advocated for him. Now the coaches are hoping to help Nuku get a job as a builder.
"The support has made me feel well, normal, not strange. I go to the gym with my coach and we work out together. We go on bike rides."
It hasn't always been that way.

Going through the system
Since he was 18, Nuku has been in and out of the acute unit at Tauranga Hospital more than seven times.
"In hospital they did look after me well but I didn't like it. I was scared sometimes. There were holes in the walls and scary people talking to themselves.
Each time he got well in hospital, he would go back out but then become sick again.
It is a pattern that mental health specialist Stephanie Parker has recognised with more than 30 years' experience working with mental illness.
"Hospitals and residential care were making people well, but not making them recover. When they went back into their own communities without support they went back to square one."
The belief that "we can do better" has driven Parker all her career, which began as a nurse in hospitals and institutions in Auckland.
In 1999 Parker was instrumental in closing down the "institutions" in Auckland - "the villas as we used to call them, where some people - many with psychotic illnesses like schizophrenia would live their whole lives. Everything was done for them - meals, paying bills. They had no responsibility. But they had no life either."
Now Parker is general manager of LINC Support Services in Tauranga, which has moved away from residential care to supporting clients in their own homes - a model which is being hailed as ground-breaking in New Zealand.

Leading the pack
At LINC's headquarters, a period bungalow with a tropical garden in a leafy Tauranga avenue, Parker's passion for empowering people in their own environments is evident. "It allows them to live independent and fulfilling lives as valued members of society."
Depending on needs, support can vary from as little as one hour a week to more than 10 hours, and includes essential life skills training, such as grocery shopping, menu planning, healthy eating, managing a budget, exercise, personal hygiene, managing medications and finding paid or voluntary work. The wellness recovery coach assesses the mental health status of individuals daily.
yep, I hear voices, sometimes it's my uncle, sometimes it's my favourite rapper Tupac. I never get bored'.

SHARE THIS QUOTE:
LINC also works with other health professionals and agencies to ensure individuals get the counselling, treatment and access to programmes they need to avoid relapses.
Nuku was one of the board's first clients, referred from the Bay of Plenty District Health Board after a long stint in hospital in 2013.
At that time Parker had just finished years of negotiation with Bay of Plenty District Health Board funders to abandon the housing and recovery contracts in favour of a community outreach programme. The LINC model is in line with a Ministry of Health directive to move more services into the community under the Ministry of Health mental health and addictions service development plan, 'Rising to the Challenge 2012-2017'.
But more than just a response to a directive, for Parker it just made sense.

Breaking the myths
With 28 per cent of LINC's clients suffering from schizophrenia and more from other psychotic conditions, as well as bipolar and depression, that could mean a host of people were previously institutionalised which was perpetuating the stigma about mental illness and the myths and fears about schizophrenia in particular, says Parker.
"Campaigns such as the Like Minds campaign fronted by John Kirwan have raised awareness of mental illnesses such as depression but schizophrenia is still very much misunderstood. Television [shows] like Criminal Minds or movies reinforce a perception of danger, a concept of a person with schizophrenia running around madly with an axe. In more than 30 years of dealing with clients with schizophrenia, I have never once felt afraid or in any danger, and a person with schizophrenia is no more likely to commit a violent crime than any other person.
"We have to be careful not to pathologise crime. There is a difference between mental illness and bad behaviour and the challenge is to identify which is which. There are a number of illicit substances these days which increase risk and you don't have to have a mental illness to partake in these. The idea that someone with schizophrenia is more likely to commit a crime than other mental illnesses is false."
So supporting people in the community, says Parker has influence beyond that just of helping a client recover, but Parker believes this model can really change public perceptions. "The medical model focused on the illness. The reality is that people can learn to live with enduring symptoms and still lead full and productive lives. We don't work with sickness, we work with wellness. Our role in the community is a social one, rather than a medical one."
Matthew (not his real name) knows first-hand what it means to be institutionalised. He spent more than 30 years in and out of hospitals in the Bay of Plenty, including a stint in "the institutions" which he describes as "very, very scary ... they used to have open wards. You would have people talking to their voices. Not a good idea. One joker jumped in my bed when I was sleeping, I used to be terrified. I felt worse in there than before I went in and it was supposed to be a hospital."

Breaking down
Matthew used to have a high-flying job in finance, when he had begun working long hours and not sleeping much. He began to make silly mistakes, began to sleep even less. His colleagues and friends thought he was acting strange. It culminated in a breakdown.
"I went to see a friend but it was late at night and he was asleep. I went in a paddock behind his house and remember seeing lots of chairs set out like some sort of ceremony. I tried to sit in them but kept falling over-I didn't understand that the chairs were not there. I heard people calling my name. I had thoughts about Satan. I was terrified." Taken to an acute in-patient facility and diagnosed with schizophrenia, Matthew was only in his 20s but "my life stopped then".
He describes the following years when he felt he had no control over his treatments, or where he lived.
"I was scared, vulnerable."
He spent decades battling various institutions, feeling "locked away" treated as "mad and bad", with a "poor man's disease" that made him feel "alone and afraid ... pushed aside".
Heather Shepherd, LINC's clinical manager, has known Matthew for 23 years and has been his tireless advocate.
"He is the most gentlest, kindest man I have ever met. He stops to help people cross the road. He is caring and empathetic - the opposite of some people's stereotype of schizophrenics."
It took just a year with LINC for Matthew to find "wellness". After so many years in institutions he didn't know how to manage his medications let alone take care of himself, pay bills or cook.

Claiming control of life
Now he is planning a housewarming party for a home he has just moved into. On the menu are his signature homemade quiche, and burgers. He has completed a computer course and started a job he loves.
"Before, I would be scared of the voices. They would ask me questions or be critical, like: 'Oh look what he is doing now.' Now, I just see them a bit like a radio tuned into different frequencies. Sometimes I am a bit forgetful. Sometimes I am lost for words. It is part of me really."
Parker says this is a key part of LINC's model, to support clients to self-awareness and, by implication the community, towards greater acceptance. Matthew agrees.
"Now I am in control, doing things for myself. It is the same as any sickness. You have to help yourself. It is possible for people to get well."
"I feel like now I am in charge of my treatment for the first time since I was diagnosed all those years ago. I have a say. It has given me my life back."
Nuku and Matthew are not isolated cases of success. LINC is being hailed by the district health board as a high-quality and cost-effective solution to delivering mental health and addiction support for the future. The results so far are impressive.
The new model has resulted in a 69 per cent increase in the number of people supported, without additional funding. It has also led to an increase in the number of Maori being supported, from 20 per cent to 33 per cent. "Higher numbers of clients are being discharged and moving through the mental health system, compared to the facility-based model when clients were often residents for long periods of time," says Lesley Watkins, district health board mental health and addiction portfolio manager.
"At May 2014, 20 clients out of 52 had been discharged from the service, with no further support required."
Last week, Parker and Shepherd were in Canberra presenting an abstract at an international conference looking at best practice, selected from hundreds of submissions. At the conference, LINC has been awarded a commendation for innovations in mental health. LINC is also a finalist in the Bay of Plenty Innovations Awards and will present the model to an audience at Mills Reef in October.

Help at hand
The Tauranga model is attracting the attention of other district health boards. Watkins has shared the "unique" model in national meetings. Stephanie Parker, of LINC, says the model is being considered by other services in this region and has expressions of interest from other regions. Earlier in the year, Bay of Plenty MP Todd Muller and MP Matt Doocey looked at the model and considered it could be beneficial in Christchurch.
Parker is also structuring an alliance with an Auckland service and looking at how private clients may be treated. She said the ability to provide treatment for no extra funding was encouraging to health boards in times of financial constraint.
Some people think I drink coffee all day, smoke and run around with an axe. If I was epileptic I might say to people, 'I have fits, so here's what to do if I have one'. It's harder to say 'I hear voices, so here's what to do if you see me talking to myself'.

SHARE THIS QUOTE:
Health Minister Jonathan Coleman says LINC has demonstrated what is possible.
Earlier this year, Finance Minister Bill English and Coleman announced the concept of "social bonds", the first of which would focus on the mental health sector. They are bonds which allow the Government to contract out services and funding to non-government or private organisations or trusts with agreed targets and timeframes. If targets are met, the Government pays back the investors, and also pays a return on the investment.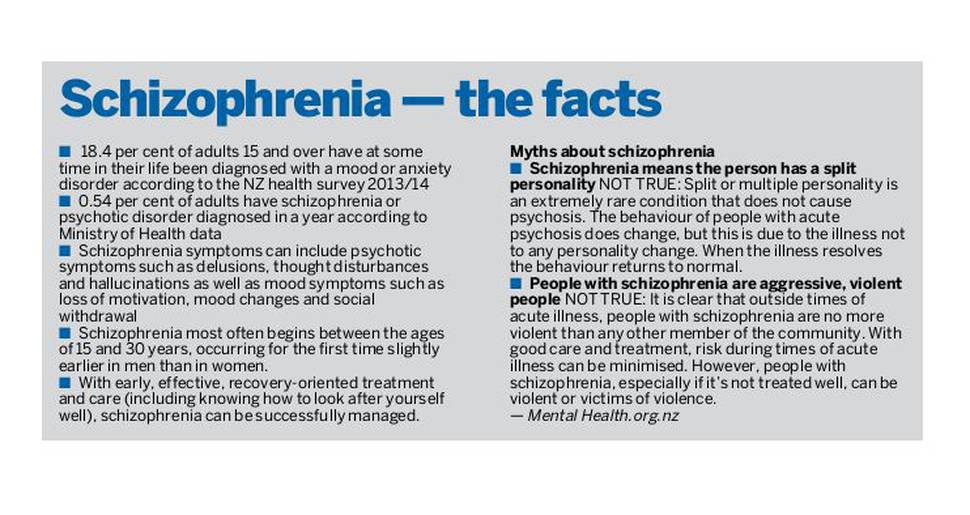 While the social bond pilot proposals are still under evaluation and confidentiality agreements in place, Parker says LINC has not been approached but would like to be.
"I would not hesitate to consider social bonds contracting if an opportunity arises. They are potentially the way of the future. I have absolute faith we could achieve targets and any philanthropic partner would receive a return on the social investment ... NGOs will become more accountable for achieving agreed targets and that has to be a good thing for all New Zealanders, making people with mental illness more resilient and making communities more accepting."
The Labour Party has hit out at social bonds, saying they treat vulnerable people as "guinea pigs".
But Parker points out that the public would want services to achieve positive outcomes but also use taxpayer money wisely and efficiently. "Before, you might have had five staff sitting around doing nothing. Now staff act like practitioners and book appointments. Seventy-eight per cent of their time is face-to-face contact."
For people such as Nuku and Matthew, "targets" are simply getting a job and a house.
A bigger target for them, and for Parker, is to change community perceptions around mental illness and in particular schizophrenia.
"A client rang up about a flat and the landlord asked him what he did for a living. He replied, 'I have schizophrenia.' It could have ended there but this landlord invited him round and said: 'Okay what do you need?'. He got the flat. I am hoping that the time will come when mental illness is like a broken leg that you don't have to hide."
But Matthew says the stigma remains.
"Some people think I drink coffee all day, smoke and run around with an axe. If I was epileptic I might say to people, 'I have fits, so here's what to do if I have one'. It's harder to say 'I hear voices, so here's what to do if you see me talking to myself'."
Nuku, who avoided institutions, has plenty of hope. He will look for that dream job. He will tell his employers about his illness, but says it's just one part of what he has to offer the world: "I am not schizophrenic, I am Nuku."
Helplines
- The Depression Helpline (0800 111 757)
- Healthline (0800 611 116)
- Lifeline (0800 543 354)
- Samaritans (0800 726 666)
- Youthline (0800 376 633)
- Alcohol Drug Helpline (0800 787 797)
- Bay of Plenty mental health emergency crisis lines: Tauranga 0800 800 508, Whakatane 0800 774 545