Auckland is home to more than a million people but within the Super City are plenty of people passionate about their communities. As Auckland grows these neighborhoods are changing. In the first in a four-part series, reporter Lincoln Tan visits Glenfield to find out what residents want to see in their suburb.
In an Auckland suburb where more than half of its people are born overseas, residents of Glenfield Central are screaming out for more excitement and life in their town.
A study commissioned by the Kaipātiki Local Board have found that visitors to the Glenfield Town Centre come several times a week. But locals who spoke to the Herald said it was mainly to get groceries and the essentials.
Filipina Lourdes Mendoza, 36, who has lived in the suburb for the past three years, said she does her other shopping and dining out in Albany or Takapuna.
The suburb has the highest population of Filipinos in Auckland, and Tagalog is the most common language spoken after English.
Video will play in
Play now
Don't auto play
Never auto play
Victoria Yao talks about Glenfield Nights Markets at the mall and Ko Hayashi talks about life in Glenfield.
Even then, Mendoza said it could not sustain a Filipina mini-mart.
"There is no reason to come to Glenfield, unlike Albany and Takapuna, where we can go for movies or restaurant dining after our shopping," Mendoza said.
"So even though we have many Filipinos living in Glenfield, we only really do our supermarket shopping here."
Mendoza felt what the town centre needed were cinemas, a performance hall and family entertainment attractions like a bowling alley.
Another resident Ko Hayashi, 28, who hails from Tokyo, finds Glenfield quiet and "a little boring".
"We definitely could do with more quality restaurants and better bars here," Hayashi said.
"The town sort of goes to sleep after dark, and what we need is really more nightlife."
Hayashi too only does her supermarket shopping in Glenfield, but would head elsewhere to buy clothes and for dining and entertainment.
Several residents identified the Glenfield Night Market, which takes place every Sunday evening at the Glenfield Mall carpark, as their favourite attraction.
Victoria Yao, the market's co-founder, said she was asked by the previous owners of the mall, Westfield, to start the market there "to bring a bit of nightlife" there.
The Glenfield Town Centre Research found the library, pool and leisure centre to be the main attractions for visitors, and most likely also the Glenfield Mall.
"They specifically mentioned the library and pool and leisure centre as positives about the area," the report said.
"Businesses enjoy Glenfield for... its location and convenience."
When asked what they liked least about Glenfield, visitors identified the lack of parking on main roads and accessibility for pedestrians a problem.
"Shoppers also commented on the lack of variety, or anything different, when it came to the shops in Glenfield," said the report.
Some said the town centre was unattractive and untidy, and needed modernising.
"What visitors want to see is a more attractive Glenfield Town Centre, more parking options, improved access and safety, and more variety of shops," the report said.
Crime and security were a concern for businesses, who wanted more security and policing, and a ban on liquor and anti-social behaviour.
"They find the town centre can be unsafe, recounting numerous break-ins and anti-social behaviour outside their places of business," the report added.
While people overall rated the town centre, the respondents felt there was definite room for improvement. Overall, 52 per cent said it was very good or excellent in its current state.
The research conducted between 13 and 23 February interviewed 332 shoppers and 32 businesses, and will be used to assist Auckland Council with its Glenfield Centre Plan.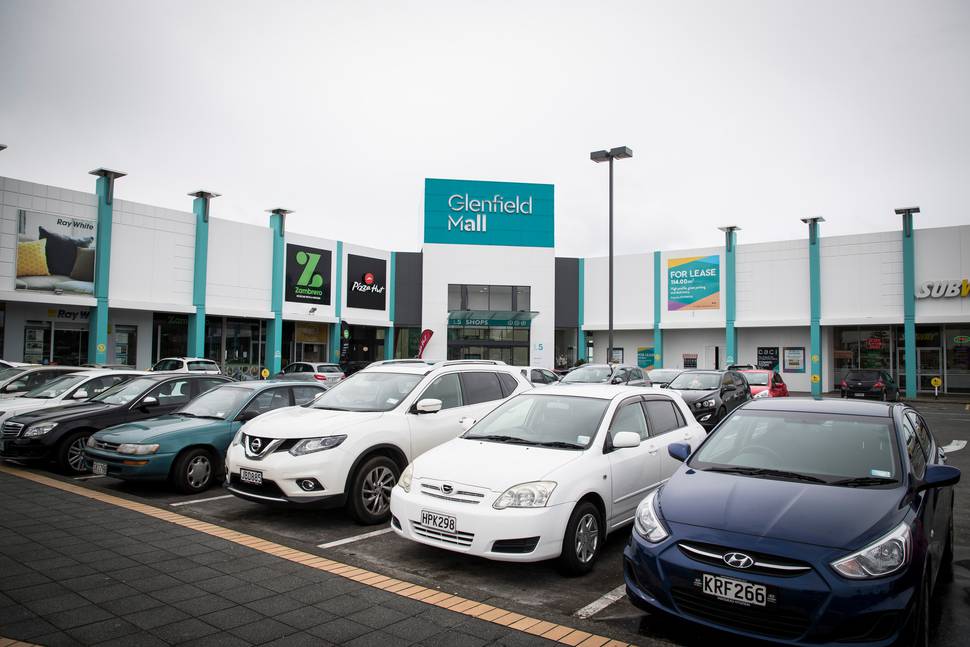 John Gillon, chairperson of the Kaipātiki Local Board, said the centre plan will be progressed in the 2019/20 financial year.
"Glenfield is quite a large suburb, the town centre also serves as the closest shopping area for a number of smaller suburbs including Bayview, Windy Ridge, Wairau Valley," he said.
Glenfield Library has had a recent refresh and ongoing investment was being put into the leisure centre.
Gillon said improvement works in the area had faced delays because funding, which was secured from North Shore City previously, got lost during the Auckland transition to the Supercity.
"We've now built new playgrounds at Lancelot Reserve and Marlborough Park...there is also a major stream day lighting project planned for Normanton Reserve," Gillon said.
The upgrade of the tracks through the Eskdale Reserve Network, which will see a re-route and boardwalk connecting Glenfield and Birkdale, was also underway.
Danielle Grant, deputy chair of the board, said growing Glenfield was important.
"With the changes to the Unitary Plan, we will continue to see an increase in the density of housing in the area," Grant said.
In 2013, Glenfield Central was home to just under 4800 people - but that number is expected to grow significantly.
"There is already a number of new subdivisions and the building of many new town houses in the area," said Grant.
"We are working to ensure that we have the vibrant facilities to support this growth."
Glenfield Mall was bought in 2015 by Ladstone Holdings, the former owner of Pakuranga Plaza, from Westfield's spinoff company Scentre for $104m.
Chief executive Kim Bennett said it had been seeing a year on year increase in customer visits since the takeover.
"Glenfield Mall takes pride in being within the hub of the North Shore, Bennett said.
According to Statistics New Zealand, 52.4 per cent of Glenfield Central residents were born overseas, mostly in Asia.
Nearly one in 10 spoke Tagalog, with just one per cent who could speak te reo Maori, compared with 2.3 per cent for all of Auckland.
The average age of its residents was 36.2 years and couples with children made up nearly half of all families living there.