Nine months after stock-market wagers on a baby boom in China reached record levels, the bets have turned into some of the nation's biggest losers as living costs deter couples from having more than one child.
While milk-powder producers Biostime International Holdings and Yashili International Holdings surged to all-time highs after the ruling Communist Party relaxed its one-child policy last November, the stocks have lost at least 40 per cent this year, with Biostime leading declines in the MSCI China Index. Hengan International Group, a diaper maker, has dropped 8.3 per cent even as the MSCI gauge rose 6.3 per cent.
Read also:
• China's antitrust crackdown puts squeeze on foreign profit
• Chinese growth back on roll: HSBC
Less than 3 per cent of the 11 million Chinese couples eligible for another child applied for permission by the end of May, jeopardising government efforts to bolster a population that the United Nations predicts will start shrinking by 2030.
Raising a child from birth through to 18 years of age costs about 23,000 yuan (NZ$4,400) a year, according to Credit Suisse Group, equivalent to 43 per cent of the average household income in China.
"There was too much speculation about a baby boom," Zhang Gang, a strategist at Central China Securities in Shanghai, said by phone on August 8. "Baby-related stocks still have room to fall further."
China loosened family-planning restrictions first imposed in the late 1970s, allowing couples to have two children if either parent is an only child. There were about 271,000 applications to have a second child by the end of May and 241,000 received approval, according to China's National Health & Family Planning Commission.
Economic freedoms
Relaxation of the one-child policy in the world's most-populous nation is part of the government's broadest expansion of economic freedoms since at least the 1990s. The MSCI China Index has gained 8.2 per cent since the reforms were unveiled in November, while the Shanghai Composite Index of mainland-traded shares has increased 4.9 per cent.
Biostime sank to the lowest level since July 2013 on Wednesday after reporting first-half net income that trailed analysts' estimates, extending this year's drop to 52 per cent. Chaozhou City, China-based Yashili is down 40 per cent this year, while China Huishan Dairy Holdings, the milk producer backed by billionaire Cheng Yu-tung, has retreated 34 per cent, the second-biggest decline on the MSCI China index.
Stock valuations
Losses in dairy-related stocks have been exacerbated by concern over the quality of milk in China, which led to reduced profit margins as producers shifted some of their supply to costlier imports, said Ronald Wan, the chief China adviser at Asian Capital Holdings in Hong Kong.
Declines in some baby-related shares have dragged valuations down to "reasonable" levels, according to Templeton Emerging Markets Group's Mark Mobius, who declined to name specific companies.
"This is a longer-term" trend, Mobius, who oversees more than $40 billion as the executive chairman of Templeton Emerging Markets, said in Singapore on July 30. Investors shouldn't expect rising birthrates to "happen overnight," he said.
Biostime shares are valued at 14 times estimated earnings for the next 12 months, down from a peak of 26 in November. Huishan Dairy's ratio of 11 is almost half its high of 20 times last year. Both are cheaper than the MSCI China Consumer Staples Index, which has a multiple of 23.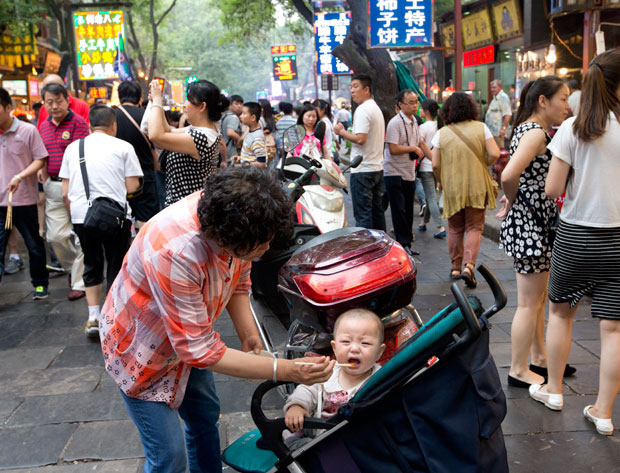 Raising a child from birth through to 18 years of age in China costs about 23,000 yuan (NZ$4,400) a year. Photo / Mark Mitchell

No nanny
Sun Qing, who works at a brokerage in northeastern Harbin city, says a second child is a luxury she can't afford.
"The cost is a top consideration," Sun, 32, said by phone. "My four-year-old daughter is heading to school and that will mean extra classes and higher spending. A nanny is too expensive so the grandparents look after her. They are approaching 70 and I don't think they can handle a second child."
While prices of new homes in China fell last month from June in 64 of 70 cities tracked by the government, they're still up by about 20 per cent during the past four years, according to SouFun Holdings.
A couple would need to spend 2.76 million yuan to support a child from birth to college in Beijing, according to China's official Xinhua News Agency. The July 2013 report cited an informal survey and calculations suggesting that a husband and wife earning the average per-capita income would theoretically need to work for 23 years without eating and drinking to afford it.
Demographic crisis
Average household income in China is about 53,118 yuan, according to the China Household Finance Survey compiled by the Southwestern University of Finance and Economics in Chengdu.
The confidence of couple in their ability to provide for a second child may also be waning as China's economic growth slows, Asian Capital's Wan said. Gross domestic product will probably expand 7.4 per cent this year, the weakest pace since 1990, according to economist estimates compiled by Bloomberg.
"People tend to give birth to a second child when the macro-environment and property prices are more favourable and they have job security," Wan said by phone on August 8.
At stake is China's ability to avoid a demographic crisis as its population ages. China's fertility rate of 1.66 per woman compares with the 2.1 level needed to sustain population levels, according to the UN.
The latest government census in 2010 shows 178 million Chinese were over 60. That figure may rise to 437 million by 2050 as the population falls to 1.38 billion from a peak of 1.45 billion in 2030, according to UN forecasts.
Faster inflation
A scarcity of workers is helping push up labour costs, spurring companies including Samsung Electronics to relocate production to countries such as Vietnam. The base monthly salary for a factory worker in Beijing was $466, compared with $145 in Hanoi, according to a 2012 survey of pay by the Japan External Trade Organization.
Unless China is successful in convincing its citizens to have more babies, the country will face faster inflation and slower productivity growth, according to Bocom International Holdings.
"With a rapidly aging population and declining birth rate, even relaxing the birth-control act now won't help reverse the trend anytime soon," Hao Hong, a Hong Kong-based strategist at Bocom, said on August 15. "China will be dealing with wage pressure soon."
- Bloomberg