Jacinda Ardern phoned a Melbourne artist to congratulate her on winning one of Australia's most prestigious art prizes with a self-portrait that channelled the Prime Minister.
Yvette Coppersmith's Self-portrait, after George Lambert won the Archibald Prize, Australia's leading portraiture prize.
She had originally planned to paint Ardern's portrait for her entry to the $A100,000 ($108,000) prize but Ardern had not been available, so Coppersmith changed to a self-portrait.
"I would like to start by saying I want to channel the original inspiration for this portrait, which was the Right Honourable New Zealand Prime Minister Jacinda Ardern. I think she would have worn this colour," Coppersmith said at a ceremony at the Art Gallery of NSW in Sydney today.
But Ardern was available this afternoon, calling a surprised and excited Coppersmith.
"I just wanted to call and congratulate you. What an enormous and amazing achievement," Ardern told Coppersmith in a phone call broadcast on Sky News.
"What an incredible piece, your work is absolutely phenomenal," she said.
Coppersmith told Ardern she was the inspiration for her oil and acrylic on linen painting.
"When you weren't available, I thought I'll just do one as you," Coppersmith told Ardern.
Ardern said she had seen Coppersmith's request to paint her portrait and had wanted to do it. But she pointed out that had she been available, Coppersmith would not have painted her prize-winning work.
"So maybe it's all worked out," Ardern told her.
"I was bitterly disappointed because I would have considered it an honour to have been painted by you."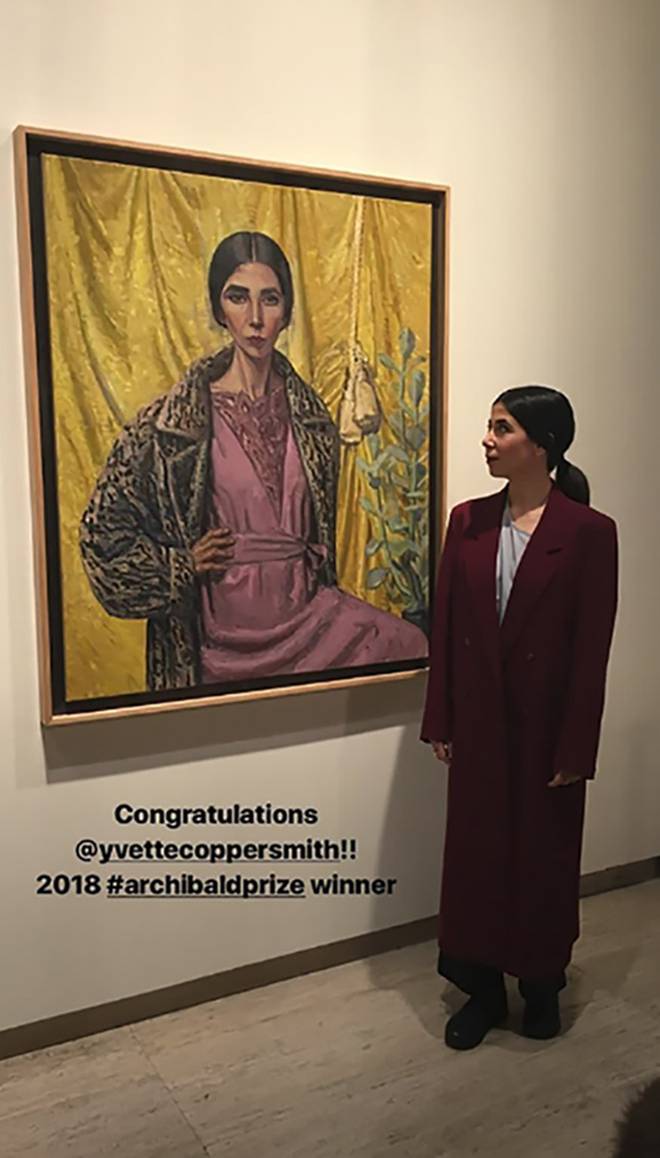 Coppersmith told Ardern she had wanted to inspire the next generation of young leaders.
"In a way the process has been that you inspired me to make a picture of me so in my own life, through the medium that I work in, and that's what I wanted to bring to the picture for other people."
Coppersmith's entry, her fifth, was chosen from 794 entries and 57 finalists.
The realist style of Coppersmith's self-portrait was inspired by Lambert, an Australian artist and Archibald Prize winner in 1927.
The Archibald Prize is Australia's most celebrated portraiture prize. The exhibition of finalists is a highly anticipated highlight of the art calendar and often features figures from popular culture and current affairs.