If you know what's good for you and what's possibly not, you'll find it in Ontario's capital, writes Jemma Crew
Toronto is a city of immigration, bringing with it the promise of new flavours, fusions and truly global choice.
Specialities include deep-fried sweet dough covered in sugar, known as beavertails, melt-in-the-mouth butter tarts and maple, well ... everything — butter, syrup and even water.
Pop into BeaverTails on Toronto's harbour front to pick up some sugary goodness to enjoy on a boat tour around the islands. Or wander through the historic St Lawrence market — ranked the world's top food market by National Geographic. Wherever you stumble, your belly will thank you. Here are seven most satisfying recommendations.
1. BEST FOR A HEALTH TREAT — PLANTA
Natural light floods this split-level restaurant, dotted with banana trees, coconut palms and foliage wallpaper to reflect its plant-based ethos.
With no meat or dairy in sight, this eatery serves up a baba ganoush dip so creamy it's criminal. But the desserts are the real heroes here. Try a melt-in-the-mouth avocado and lime cheesecake with a dusting of desiccated coconut and a tart swirl of raspberry coulis.
Or perhaps a coconut, basil and chia seed pudding, served in a coconut husk with passionfruit sorbet?
An energising ginger shot will send you on your way and aid the digestive process. Mains around CAD$20 (NZ$22.50).
2. BEST FOR LIQUID SENSATIONS — DISTILLERY DISTRICT WALKING TOUR
The Booze, Death and Cholera Walking Tour is undoubtedly the best way to learn about Toronto's liquid history.
Hear about the rise of Gooderham & Worts from lowly windmill to the world's largest distillery, and visit the derelict factory buildings transformed into a creative hub of stores, breweries and theatres.
Upgrade to the Taste Of The Distillery District Tour, and you can sample some drinks and snacks, too. Sip Ontario sake out of choko glasses, try a selection of local craft ales, and nibble on tiny amaretto biscuits.
The highlight is the 70 per cent cacao chocolate, invented by accident when a mixer was left on all weekend, creating a silky-smooth fondant.
Tours start from CAD$19 plus tax.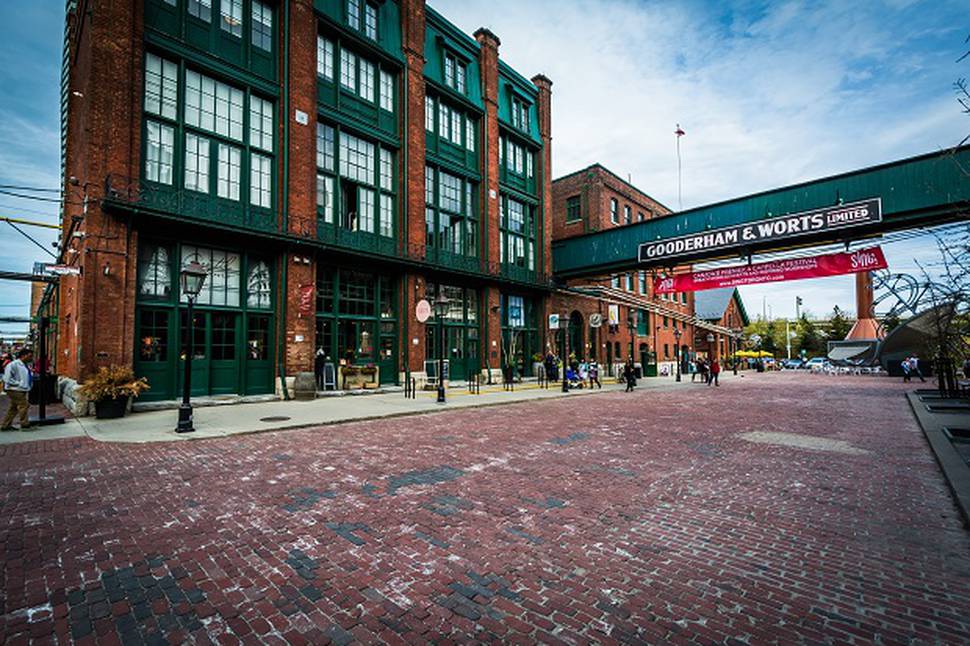 3. BEST FOR MAGICAL POTIONS — THE LOCKHART
Harry Potter
lovers rejoice — this bar was conjured up with you in mind. There are Befuddlement draughts to be shared and photo opportunities aplenty in this cosy magical hideaway in Dundas West, which opened in 2015.
Cocktails on the parchment-style menu include the Gin Weasley and Better Beer Pitcher.
Photos of Dobby the House Elf adorn the walls, and a platform 9 sign sits above the small tables, where punters can enjoy the "free muggle Wi-Fi".
Pick from a small selection of sharing plates — most of which are vegetarian-friendly — while the buttermilk-fried horntail screams out for a nibble. Cocktails around CAD$10.
4. BEST FOR SUPER SCOOPS — BANG BANG ICECREAM
Desperate for a slurp of these scoops of creamy delight, some people queue for two hours with just a tantalising waft of cinnamon to keep them going.
Open for three years, this unassuming storefront is easy to miss, with no space to sit inside and only a few benches. Crowds often gather on the pavement in groups as they polish off a scoop of Burnt Toffee, which is a favourite.
Also available are London Fog, an Earl Grey-infused treat, Cinnamon Toast, and — another great recommendation — Lychee, Rosewater and Raspberry. Get four kiddie scoops if you can't decide — and who would blame you? Single scoop CAD$3.99.
5. BEST FOR YUMMY DESSERTS — LA BANANE
This upmarket French restaurant on Ossington Ave arrived on the Toronto food scene only this year. Expect an impressive selection of meats and fruits de mer, while delicate white asparagus with dill butter will tickle the tastebuds of vege diners.
But the real treat is the Ziggy Stardust disco egg dessert which exists — chef-owner Brandon Olsen says — because, "sometimes, after a nice meal, I just want chocolate".
The first 100 sold out within days and, since January, more than 18,000 have been purchased. Each one takes three days to cast, paint and fill, but smashing it open to reveal the velvety-smooth truffles inside takes only a second. Mains about CAD$30.


6. BEST FOR CHEESE AND WINE — TOCA
One of Toronto's finest luxury hotels, the Ritz Carlton boasts Canada's only cheese cave in its Italian restaurant TOCA, which has 35 perfectly aged, local and international cheeses.
Daily tours at 5.30pm tell you about the cheeses — each of which has a special story — while monthly cheese-and-wine pairings offer a two-hour festival of fromage.
Or head outside to enjoy a spot of sun in the DEQ Terrace & Lounge where a selection of light bites are available all day. Don't miss the Frose - frozen rose, berries and martini in a wine glass.
From CAD$49 for a cheese-and-wine pairing evening. Cocktails from CAD$16.
7. BEST FOR A DIRTY LATE NIGHT TREAT — SMOKE'S POUTINERIE
A humble trio of cheese curds, chips and gravy, poutine is a Quebecois classic. It may not be your top choice of Canadian cuisine, but it's a winning combination for most.
Served in a cone, and available from this chain of diners dotted around Toronto, it's their answer to a kebab — but with more creative freedom.
There are more than 30 combinations but be warned: less is more if you want to avoid it getting too saucy. About CAD$7.30.
CHECKLIST
Getting there:
flies direct from Auckland to Vancouver, Los Angeles, San Francisco and Houston, with onward connections to Toronto on partner airlines. One way Economy fares start from $1329.
Want more holiday inspiration? Sign up to our new Travel Insider newsletter here.