Kevin Durant and the Golden State Warriors are closing the curtain on LeBron James' chances at a second ring with the Cleveland Cavaliers.
Despite the dumbfounding ability James has to carry his team, the Warriors are out to a three-nothing lead.
Following the championship, the NBA Finals MVP award is the next best thing and recognises the most valuable player throughout the finals series.
In the 48 years of the award, only one player has been on the losing team of the series and won the Finals MVP.
Durant would be the frontrunner to take out the award having dominated Games Two and Three, with form that looks like it will continue.
However, there are suggestions that James could take out the award, no matter if the Cavs win or lose the series.
James, 33, has carried the Cavs all season to the finals and is averaging just shy of a triple-double per game this series.
From three games he's averaging 37.7 points, nine rebounds, 10.7 assists, 1.7 steals and 46 minutes per game.
Durant is the closest player to James in this series, averaging 31.7 points, 10.3 rebounds, 6.7 assists, 0.7 steals and 42 minutes per game.
Durant was the 2016-17 NBA Finals series MVP after defeating James and the Cavs with the Warriors four victories to one.
He recorded a total of 176 points, 41 rebounds, 27 assists, five steals and 199 total minutes from the five games.
This year, James has 113 points, 27 rebounds, 32 assists, five steals and 138 minutes.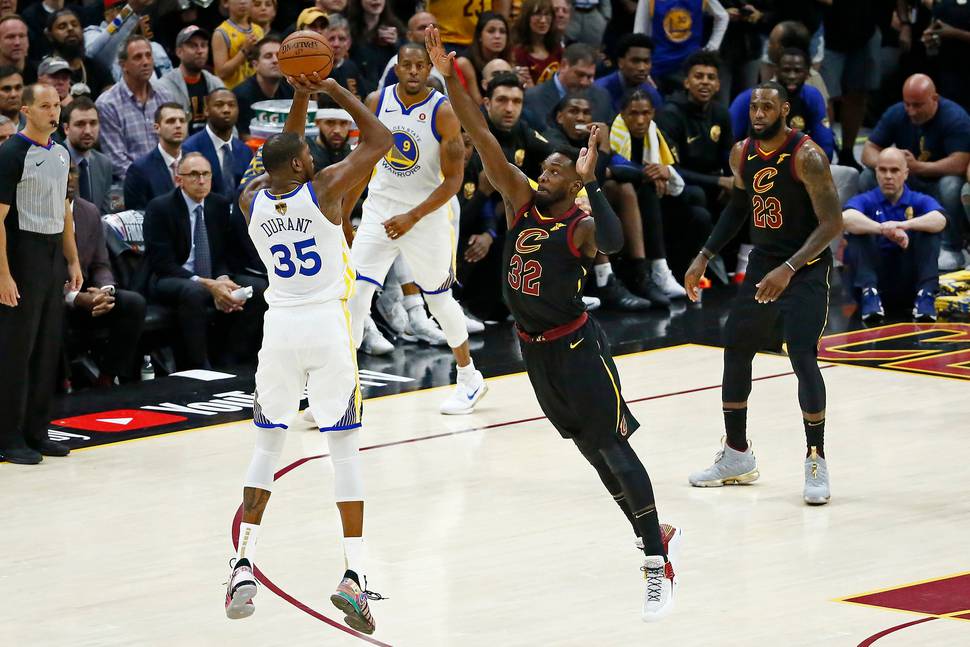 Should the Cavs win today and force a fifth game, he could finish with a potential 187 points, 45 rebounds, 53 assists, eight steals and 230 minutes.
From the outset, the Warriors were tipped as shoo-ins to claim the championship and with only one more victory in their way, it looks very likely.
Arguably, James is deserving of the regular season MVP and Finals MVP awards but given previous years this looks unlikely.
Should he be honoured with the award, he would become the first person to win the Finals MVP award on a losing team since Jerry West in 1969.
Tune into the Herald's live blog for the tip-off of Game Four between the Cavaliers and Warriors at 1pm today
To get the day's top sports stories in your inbox, sign up to our newsletter here