Eli Orzessek visits Queensland's premier gallery and an enlightening — and often confronting — exhibition connecting the peoples of the Asia-Pacific region
The 8th installation of the Asia Pacific Contemporary Art Triennial (APT8) at Queensland Gallery of Modern Art (Goma) is the only major art event focusing on contemporary art from the Asia-Pacific region. It is a vivid snapshot of a broad region, and this year focused on performance, gesture and the relationships between the body, society and politics. Works are spread between Goma and the nearby Queensland Art Gallery, part of the stylish Queensland Cultural Centre in Brisbane's South Bank precinct.
Goma's director Chris Saines valiantly steered the Auckland Art Gallery's $121 million renovation, so it is exciting to see what he is doing with this space since his return to Queensland. The gallery has a Michael Parekowhai elephant sculpture on the riverbank. Same artist, different controversy: in Brisbane people objected to a million dollars of Queensland arts funding being spent on a New Zealand artist.
APT8's opening last weekend featured live performances, including an endurance work by Indonesia artist Melati Suryodarmo titled I'm a Ghost in My Own House. Over 12 hours, the artist crushed and ground hundreds of kilograms of charcoal into dust within in the gallery space. The aftermath of the work remains on display.
"[The organisers have been] preoccupied by ideas of activism, performance and these bigger political conversations that have been happening," says Aaron Seeto, Curatorial Manager of International Art at Goma.
APT8 challenges what constitutes contemporary in the art world by including new works made in a traditional context. Four young Mongolian painters work in the distinctive zurag style which uses fine brushwork and bright colours to represent themes from everyday life. Their paintings here use the technique to document a rapidly changing society.
The ten curators of the show were "not necessarily interested in newness", Seeto says. APT8 seeks to pin works historically, by including artists from a range of time periods who dealt with the cultural influences of their era.
One of the first installations I see as I enter the gallery is a huge wooden scaffolding-like sculpture, made of salvaged heritage timber sourced around Brisbane. It sprawls over the three levels of the gallery, with sensors and sounds built in that encourage exploration. This work, by India's Asim Waqif, brings historical and geographical foundations to the gallery, which isn't yet a decade old.
Ongoing conversations with the past happen throughout the building in the exhibition.
Among the international names contributing to the show are a number of well-regarded New Zealand artists, many of Pasifika heritage.
Rosanna Raymond's multi media/artist installation SaVAge K'lub borrows its name from a radical artists' gentlemen's club in late-19th century London. Raymond, an artist of Samoan heritage who lives and works in Auckland, invited other Pasifika artists and community figures to contribute and respond to the Goma space, activating it with performances on opening weekend. Raymond's Brisbane branch of the K'lub focuses on the "VA" in savage - a Samoan philosophical concept of the active space between things or people.
I sense a charge of this energy in the space, which is crammed with art, historical objects, family heirlooms and post-colonial ephemera. There's so much to take in and it's overwhelming, but it feels open - in stark contrast with the secrecy of the gentlemen's club.
Further in the exhibition is celebrated New Zealand artist Len Lye's first experimental film, Tusalava. The Samoan title relates to Lye's exploration of movement and light, referring to the idea that "everything goes full circle". The original soundtrack was lost, so a new music was commissioned especially for this show.
Tusalava uses techniques inspired by Aboriginal, African and South Pacific art; made in 1929, it feels a bit like a historic art object in itself, as it explores modernism's appropriation of tribal motifs.
Blade, a kinetic sculpture by Lye, near the beginning of the show, is activated several times a day. A strip of steel is sent into a frenzy as it is hit repeatedly by a cork ball. It's a machine, but with unpredictable movements that mimic bodily reactions. People circle around as it builds itself up to a climax.
It's one of the many sensual aspects of the exhibition, like the Filipino multi-media artist David Medalla's Cloud Canyons - a sculpture of upright tubes that generates big slow spurts of soft lather. It too generates a crowd and it's quite entertaining to listen to a guide describe it.
The body is explored more literally in Heels, a video by Angela Tiatia, born in Auckland but now based in Sydney. Dressed in a bodysuit with her familial tattoo revealed, she uses her own body to confront the stereotypes placed on Pacific women. Lying on the ground, she faces the camera's gaze as she walks her high-heeled feet up and down a wall, repeating movements found in siva Samoa (Samoan dance).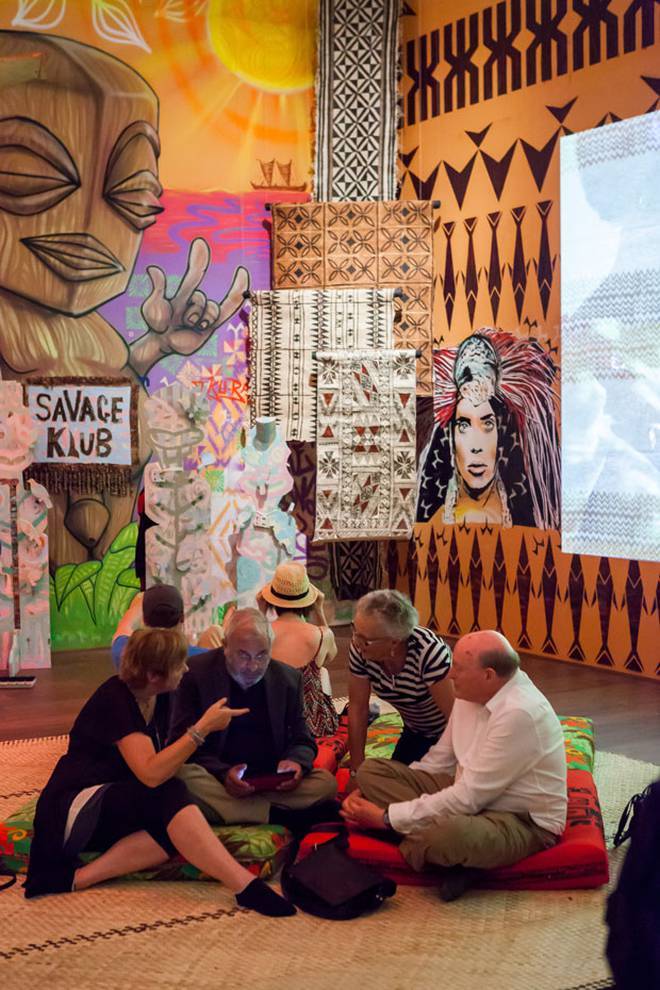 Another work by Tiatia, Edging and seaming, looks at the place of women in global labour. One screen shows her mother Lusi Tiatia, a migrant garment worker who moved to Auckland from Samoa in the 70s, working in her home. It's her last job before the work is outsourced to China. A second screen shows women sewing in the factory in Guangzhou where the work has been outsourced.
When visiting the factory, Tiatia found many of the women working there had also moved from their hometowns in order to make a living. It's a powerful work, showing the link of migration and gendered space in these two different locations.
Again commenting on labour and power relations is sucu mate, a photographic series by Luke Willis Thompson, of Fijian descent, with Fiona Amundson. They work with an ethnically segregated colonial graveyard in Lautoka, Fiji, removing the gravestones of Chinese labourers and replacing them with renovated grave goods designed by the artist.
A pared-back presentation, Thompson's work invites the viewer to engage with marginal objects that expose narratives around labour and racial categorisation.
Khvay Samnang's Enjoy my Sand also looks at the relationship between countries. Samnang discovered that most of the sand from his native Cambodia was removed and taken to Singapore to line the beaches there.
In this video, he visits one of these beaches and offers piggyback "cow taxi" rides to beachgoers. Wearing a horn helmet made of human hair, he resembles the water buffalo used in agriculture and transport in Cambodia. This public gesture created a link with Samnang and the locals of Singapore, humanising their relationship with the sand.
There are more historical threads in Shigeyuki Kihara's mesmerising silent video work Siva in Motion, which narrates the effects of the devastating 2009 tsunami on Samoa through delicate hand movements and Futurist stop-motion animation.
Beside the video are a series of photographs of the artist, who is of Samoan and Japanese descent.
Inspired by an 1886 photograph titled Samoan Half Caste she is dressed in 19th century mourning garments as her alter-ego Salome and stands facing sites of colonial importance in Samoa after the tsunami.
This character also appears in Siva in Motion, performing a taualuga, a traditional Samoan dance customarily reserved for high-ranking women. Her elegant gestures are multiplied, creating layered cascades of delicate, lapping hands that give the impression of rolling waves and strong winds. It's a beautifully hypnotic and haunting work that is completely transfixing.
These destructive waves make you think about the Pacific Ocean in general, its vastness and reach, its ability to sustain and destroy.
In fact, as I walked around APT8 - allow yourself a couple of days to take it all in - I become aware of the ancient connections and blurred boundaries between the countries represented.
One of the most successful aspects of the curation is the way the works speak to each other in subtle ways. With 80 artists from over 30 countries - and many of the artists have ties to several - this far-reaching exhibition is an apt representation of our region, its people and the movements that connect them.
Critical kids
There's a common misconception that art galleries can be boring for kids. But APT8 dispels this notion.
A large portion of the exhibition is devoted to kids, with installations bound to delight the youngest art critics. That's not to say it's all too childish for adult visitors to enjoy - it's well worth devoting some time for a frolic through these colourful installations.
Kids can decorate a paper tiputa - a garment originally created in Tahiti and found throughout the Pacific - in Rosanna Raymond's Play With Your Birds by making rubbings from patterns carved into surfaces in the space. In an accompanying video, Raymond describes the collaboration between men and women that goes into the making of the garment. It's something to wear for special occasions, she says, "like going to an art gallery".
Giving a literal meaning to the term, Justin Shoulder and Bhenji Ra's Club Anak (Club Child in Filipino) invokes memories of the 90s "club kid" with childlike imagery. Kids can draw their own mystical creatures to display inside a miniature night club.
On a busy Wednesday afternoon at the gallery, several boisterous school groups are touring and there's plenty to look at and play with to keep them stimulated. One group of visitors suddenly makes a surprise appearance in Richard Bell's video work 15 Minutes - where he talks to kids from four Queensland schools about the pros and cons of fame.
"Do you want to be famous?" asks Bell, soliciting responses that include a pretty impressive rendition of Dolly Parton's Jolene. It's well worth watching the full 30 minutes to engage with the thoughts of the future generation.
Most kids want to be "a little bit famous", it seems - and APT8 gives them a chance to explore dreams of art stardom.
APT8
What:
Asia Pacific Contemporary Art Triennial
Where:
Queensland Gallery of Modern Art (Goma), Brisbane
When:
Until April 10, 2016
• Eli Orzessek was a guest of Tourism and Events Queensland.