The hearse, a 1927 Chrysler, is given a guard of honour by Port Chalmers school children lining Sir John Thorn Dr at the exit to the town. After the funeral, karanga are chanted as the casket leaves St Joseph's Cathedral, in Dunedin.
Latest NZH Video
Jacinda Ardern speaks at the 'Let's Talk to Labour' youth event.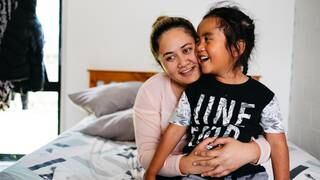 19 Aug, 2017 3:54pm
2 minutes to read
Exclusive: Compelling documentary challenges stereotypes around young mothers.
Protesters marching on Dunedin Hospital have forced Prime Minister Bill English and his entourage out a side door this afternoon. Source: ODT