Learning to ride is a dream come true for some children. Joanna Mathers looks at what riding schools in Auckland and beyond offer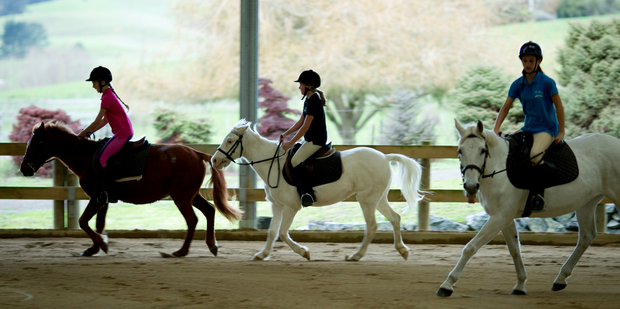 When I was a child, ponies were my idea of heaven. I was pony-obsessed from the moment I was aware of what they were. I read all the pony books I could find, rode invisible horses around the backyard with my horse-mad friends and collected toy ponies for far longer than I like to admit.
When I was 12 I started having riding lessons. Even though the instructor was one of those old-school, military-style teachers (there was a lot of shouting and tears), I loved every minute of it. And eventually I got to have my very own, real live pony.
The power that ponies have over little people can be quite phenomenal. And learning to handle a powerful creature like a pony is a great way of developing confidence and empathy for other species. There are many great riding schools around the Auckland region that cater for kids. Here are five of them.
Bartley Riding Academy
190 Whitford Park Rd, Whitford, Auckland.
Ph (09) 530 8892
Having a mother who's a riding teacher sounds like every little girl's dream come true. For Jess Bartley, this dream was a reality. Her mum, Karren, has been teaching people (including Jess) how to ride for the last 30 years; and now Jess has taken the reins (excuse the pun) beside her as a teacher at Whitford's Bartley Riding Academy.
Bartley Riding Academy is a bit different from other riding schools in that is offers a weatherproof, indoor arena. There are also tea and coffee-making facilities, a kitchen and tack shed in this large building. It's also a bit different as it doesn't take children under the age of 9.
"We like to develop independent riders, so we don't teach lead rein work," Jess says.
Bartley Riding Academy takes children for both independent and group lessons. The standard group has five to six children and costs $65 a child for a 55-minute lesson on a riding school pony.
The school has 17 working ponies. Jess says that mares Cameo, a 12.2 hands-high cremallo and Finn, a 12hh chestnut with white markings, are two of the cutest. "They are best friends," she says. "They were foals at the same time, were brought up together, and we bought them together.
Lessons are scheduled on a term-by-term basis, with riders encouraged to book early to secure a regular spot.
Kingslea Park Riding School
Keaney Rd, Ararimu. Ph (09) 292 4396
When competition show jumping rider Courtenay Hedges saw a hole in the market for personalised riding lessons, she decided to do something about it.
"I was noticing that young people who were coming out of the riding schools and buying their own ponies were missing some basic knowledge. A lot of riding schools have classes of eight to 10, and I think it's really hard to give children personal attention when there are so many in a class."
So three years ago, Courtenay set up Kingslea Park Riding School. Focusing on small classes (the largest group they have is three) the school prides itself on the personal care and attention it pays to all their students. "We teach children all the basics of riding and pony care, can help them find a suitable pony when they are ready to buy one, and help them buy tack," she says.
Kingslea Park Riding School is part of a competitive, working, riding complex. There are three instructors here, all of who have competed to a high level. But it's not just a school for wannabe Mark Todds. "We take people of any age and riding level," says Courtenay. They school has about 10 riding school horses. "They are old schoolmasters who have retired from competing," says Courtenay. Private lessons are $70 for 45 minutes, with one-hour group lessons being $50 for an hour.
Children can also "own a pony" for a day in the weekend. They are allocated a pony, taught to catch, groom and tack up the pony, and also have riding lessons. This costs $90 for the day and is ideal for children who are planning on getting their own pony.
Hololio Pony Park
110 Monument Rd, Clevedon. Ph 0274 377 569
Clevedon is one of the Auckland region's horse-riding hubs. Here polo players can be seen galloping their ponies across the emerald fields at Hololio Pony Park, one of Auckland's best known and used polo parks.
Hololio don't just do polo, however. There is a riding school next door, where children can learn the art of horsemanship from experienced instructors. The school has its own super-cute welsh mountain ponies for children to ride; they also breed this popular type of pony for showing.
Kirsty Baylis has been working at the riding school for about a year, and teaches children of all ages. "The youngest child we have at the moment is 3," she says. "She is being taught on a lead rein." Children here can either learn on their own ponies or use the riding school ponies for instruction. Lessons are 50 minutes long, and cost $60 for a private lesson, $50 each for a group of two, and $40 each for a group of three.
Bannockburn Riding Academy
56a Avon Rd, Pokeno. Ph (09) 233 6382
Just south of Bombay, Bannockburn Riding Academy offers riding lessons to keen youngsters. Run by experienced horsewoman Beatrice Spicer, the academy helps riders of all experience levels to develop confidence and skills in the saddle.
The school specialises in small group lessons (the maximum size of a group is three), as well as private tuition. Group lessons are $40 a child, private lessons are $50 a child. Students will be taught the basics of horse handling, grooming and ground work, as well as dressage, jumping and other riding skills.
Beatrice has worked in a number of horse facilities, and has experience in all areas of horse care and management. She also runs school holiday programmes for children who want to advance their riding skills further.
Pony Tales
Pony Tales Riding School, SH1, opposite St Peters School, Cambridge. Ph (07) 827 6030. Pony Tales Parties, 98 Wallace Rd, RD9, Hamilton. Phone (07) 847 1887
Based in Waikato, Pony Tales offer a unique service to pony-mad children. They have two premises - one in Cambridge and one in Hamilton - from which they offer tuition, treks, school holiday programmes and pony parties. Yes, pony parties.
Held at the Hamilton school, these parties allow children to celebrate birthdays and other significant events while hanging out with ponies. Run by experienced horsewoman Kathryn Morgan, they evolved after she started creating parties for her sons.
She soon realised ponies and parties were her two passions and decided to combine the two. Pony Tales also offer riding lessons for children. The Cambridge school has lessons for children from age 5; Hamilton offers lessons for children aged 2 to 10. These are available for groups and individuals.