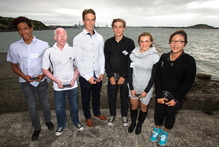 One of New Zealand's top golfers of yesteryear had sound words of advice for one of the sport's rising stars at the Herald Future Stars of Sport awards yesterday.
But former US PGA winner Phil Tataurangi admits perhaps Lydia Ko could offer him advice.
Ko, the world's top amateur golfer, was honoured alongside cyclists Paige Paterson and Hayden McCormick, swimmer Daniel Holt, athlete Joshua Hawkins and rower Adam Smith at yesterday's awards luncheon.
The six recipients of the award, which recognises the outstanding achievements of young athletes, each received a $1500 training grant from the Herald and a bag of sports products.
The judges noted all the winners stood out as having competed on the international stage in their chosen sport.
Holt, who was born with albinism which severely restricts his sight, only returned from Britain yesterday morning after competing in a major international meet, where he set two qualifying standards for the Paralympics in London.
While Holt was fresh through the arrivals hall, McCormick, who has enjoyed success in both road and track cycling, was yesterday preparing to jet off to Europe, where he will compete in road races in Belgium.
Tataurangi, who was a Herald junior sports awards winner in 1988, was the guest speaker at yesterday's luncheon and had plenty of interesting anecdotes and inspiring words for the winners. While New Zealand athletes are often credited for punching above their weight on the world stage, Tataurangi told the young athletes they should aim to be world beaters.
"I don't know if we punch above our weight, I think we exceed our expectations but I don't know if that underdog attitude is always helpful," he said.
"There's no formula that says you need to be from a country of 20 million to achieve anything. I've seen athletes from all corners of the globe do some pretty spectacular things so why not embrace that?"
The annual awards, first presented in 1967, have recognised many of New Zealand's greatest sporting stars often before going on to higher honours including Valerie Adams, Sarah Ulmer, Rob Waddell, and Martin Crowe.
Paterson, 17, a student at St Cuthbert's College, specialises as a track sprinter. In November she won three golds at the Under-19 Oceania Championships. Earlier she represented New Zealand as a first-year under-19 rider at the Junior World Championships in Moscow.
McCormick, 18, from Te Awamutu, mixes road and track. The St John's College, Hamilton student, won the points race at the Oceania track championships and won the road race at the Australian nationals and three under-19 Kermesse titles in Belgium.
Ko, 14, a student at Pinehurst School, Albany, is the No1 amateur in world golf, has her sights on turning professional in 2014/15 and two years later, representing her adopted country at the Olympics.
Hawkins, 18, is only the third New Zealander to win a medal at the World Youth Championships with his silver in the 110m hurdles. The former Sacred Heart College student plans to juggle his sport with studies this year.
Smith, 18, a former Auckland Grammar student (and captain of rowing) was a member of the Maadi Cup-winning crew as well as the Springbok Shield (fours). Smith was in the New Zealand four who won silver at the World Junior Championships in England in August and remains a member of the high-performance squad.
By Dana Johannsen

Email

Dana