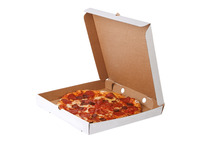 A major fastfood chain will investigate one of its stores after a delivery boy said he worked for an average $4.50 an hour without a written contract.
Takapuna Grammar student Alex Ross said he was so eager to secure his first job as a delivery boy at Pizza Hut in Belmont that he ignored alarm bells when he was hired on the spot without an interview or a signed contract.
He assumed his hourly rate would be the legal minimum youth wage, which is $10.20 an hour.
But the 16-year-old was surprised when a colleague told him he would receive only $5.50 a delivery, using his own car and petrol.
During the school holidays Ross usually worked five hours a night, four nights a week.
On a busy night he would have up to nine deliveries, taking home $49.50 gross but sometimes he had only three deliveries, taking home a paltry $16.50.
"When it's a busy night but no deliveries they would get me down the front slicing pizzas and making boxes," Ross said.
In the two months he worked there his pay averaged below $4.50 an hour. Pizza Hut general manager Arif Khan confirmed their drivers were paid $5.50 per delivery and were not reimbursed or compensated for petrol.
He was surprised and said he would investigate when the Herald on Sunday contacted him about Ross' claims because all staff should have contracts. Drivers also had the right to refuse work in the shop during down-times.
Employment lawyer Phil Butler said the law would treat Ross as an employee, not an independent contractor.
Has this happened to you? Email: chloe.johnson@hos.co.nz