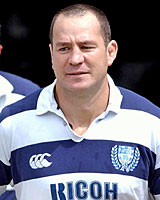 New Zealand, Australia and South Africa will all make it to the semis but it will be the All Blacks who win the Cup, said Robin Brooke.
"Australia can turn it up and so can South Africa. There's not much in it but what is in it is the skill factor and a bit of luck," Brooke said.
He said France can't be discounted and Argentina should make it to the quarters at the expense of Ireland.
"And you've got England who are going through a bit of a bad patch but they're world champions, well, World Cup champions."
He said there's still about a month and a half until the All Black's first kick off and that is a considerable amount of time in rugby.
"I understand they're having some internal games but you obviously can't replace competitive matches," Brooke said.
He said the conditioning programme and teams such as France and South Africa sending second-rate teams on the road before the World Cup is a sign that the IRB need to show leadership and introduce stringent rules.
"New Zealand are the culprits there in the first place, we started doing it and England started doing it five years ago," Brooke said.
He said the All Black management team is strong and have done a lot of planning but the ABs will need another 10 per cent lift on the Tri-Nations to win the Cup.
"There's a lot placed on the World Cup and some say too much placed on the World Cup and those people who say that probably haven't won it," Brooke said.
Final prediction
New Zealand versus South Africa
New Zealand to win 18 - 15
Robin Brooke's All Black career
(Source: www.allblacks.com)
Full Name: Robin Matthew Brooke
Born: December 10, 1966
Position: Lock
All Black Debut: June 6, 1992
Matches: 69
All Black points: 20, 4 tries
YOUR PREDICTIONS
It's only weeks away from the Rugby World Cup and we want to hear your predictions of who will win. Who do you think will be in the final and what do you think the score will be?
We'll run your predictions online and you could be the winner by picking the right score.
The winner gets to the right to call themselves the Rugby Brain of New Zealand... and our sports team at nzherald.co.nz will also rustle up a prize for the most accurate prediction.
By Edward Gay @edwardgay

Email

Edward