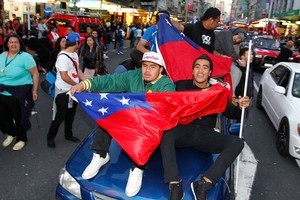 The Rugby World Cup has opened amid much fanfare in Auckland with glitz and glamour at Eden Park but major Auckland transport problems off it.
Tens of thousands of fans on the waterfront enjoyed a spectacular fireworks display and a capacity crowd of 60,124 at Eden Park watched the dramatic opening ceremony and the opening match.
But elsewhere thousands were affected by public transport with full buses and trains bypassing scheduled stops and other stoppages leaving commuters trapped on trains for lengthy periods.
What was your World Cup opening night experience?