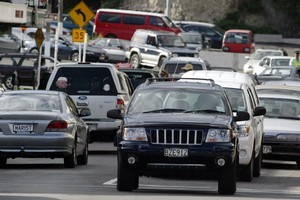 Parts of roadworks-ridden central Auckland have become so gridlocked this week that one woman says she travelled just 250 metres in one hour.
Cristin Boyd was picked up by her partner outside the downtown carpark on Customs St West at 5.05pm on Monday. After an hour in heavy traffic they had only managed to reach the Queen St traffic lights, about 250 metres away, she said.
Congestion on Customs St has worsened as Auckland Transport and Vector power company contractors carry out roadworks on neighbouring Quay St.
What city areas are best avoided due to traffic gridlock? Here is the latest selection of Your Views: