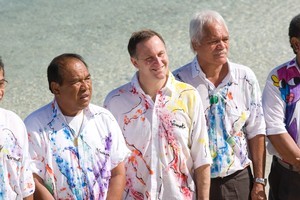 Prime Minister John Key and other Pacific leaders lined-up for their photograph on a beach during their retreat the Havannah Resort in Vanuatu. Photo / Mark Mitchell
New Zealand will host the Pacific Islands Forum next year in the lead-up to the Rugby World Cup, forum leaders decided last night.
Prime Minister John Key made the offer to other forum leaders in Vanuatu in the past few days, but Rugby World Cup Minister Murray McCully has been lobbying Pacific leaders for months.
The forum will be held in Auckland in the days leading up to the cup's All Blacks versus Tonga opener.
Should NZ host the Pacific Islands Forum next year? Here is the latest selection of Your Views: