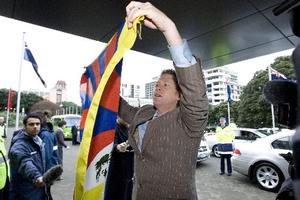 Prime Minister John Key has rejected accusations he made a "degrading" apology to a Chinese delegation for the scuffle outside Parliament on Friday involving Green Party co-leader Russel Norman.
Dr Norman was waving a Tibetan flag when Chinese vice-president Xi Jinping arrived, and members of the Chinese delegation tried to put an umbrella over him to hide it.
Dr Norman was pushed and the flag was pulled from his hands. He managed to retrieve it, and loudly told the Chinese delegation they could not suppress freedom of speech in New Zealand.
Debate on this issue is now closed. Here is the latest selection of Your Views: