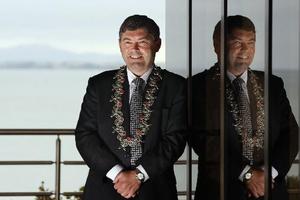 North Shore City Mayor Andrew Williams. Photo / Brett Phibbs
Reports of the North Shore mayor's antics have incited strong reactions from his constituents - some want him sacked for bringing disrepute to the genteel district, while others are steadfast in support.
Five North Shore councillors have called for Mayor Andrew Williams to resign after it was reported he urinated on a tree outside the council building and drove home after a drinking session.
Should the North Shore mayor resign? Here is the latest selection of Your Views: