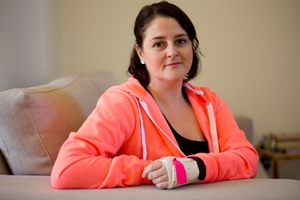 Anna Mortlock is only 31 but she has already had her left hip replaced twice. The first time was when she was about 17, the second was in 2011 after the first artificial joint wore out.
The collapse of a natural joint is part of the health toll rheumatoid arthritis has taken on her life. The wider effects are now mounting too.
"I've just moved back home with my parents last weekend."
The Auckland woman's father had suggested this in January when she was in hospital with an additional illness, the inflammatory intestinal condition Crohn's disease - which, like her arthritis, is an immune system disorder - but Ms Mortlock chose at first to struggle on.
"But then the bills started piling up and the phone got cut off and I went, 'Yeah, maybe I should look at saving some money'." she said.
"I'm looking forward to being able to not stress, because stress makes it worse, and not having to worry so much with money," said Ms Mortlock, who is unable to work fulltime and receives the supported living benefit.
She is speaking out about her arthritis to draw attention to the release today by Arthritis NZ of a survey of 10,171 rheumatoid arthritis patients in 42 countries, including 273 from New Zealand.
About 70,000 Kiwis have the disease, which causes pain, can damage joints and in some cases can affect the lungs and heart. There is no cure, but drug treatment can slow its progression and minimise joint damage. It is a separate disorder from osteoarthritis, the much more common wear-and-tear condition that affects nearly half of elderly New Zealanders.
Arthritis NZ chief executive Sandra Kirby said the survey showed there was "clearly a need for patients and doctors to work together to develop a long-term strategy to manage rheumatoid arthritis".
"We are concerned that while many New Zealanders recognise that rheumatoid arthritis is a severe, progressive and destructive disease, only 29 per cent have a disease management plan in place.
"If not managed properly long-term, advanced rheumatoid arthritis can result in permanent joint destruction, disability and loss of work."
Of the 41 per cent of New Zealand patients in the survey who said their job, career or ability to work had been harmed by the disease, half had had to cease work altogether for a time.
Ms Mortlock, a dance teacher, said she was unable to work fulltime at present because of her illnesses and the main treatment - intravenous infusions in hospital every six to eight weeks of infliximab - left her fatigued.
She was diagnosed with rheumatoid arthritis at 14. "I kept on dancing, kept trying to fight through it and kept on thinking, 'I can do this'. Finally when I got to about 17 my hip just completely gave way."
Ms Mortlock has also had major surgery on her right wrist and now has a splint on the left.