Danielle Wright finds out about preventive healthcare in the therapeutic Rotorua region.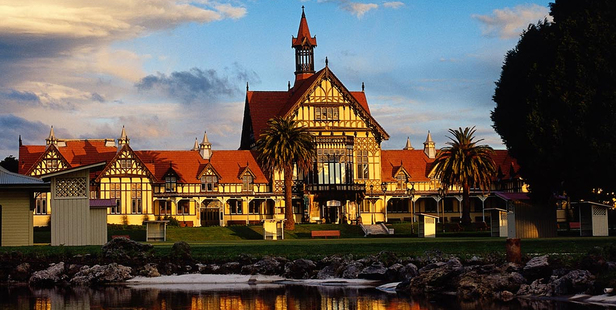 There's no arguing with the phrase "prevention is better than cure", but how many of us see a health professional when we're feeling fully fit?
"New Zealanders often think a visit to a spa is a treat rather than health maintenance," says Mandy Gobo of Rotorua's QE Health, introducing me to their newest product, the health Warrant of Fitness.
It's known as a "cure annuelle" and is so popular with the French that they come to New Zealand to experience the annual check-up on their health insurance.
Formerly the Queen Elizabeth Hospital, the medi-spa makes use of the region's therapeutic assets, such as volcanic mud and water from two local springs filled with geothermal water.
The acid-free Priest Spring is named after a Catholic priest who experienced relief from arthritis when bathing in the hot spring waters in the late-1800s.
The alkaline Rachel Spring is named after Madame Rachel, a notorious London cosmetician who promised "to make the plain pretty, to make the beautiful exquisite".
She was jailed for fraud in 1878.
After learning of the former hospital's history, I'm shown some of the apparatus, such as a steam bed dubbed "the human hangi" and a vat of wax used for immersion therapy and to soften skin.
There's also a mud bath, which Mandy says is filled with "clean, dirty water" because it contains fresh water to which volcanic mud is added. A sign says its consistency is somewhere between "pea-soup and light gruel".
My WOF test begins when I'm introduced to Aaron Randall, who checks my blood pressure, cholesterol, blood sugar and BMI before putting me through a treadmill test and handing me to Francis Suchang for musculoskeletal and physiotherapy assessments.
Between the checks and treatments, I relax in the lounge, where there's a sign: "Sometimes the most important thing in a whole day is the rest we take between two deep breaths."
Next, I meet therapist Mary Crane, who wraps me in hot mud layered through gauze. She rolls me up in warm towels like a human sausage. Unable to move, I stare up at the exposed beams and try not to fall asleep.
It's impossible not to get a sense of the war history in the tiny room and I imagine how frightened the shell-shocked soldiers must have been looking up at these same beams years ago. Even though QE Health has been revamped, there's still war history wherever you look.
In the waiting room are framed photographs of nurses waiting for a dance, plus soldiers of the 28th Maori Batallion on the hospital steps.
Later, I find out more history at the Rotorua Museum during a guided tour of the Taking the Cure exhibition, brought to life at every turn by personal stories.
One of my favourites is the story behind the vintage loveheart graffiti in the basement. I'm pleased to find out that lovers Eric and Joan, who snuck downstairs like many others of the era to write their names on the walls, went on to get married and live happily ever after.
I rejoin my family for a soak at the Polynesian Spa, glad I passed my WOF for another year.
When prevention is the cure, it's a lot more enjoyable.
My only complaint is that it's recommended once a year. I'd be prepared to take it every month.