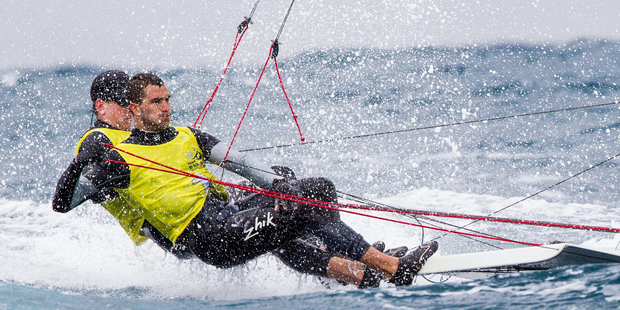 New Zealand's two world champion sailing teams have both won gold medals at the ISAF Sailing World Cup Palma in Mallorca overnight (NZT).
Peter Burling and Blair Tuke secured the 49er gold with ease, while Jo Aleh and Polly Powrie came from behind to topple the French leaders and take the Women's 470 gold on the final day.
Another three kiwis crews also finished in the top ten including Andy Maloney, Sam Meech (Laser) and Paul Snow-Hansen and Daniel Willcox (Men's 470).
Despite an average first day on the water at this opening regatta on the European circuit, Burling and Tuke hit the lead in the 49er skiff class on day three and only extended from there. Today, with 6, 1, 8 in their three medal races, the Kiwis took a well deserved victory and stand atop the podium.
Burling and Tuke have now won every major 49er regatta they've contested since winning Olympic silver in 2012 including the 2013 World and Europeans Championships.
After today's racing Tuke said, "It was really fun. We sailed really well and did what we had to do in the first race after the lead we'd created throughout racing this week. We then managed to get a win and it wasn't such a great final race but it was a lot of fun."
Burling echoed his team mate, "We obviously went into the Medal Race with a pretty comfortable margin but we still had a bit of work to do just to finish it off. We managed to do that in the first race and then we had a bit of fun."
With Camille Lecointre and Helene DeFrance seven points out in the front, and just one race to run, the Women's 470 gold looked like a tough ask for Aleh and Powrie going into today.
Yet no one could catch them for silver, so the kiwis had nothing to lose and they went out and won the medal race. When the French pair came home in 6th the victory was New Zealand's and Aleh and Powrie, who are ISAF Female Sailor of Year, could celebrate another gold medal performance.
Aleh explained the day, "It was a pretty stressful Medal Race, it went well for us but it was pretty hard work.
"The French were seven points clear of us and we knew we had to get three points between us to beat them. We stayed really close and came out of the start better, from there we just tried to sail the race, get away and get boats in between and we just managed to get enough boats in.
"It took us a while to fire, we were a bit slow at the beginning but we've come right by the end."
- APNZ