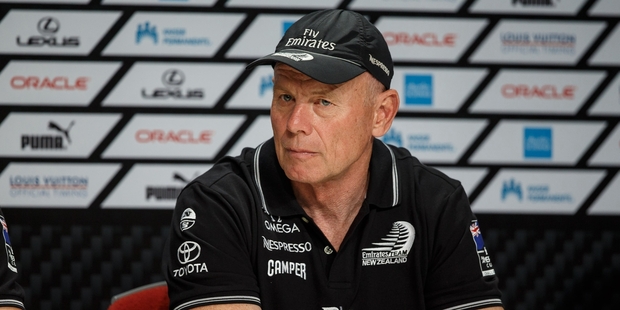 Sailors are traditionally a superstitious bunch - but Emirates Team New Zealand boss Grant Dalton takes it to the extreme.
He refuses to discuss even in hypothetical terms what would happen if Team NZ were to win the America's Cup for fear he may jinx his team's chances. He also insists that the sailors stick to their routines each race day, and remain on an even keel, so to speak. There shall be no celebrating on board until the job is done.
Dalton was also twitchy when this writer was invited out to ride on their second AC72 when it was first launched in Auckland back in February. Women, you see, are bad luck on boats.
The Herald has now uncovered a piece of historical data that may add weight to Dalton's superstitions.
Team NZ's only loss during their 1995 triumph in San Diego was when their team principal, Sir Peter Blake, was not on board; the only time Team NZ have lost a race in San Francisco thus far was when Dalton was taking a breather in yesterday's fourth race.
True, technically they also lost a race against Luna Rossa during the Louis Vuitton challenger series because of a failed battery pack, but this was the first time we'd seen them bettered by another team.
Suffering from tendinitis of the elbow, Sir Peter opted to sit out one of the races in the Louis Vuitton final against One Australia. That day Team NZ, who had been untouchable all regatta, suffered their first loss. Sir Peter returned to the boat for the next race and Team NZ went on to win the challenger series 5-1, before sweeping Dennis Conner's Star and Stripes 5-0 in the America's Cup final.
Team NZ skipper Dean Barker joked that his boss would have a lot to say about the team's maiden loss being when he wasn't on board.
"I'm sure he'll mention it just a few times," said Barker. "But it certainly wasn't the difference today, we just didn't execute the first part of the race well and that put us on the back foot."