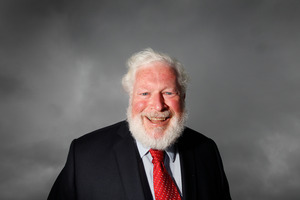 Member of the New Zealand Order of Merit, for services to meteorology and to yachting.
The clouds are always speaking, and Bob McDavitt is one of the few people in New Zealand who has dedicated his life to understanding their language.
The former MetService ambassador, who has earned the reputation of the "face of New Zealand weather", is made a Member of the New Zealand Order of Merit for services to meteorology and yachting.
He says weather forecasting isn't a job for everyone, with only about around 40 people in the country choosing it as a career, but he wouldn't want to do anything else.
"It's a fascinating job. The clouds have always got something to tell you if you know how to read them - they're always speaking to you."
He became interested in meteorology as a schoolboy in April 1968 when one of the worst storms in New Zealand's history knocked the chimney off his house, and sank the passenger ferry Wahine in Wellington Harbour, killing 53 people.
A few years later he found work with the NZ Meteorological Service, which became the MetService in 1992, and worked there for 35 years.
He earned a reputation for his easy-to-understand forecasts and for promoting friendly relations with the public, which helped him to retain the MetService weather ambassador role for the 20 years to 2011.
"Meteorology requires a certain type of language that people within that discipline will use to communicate. However, if you're a meteorologist but also a weather ambassador your job is to simplify that so that people can understand it.
"I like to think of things rather simply, so people like my forecasts because they're written in simple language."
The job has also allowed Mr McDavitt to be involved with another of his passions, sailing, and he is a veteran of the 1988 and 1992 America's Cup campaigns.
A high point of his career was working with the New Zealand sailing team at the 1992 Barcelona Olympics, in which they won four medals, including gold for Barbara Kendall.
Mr McDavitt is semi-retired - "in cruise mode" - now, but still puts out a weekly weather bulletin used by more than 500 sailors.
He's keeping an eye on the weather for Scottish sailor Jeanne Socrates, who is doing her third circumnavigation of the world to celebrate her 70th birthday.
He is still fascinated by the weather and enjoys the "artistic" aspects of his work. "Weather is a mixture of pattern and chaos."
- APNZ