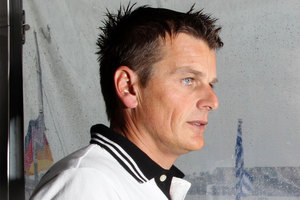 Team New Zealand plans to be back on the water tomorrow after experiencing the challenges of the new catamaran boats in the America's Cup world series.
Team New Zealand capsized today in the first race of the quarter-final in the final regatta of the America's Cup world series for the season at Newport.
Three elements of the wing were extensively damaged in the capsize. One will be repaired overnight, one has been bought from the event and one will be cannibalised from the Youth America's Cup AC45.
Skipper Dean Barker vowed the team would be back on the water for the second day of the regatta.
He said the wing extension - fitted to the top of the rig for better light-air performance - filled with water making it difficult to get the boat back upright.
"We were on our side for an hour. That's when the damage was done," he said.
"When we capsized in Auckland soon after we got the boat, we were upright in three to four minutes and damage was slight.
"As we went over I expected to be upright in a few minutes and ready to race for the second match that afternoon."
The capsize occurred at the top mark during the first quarter-final race against Luna Rossa Piranha; Team New Zealand was comfortably ahead.
A problem with the leeward runner meant they could not ease the wing sheet as they rounded the mark.
Unable to go either up or down, the capsize was inevitable.
Today's incident was the latest in a series since the team arrived at Newport.
Two AC45 crewmen have been sidelined by injury. Bowman Winston Macfarlane has returned to Auckland after injuring a shoulder in practice and trimmer James Dagg's head collided with tactician Ray Davie's elbow. As a precaution, he is being rested for a couple of days.
Sailing crew members Derek Saward and Jeremy Lomas, both heavily involved in past months with the AC72 build programme, were called in at short notice to fill in.
- APNZ