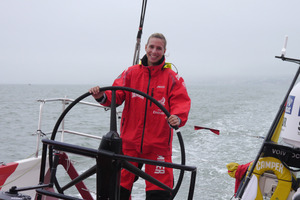 New Zealand's No1 women's tennis player Marina Erakovic has sailed on Volvo Ocean Race boat Camper prior to the Lisbon in-port race this weekend.
Erakovic, who has a long-standing association with Emirates Team New Zealand physiotherapist Paul Wilson, joined the team in Lisbon in between playing in the French Open last week and competing at Wimbledon later this month. With some recovery time available, the world No 42 jumped at the opportunity to meet up with some fellow Kiwi athletes and experience a Volvo Open 70 boat.
"It was really cool, just an amazing experience,'' she said. "I've never really done anything like this before and the four hours flew by really quick. The guys are just so professional and do such a great job. I was impressed.
"It's just hectic aboard and everybody has a huge amount of work on their hands. The crazy thing is I've only seen four hours of this, I've got no idea how they do 30 days' worth of it.
Having seen the living quarters I don't think there's any way I'm going to be swapping tennis for ocean racing anytime soon even if things get really desperate.
"There might be a few of my competitors on the tennis circuit though who I might like to see do a leg or two but I'm not going to be naming names,'' Erakovic said with a laugh.
- APNZ