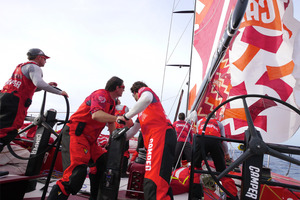 Camper has finished fifth in leg seven of the Volvo Ocean Race.
An agonising finish saw the Team New Zealand boat edged out just metres from the line to finish just behind overall race leader Telefonica after more than 11 days at sea and over 3500 nautical miles of racing.
In a rematch of the finish of leg four into Auckland the two boats were neck and neck for the final 12 hours with Camper battling a dying breeze and strong tidal currents to lead for most of the long painful slog up the River Tagus.
However, in sight of the finish line Telefonica picked up a whisper of breeze and managed to ghost ahead of Camper and cross the line less than two minutes in front in the early hours of Friday morning local time (Friday afternoon NZT).
Even in a race that has become known for its dramatic finishes and a leg marked by its ups and downs it was a nerve-jangling result with virtually nothing separating the two boats as they crawled up the Tagus River fiercely fighting it out to the very end in one of the closest finishes in the history of the race.
With only a few knots of wind and up to three knots of tide pushing the boats back out to sea it was painful progress in the dark for the last few hours as both Camper and Telefonica struggled to make headway and at times even went backwards.
Ultimately though it was not Camper's day and 11 days at sea came down to less than two minutes as Telefonica slipped in front and took 15 vital points.
Camper's fifth place followed an equally epic battle between Groupama and Abu Dhabi for first place with Abu Dhabi eventually taking first, Groupama second and Puma third.
The result sees Telefonica losing the overall lead of the race for first time to Groupama, Telefonica relegated to second, Puma moving to third and Camper dropping to fourth overall.
With only 19 points now separating the top four boats and two legs and three in-port races remaining the leaderboard is still wide open with everything to play for as the race enters its final stages.
Camper skipper Chris Nicholson said it was a hard result to take but that the team remain determined to move up the leader board.
"It's pretty brutal really. I thought overall we sailed pretty well but in the end the dice just didn't roll our way.
"All the competitors are on the same playing field so the last few miles were not unfair but they can be unlucky. I am sure that everyone entering the channel thought that there was going to be an element of luck, but it was not our day.
"The call we made to go north got us back into the lead of the race. We had a lot of jib reaching there and we got run down. What do you say, it is a hard race and we know that's not our strong point. We sailed the boat quite nicely but it did not happen for us. We need to go and look at why mid leg we didn't cement the lead. But I think our guys had a good leg and there was a lot of hard work from a very good team.
After the finish we sat down in the cockpit and didn't know what to say to each other, other than it was damn rotten luck. These are professional guys though and we will bounce back. We're still in this race to win it and with the points still on offer there's everything to play for.
I think we deserved a bit better out there today so we're going to come out fighting next time - there's plenty more to go in this race."

- APNZ