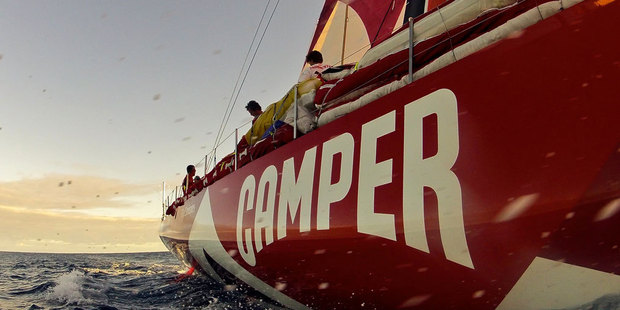 Team New Zealand's Camper are fighting for the lead in what is shaping up to be a key 24 hours in leg seven of the Volvo Ocean Race.
It's been an up-and-down leg so far, and there was yet another change in the leaderboard overnight, with Camper slipping to third and Abu Dhabi once again taking the lead.
However, with the race at a pivotal point, these positions may count for little in in 24 hours' time as the fleet position themselves to be first into fast downwind sailing conditions.
Currently, all the boats are battling light headwinds as they sail north above a large high pressure system. In the next few hours, though, the high will move away and the fleet will move into a low pressure system delivering a 15 to 20 knot north westerly breeze and fast running conditions.
Picking up this new breeze early is critical, as the leading boats into the low pressure will be catapulted at speed towards Lisbon and gain a significant jump on the fleet.
The high speed sailing conditions are forecast to last until about 24 hours out from the finish line, where the boats will have to cross a ridge of high pressure with associated light winds that could very well deliver one final shake-up of the leaderboard.
Camper trimmer/driver Rob Salthouse said the key focus of the team now was getting into the new breeze in the best shape possible.
"We are now trying to work our way north up around this high and into the next low pressure, if we can do that in good shape it will be the rich get richer, so here is hoping," he said.
"Getting into that low early is going to be a big decider in this leg as it's going to shoot you towards Lisbon pretty quickly.
"Right now there's lots of snakes and ladders out there so we're focusing on best positioning ourselves for the low once we get through this light stuff.
"We bled some miles overnight when the high didn't move as far south as we expected so we need to gain some ground back and the next 12 hours will be critical in doing that."
- APNZ