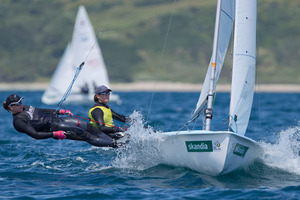 Jo Aleh and Polly Powrie have won the opening race of the 470 women's world championships off Barcelona, Spain.
It was a fitting way for Aleh to celebrate her 26th birthday but although they followed their success with a strong fourth, they are placed third overall, with only a five-point difference between first and sixth.
It was also a good day for Paul Snow-Hansen and Jason Saunders in the 95-strong men's fleet.
The pair started the regatta with a black flag disqualification - for a false start - but have recorded five successive top-seven finishes to jump from 95th to ninth.
Mathew Belcher and Malcolm Page, the Australian defending champions, have won all six races to lead the regatta by six points.
Dan Slater slipped two spots to 19th overall at the Finn world championship in Falmouth, England.
At Boltenhagen, Germany, Sara Winther carded a second and 22nd from the first two races of the Laser Radial world championships to be 18th overall.

- APNZ