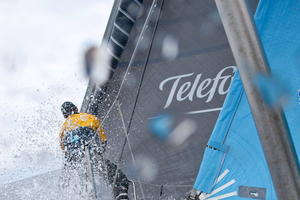 Volvo Ocean Race leaders Team Telefonica could be docked points if they're found guilty of an alleged breach of the sail limitation rule on leg four to Auckland - drastically altering the complexion of the race.
The Spanish team have been accused of carrying an extra storm jib during leg 4 from China to Auckland, and will face a hearing before the international jury when they arrive in Brazil next month.
It is believed French team Groupama have video evidence of the breach, but skipper Franck Cammas did not lodge an official protest, instead referring the matter to race management upon their arrival in Auckland.
But it wasn't until last Sunday, nearly three hours after the fleet had left for Brazil, that the chief measurer lodged a report with the international jury.
The jury will schedule a hearing during the next stopover in Itajai, with the date to be confirmed closer to the time.
If Telefonica are found guilty of the breach, possible penalties include being relegated a place for the leg, which would see Team New Zealand's entry Camper elevated to third for the Auckland leg, and reclaim second place in the overall standings from Groupama.
It would also mean Telefonica's buffer at the top of the leaderboard would be reduced to just eight points.
Prior to leaving Sanya, Telefonica were well in control of the race with an 18 point lead over Camper after winning the first three legs of the race.
Their third place finish in to Auckland left the door narrowly ajar for their closest rivals, but if Telefonica are docked further points by the jury, that door will be thrown wide open.
Late last night the Spanish team were in fifth place in the race to Itajai, after an action-packed fourth day of racing in which the lead changed three times.
Telefonica were 55 nautical miles behind Team Sanya, skippered by Kiwi Mike Sanderson, who took a surprise lead after finding the wind further south of the rest of the fleet.
Groupama were in second place 10 miles behind Sanya, who are sailing in a boat recycled from the 2005/06 edition of the race, with Camper in third a further four miles back.