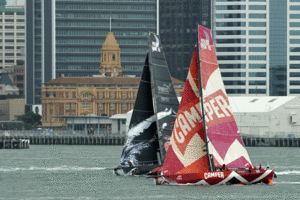 Camper has departed Auckland on Leg Five of the Volvo Ocean Race bound for Brazil via the treacherous Southern Ocean and infamous Cape Horn.
The 6700 nautical mile leg will see Camper facing freezing temperatures, boat breaking weather and almost constant darkness as they dive deep into the Southern Ocean following the traditional clipper route made famous by the classic Whitbread races of previous decades.
During the leg Camper will also pass Point Nemo the most remote spot in the world more than 2000 nautical miles from land in every direction. There will be no easy start for Camper with the fleet due to face 30 to 40 knots overnight as they encounter a low pressure system moving in from the north of New Zealand.
Auckland put on huge farewell for Camper with over a thousand spectator boats crowding onto the harbour to see the fleet off and supporters crowding every waterfront vantage point up and down the harbour as the boats completed a short inshore course before rounding North Head and heading for the open sea.
Camper skipper Chris Nicholson says that despite the risks the team are looking forward to the Southern Ocean.
"It's not a comfortable place to sail and not a place to be taken lightly, but it's a real privilege to race in the Southern Ocean and a big reason why we put ourselves through this race.
"Our boat is designed to be fast in heavy weather running and we should see plenty of that in this leg, so we're looking forward to it. Yesterday's win has given us some nice momentum so we're in good shape.
"We have a solid and robust boat and solid and robust crew so we're in good stead for this leg.
"It's still well and truly game on in this race. I see the future for the overall podium results for this leg as wide open -- as wide open now as they were in Alicante.
"It's not pretty for the first 24 hours as we cross a low pressure system, then we have some reaching which is not a strong point, before we're due to hit the heavy weather running conditions we've been waiting for.
"The Auckland stopover has been amazing and the support from all our New Zealand fans not just during the stopover but since the campaign began two year ago has been unbelievable. I know that this support will help us as we continue on with the Volvo Ocean Race.
"It has been a hectic week and one we will never forget, so on behalf of all the boys thanks so much for the good wishes and please continue to follow us as we do best to win this amazing race."
After enduring the weather battering forecast for the next 24 hours Camper will begin to head south towards the notorious Roaring Forties and Furious Fifties below New Zealand.
The almost seven thousand nautical mile leg is expected to take between 17 and 19 days to complete.