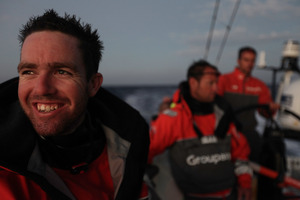 The family of the only New Zealander on board the boat leading the race for shore in the Volvo Ocean race is eagerly awaiting its arrival.
Brad Marsh is part of the French syndicate Groupama, expected to arrive first in Auckland later this evening.
Brad Marsh's father Peter says his son will delight in being part of the leg's winning team.
He says the support Brad's received is important to him, and it's a dream.
Peter Marsh says it'll be hard to control his emotions when he sees his son's team arrive later this evening.