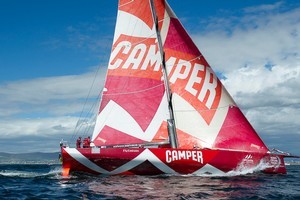 Team New Zealand's Camper is in first place on day six of the Volvo Ocean Race but making slow progress towards the end of the fourth leg in Auckland.
The benefit of heading northeast to get south has begun to eventuate, with Camper easing out to a 19 nautical mile lead over second-placed Groupama as the wind slowly shifts to the north. Team Sanya are in third place 53 miles behind.
However, the march eastward and away from the finish line is not likely to finish anytime soon, with models suggesting the boats need to be even further east to be best positioned for the ride south down to the equator and, ultimately, Auckland.
To have made such little progress towards New Zealand after six days of hard sailing is beginning to frustrate the crew, Camper skipper Chris Nicholson said.
"I think all the guys just want to get back home, so to be heading more towards Japan than Auckland is pretty frustrating for everyone.
But the reality is the more we head east the better set-up we are for turning our bow south and hitting the road to Auckland.
"We're sitting in a good position at the moment but we're keeping a very wary eye on the guys behind us. It's a game of brinkmanship in a way - who will be the first to blink and head south and who will be best set-up when that does happen.
"There's still more than 4500 miles to go to Auckland, and it's essential that we hit the trades first and in the best shape possible. So, while it's nice to be in front, we'd all like to have a few more miles on Groupama. It's going to be a tight race."

- APNZ