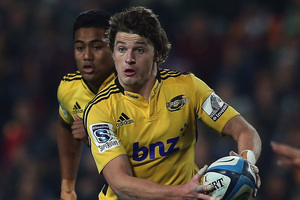 Beauden Barrett missed a trick not coming to the Blues. He might feel safe at the Hurricanes and boosted by the growing vibe that Ma'a Nonu will not be a troublesome midfielder outside him.
But many rugby players need to be pushed out of their comfort zone to continue their improvement. The next challenge drives them to improve their standards.
For many that can be playing for the All Blacks, but at the moment, Barrett is the third five-eighths in the rank parked behind Dan Carter and Aaron Cruden.
Carter remains well out in front in experience, skill and judgment but is putting his international boots in the rack for half of next year so the No10 jersey will be available.
The gap between Cruden and Barrett is not so great. Cruden has led the Chiefs line strongly to twin Super 15 titles while Barrett has been with a motley Hurricanes crew, usually at five-eighths but sometimes at fullback.
He does have TJ Perenara at halfback, although that service needs to be a bit sharper from the new All Black, otherwise the pair's speed will be negated by that erratic service.
Outside has been Tim Bateman, a steady man without the corrosive voice of Nonu but also without his physical impact.
Knitting it all together is the responsibility of backline coach Alama Ieremia. He is a steady adviser and a Hurricanes man to his core but does he have the perception and extra spark to light the way for Barrett's progression?
Barrett's natural gifts need coaching. He is only 21 and already a very skilful talent who has attracted the All Black eyes.
This is the time to polish and refine those talents so he is pushing Cruden even harder.
That home in the Super 15 would have been at the Blues.
Think All Black skills coach Mick the Kick Byrne who would be able to refine the all-round techniques for Barrett's already imposing boot and the rest of his skills, Grant Doorey who would offer advice on all-round alignment and decisions and Graham Henry, who would work on the technical aspects of defence.
The Blues are a young team, one that had a tough season but better than last and are being welded together by the enthusiasm of Sir John Kirwan. It's a coaching group which should squeeze a lot more from Barrett.
He would also have the experience of Piri Weepu at halfback and could form an exciting combination with budding international prospects Francis Saili and Charles Piutau beside him.
Comparing the merits of the two groups might also have been swayed by the amount of quality set piece ball they could offer.
The Hurricanes and Blues tight fives both have a frayed look about them - perhaps it was a case of it's better the devil you know for Barrett than the potential pot of gold at the northern rainbow.